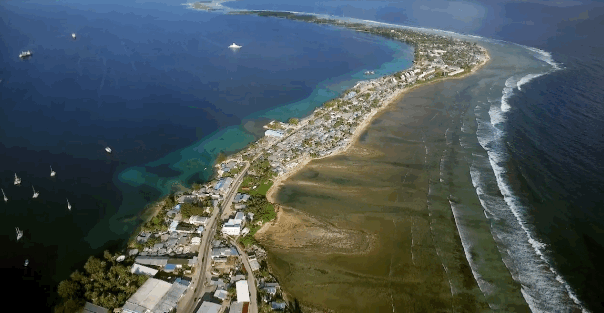 In the next 40 years, millions of people may lose their homes because of rising water levels brought on by global warming.
To illustrate this problem, The New York Times on Wednesday published startling footage of the Marshall Islands. Residents of the Pacific country deal with floods of saltwater and sewage as a result of rising seas. Staff photographer Josh Haner used a drone to capture shots of homes at the water's edge, where the shoreline is disappearing.
Haner previously used a drone to capture footage of Greenland's melting ice sheet, and he told The Huffington Post that he hopes the unique perspective provided by these flying machines will provide readers with a different way to think about climate change.
"Many of us have been dulled by images of melting glaciers and sinking islands, and we want to avoid using a drone just for the sake of using a drone," Haner said in an email. "But drone imagery here adds a new visual layer that hopefully draws readers into an important story gives them a new perspective on a complicated subject."
Residents are desperately working to avert damage to their homes by building makeshift sea walls. Needless to say, the footage of far-off vistas is striking, but Haner doesn't want that to be a distraction.
"We are also highly aware that we don't want the beauty of the footage to mask the severity of the problem. That's why we bring you different angles throughout the piece; some micro, some macro. It gives you a scale you can't get anywhere else," Haner said.
You can view the full New York Times feature here.
Related
Popular in the Community