It took some time for the Beast to get loose. But once he did, the Washington Redskins couldn't stop him.
Trailing 14-13 in the middle of the fourth quarter, Seattle marched down to Washington's 27-yard line looking for the go-ahead score that had eluded them on previous promising drives. The Seahawks had been efficiently moving the ball down the field and into Redskins territory throughout the game, but penalties and a costly fumble by Marshawn Lynch left them with just 13 points to show for it. Facing a 3rd and 5, the Skittles-loving running back redeemed himself with his longest run of the game
Along the way, he got some help from rookie quarterback Russell Wilson.
Lynch took the handoff from Wilson in the shotgun formation and rumbled straight into the heart of the Washington defense. Showing some shiftiness to go with his power, Lynch then made DeAngelo Hall look foolish as he bounced his run to the outside.
As Lynch approached the 15-yard line, there was another Seahawks player ahead of him paving the way. Wilson had sprinted down the sideline as Lynch had just two Redskins defender to break through. Wilson took care of one of them, cornerback Josh Wilson. Lynch handled the other, powering his way into the end zone for what would be the game-winning score.
Lynch finished the game with 132 yards on 20 carries to go along with that touchdown in Seattle's 24-14 win.
Sometimes running backs who have great seasons reward their offensive lines when it's over for blocking for them (see Arian Foster). But in this case, Wilson might be receiving a gift, or at least a pack of skittles, from Seattle's Pro Bowl running back.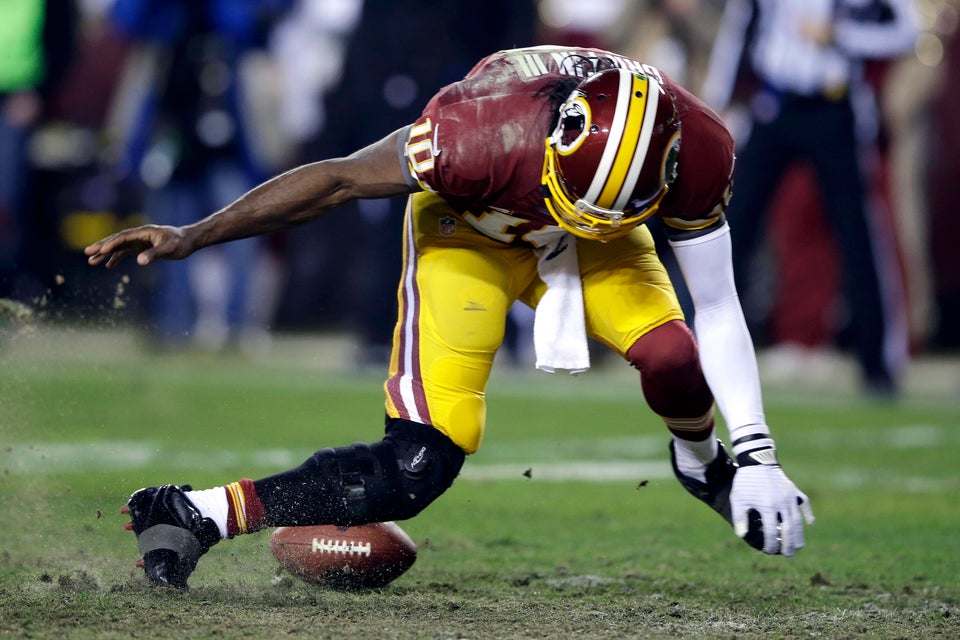 PHOTOS: Seahawks vs. Redskins