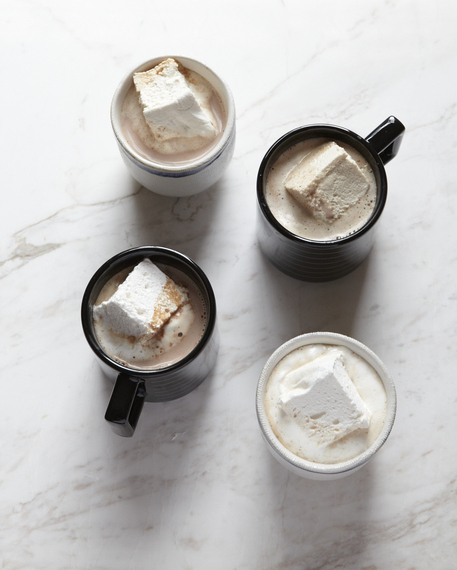 In honor of my official addiction to City Bakery's Hot Chocolate Festival this month, I set out on a culinary quest: to make the ideal, healthy, homemade marshmallow. After all, the classic Jet-Puffed pack of white Styrofoam puffs just wouldn't do the trick for my daily fills of Vietnamese Cinnamon and Darkest Dark chocolate cups of bliss. So after a day of marshmallow science madness and two dead candy thermometers later, we've found your perfect cocoa companion for this month in the most authentic and guilt-free recipe. Welcome to DIY Cane Sugar Syrup Marshmallows 101.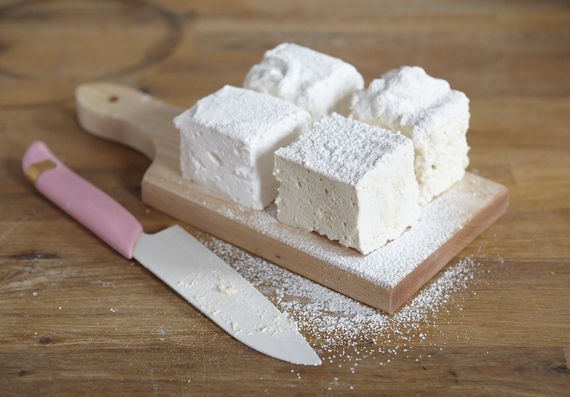 But let's take it back a few steps here to that weird phrase "the healthy marshmallow." Why are we dissecting everyone's beloved chubby bunny and sacred camping ritual staple ingredient? Well first of all, it turns out that marshmallows are actually enjoyed pretty exclusively. The classic marshmallow today relies on its key-binding ingredient of gelatin, which leaves out all our vegan and vegetarian friends. Our hypothesis: No gelatin? No problem. If the Egyptians could do their recipe horse-hoof free, so could we. We took it back to ancient origins, using the original marshmallow root and later the Asian's secret answer to gelatin: agar-agar. The results: however superb these substitutions might be health-wise, the taste was dishearteningly pungent and only vaguely resembled any modern conception of the marshmallow.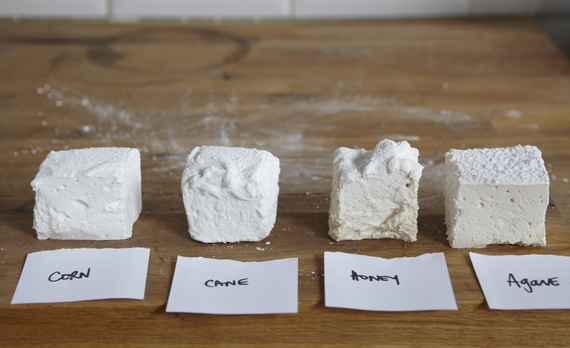 Those attempts were tragedies. However, the more we pondered the puff, we realized the ultimate enemy was not, in fact, gelatin (which many say is good for you - your hair and skin especially). Instead, it was that bottle of lethal corn syrup, the second defining ingredient of classic contemporary marshmallows. So with high hopes, we gave honey and agave syrup a go. Our conclusions were super sweet with nice subtle hints of sweet honey zing afterwards, but these puffs fell flat with a rubbery texture that collapsed in the final fiery roasting test.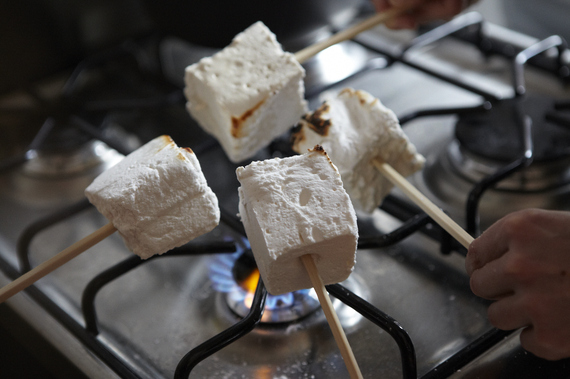 Rather we found the holy gooey grail not in the method of substitution, but the authentic artisanal route. That's right, we made our own "hipster-licious" sugar cane syrup, a beautiful ingredient free of high fructose-glucose-and whatever other "oses" you'll find on a scary nutrition label. And as a bonus, this potion can easily be jarred and stored for later baking creations.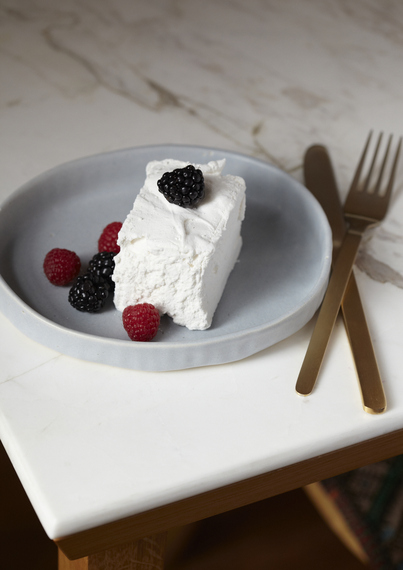 Soft with just enough sticky chew, enhanced "gooey-ness," and proving themselves robust roasting squares with the perfect burnt sugary crunch casing, DIY cane syrup will eclipse all your classic marshmallow expectations. The homemade syrup adds a new layer of textural complexity that actually allows the marshmallow to melt and dissolve effortlessly into its cocoa companion, complimenting it perfectly by adding a layer of creamy depth. It was revolutionary marshmallow magic as strings of melted white goop graced each sweet rich creamy chocolate sip I took. And don't get me wrong; these cane sugar wonders are delicious in their pure form as they roll perfectly in light confectionary sugar and retain a refreshing overtone of vanilla lingering for almost a week to come now. No s'mores necessary, marshmallows just got real people. Since when did substitution get so delicious?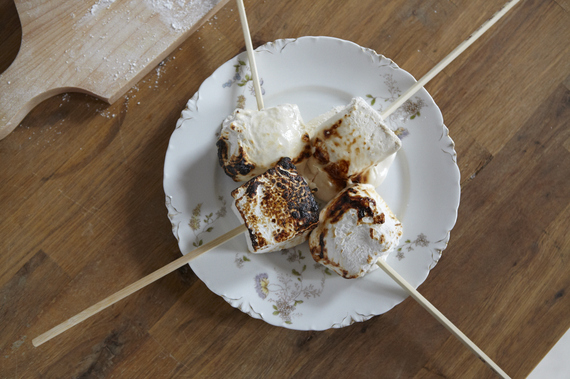 So with t-minus eight days left and Bourbon and Salted Carmel Hot chocolate still to go, we're challenging you to dive into the new wave the of cane sugar marshmallow revolution. Ready set roast!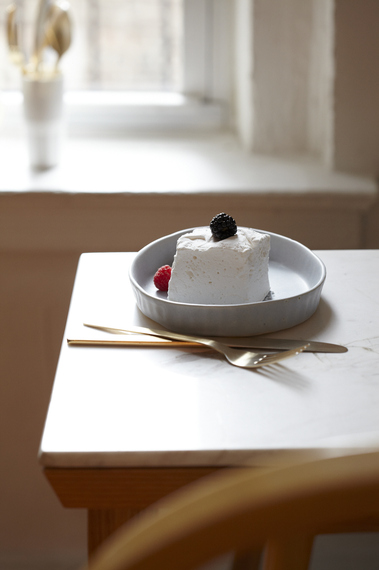 *Like what you see? A big fluffy thank you to Brie Passano for her lovely photos! Check out more of her delicious work here: http://www.briephotography.com/
*Want to see Jill in action making these fluffy puffy babies? Check out @unprocessyourfood on Instagram for a chocolate version.
Cane Sugar Syrup + Gelatin Marshmallows

Ingredients
3 packets gelatin
1 cup water, chilled
1 ½ cups granulated cane sugar
1 ¼ cup sugar cane syrup (recipe below)
¼ tsp salt
2 tsps vanilla extract
1 1/2 cups powdered sugar
Cooking spray
Place the gelatin and ½ cup of cold water into the bowl of a stand mixer. Let sit.
In a medium saucepan, combine ½ cup water, granulated sugar, sugar cane syrup and salt. Place over medium high heat, cover and cook for 3 to 4 minutes. Uncover and cook until the mixture reaches 240F, about 7 to 8 minutes, and then turn off the heat.
Turn the mixer on low speed and, while running, slowly pour in sugar mixture down. Then increase speed to high. Whip until fluffy, 12 to 15 minutes. In the final minute, add the vanilla.
Meanwhile, grease a deep plastic storage container or 8x8 brownie pan with oil. Dust it completely with powdered sugar. Shake out any excess into a bowl.
When the marshmallow fluff is ready, pour it into the prepared pan. Dust the top with powdered sugar to cover. Allow the marshmallows to sit for at least 8 hours.
When set cut them into cubes and dust completely with powdered sugar.
Store in an airtight container for up to 3 weeks.
DIY Cane Sugar Syrup

Makes about 1 quart
2cups water
5 1/3 cups (2 lbs + 10 ounces) granulated cane sugar
1 teaspoon cream of tartar
¼ tsp salt
Combine all of the ingredients in a saucepan over medium heat.Cover the pan until the sugar comes to a boil, 2-3 minutes. Uncover and boil it reaches 240 F.Turn off the heat, and let the syrup cool undisturbed, at least an hour.