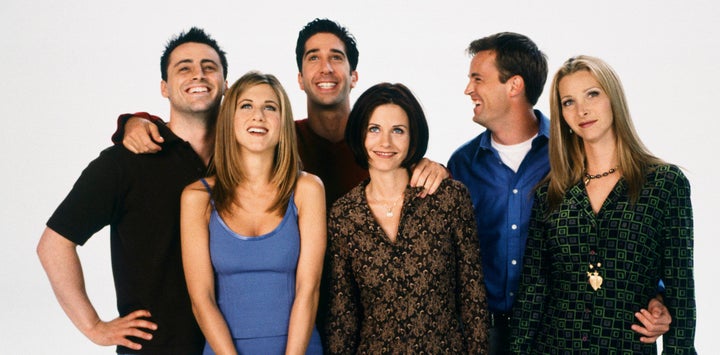 Back in 2002, all six stars of NBC's hit show "Friends" were able to successfully negotiate $1 million per episode salaries for themselves, meaning they'd each take home a cool $24 million for the season (the series wrapped the following year, after another 18 episodes.)
Kauffman, who was speaking to the differences between her old and new gig, added, "Let's be honest, that's a lot of money. I think it's inflated. And there's something unrealistic about it. Not everybody is going to get a million dollars an episode. So I think actually what we're all doing [now] is actually more reasonable and makes more sense." 
According to The Wrap, Kauffman was addressing a reporter who specifically asked about the much-publicized demands of the cast of "Friends." It came in relation to a question about whether the fact that Netflix currently doesn't share viewing numbers has any affect on an actor's ability to negotiate salary. 
She claimed it's a different situation, since networks are beholden to ratings and advertisers. Because Netflix doesn't have advertisers, they aren't "pandering" to them or to the network. "All we're doing is making the show we want and that we believe in,"she said. 
Still, Kauffman's comments are somewhat surprising, given that the cast were far from the first to negotiate those kinds of salaries.  Jerry Seinfeld was already making $1 million per episode back in 1997 (additionally, cast members Michael Richards, Julia Louis-Dreyfus and Jason Alexander received 300 percent raises, from $150,000 to $600,000, in the show's final season) and turned down NBC's offer of $5 million an episode to stay on for a 10th season of "Seinfeld."
Then in 1999, "Home Improvement" star Tim Allen reportedly nabbed a $1.25 million per episode contract from ABC for the show's last season, which was later followed by "Mad About You" stars Paul Reiser and Helen Hunt, who were also able to renew their contract with NBC at $1 million per episode. 
I've been asked this question before, but phrased as, do I think we were worth it? Were we worth $1 million? To me, that's such a strange question. It's like, well, that's irrelevant. Are you worth it? How do you put a price on how funny something is? We were in a position to get it. If you're in a position in any job, no matter what the job is -- if you're driving a milk truck or installing TVs or an upholsterer for a couch -- if you're in a position to get a raise and you don't get it, you're stupid. You know what I mean? We were in a position and we were able to pull it off. "Worth it" has nothing to do with it.
PHOTO GALLERY
"Friends" Goofs To Watch For
To subscribe to our HuffPost Entertainment WhatsApp account:
1. Download WhatsApp on your phone.
2. Save this number, 347-334-1794, in your phone's contacts.
3. Text "POP" to that number via your WhatsApp account.
You can unsubscribe at any time by texting "STOP" to the same number.
Calling all HuffPost superfans!
Sign up for membership to become a founding member and help shape HuffPost's next chapter