Virginia Gov. Terry McAuliffe on Wednesday asked state police to investigate the arrest of a black University of Virginia undergraduate by state liquor agents that left the student bloodied and needing 10 stitches in his head.
McAuliffe was "concerned by the reports of this incident" and wants an independent probe, his office said. University President Teresa Sullivan said in a statement to the campus, in Charlottesville, that she had asked the governor to investigate. Students, faculty and staff "stand unified in our commitment to seeking the truth about this incident," Sullivan wrote. "And we stand united in our belief that equal treatment and equal justice are among our fundamental rights under the law."
Martese Johnson, a junior, was "flung to the ground" by Virginia Department of Alcoholic Beverage Control agents outside Trinity Irish Pub at 12:45 a.m. Wednesday, according to a statement circulated by the student group Concerned Black Students. Johnson is the leadership development chair of the UVA Black Student Alliance, which circulated the statement.
The statement said Johnson did not resist questioning or arrest, but ABC agents pinned him to the pavement with their knees on his back. A photo the group circulated online shows Johnson lying on the sidewalk with his face bloodied as an officer appears to restrain him.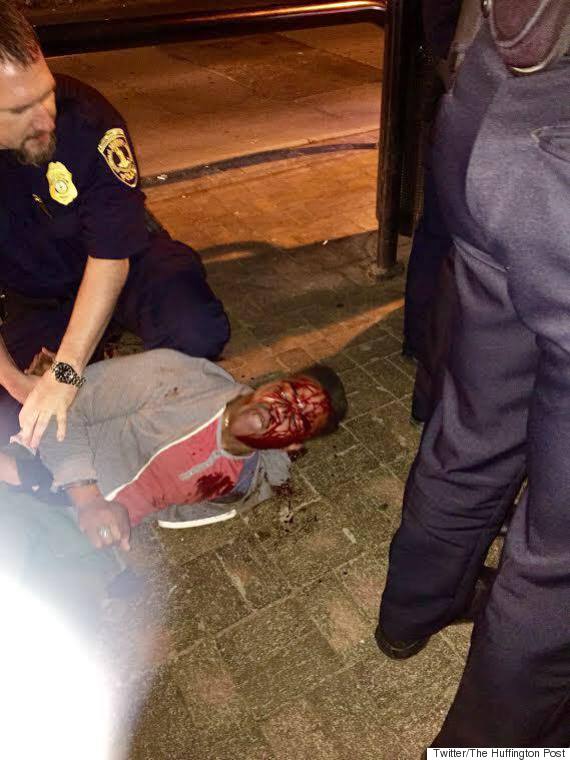 In video of his arrest, one onlooker repeatedly shouts, "Yo his head is bleeding!" Johnson can be heard yelling, "I go to UVA. You fuckin' racists. ... How did this happen?"
Johnson was charged with public swearing/intoxication and obstructing justice, according to court records. He was treated for his injuries at a hospital and released.
"The uniformed ABC Agents observed and approached the individual after he was refused entry to a licensed establishment," Virginia ABC said in a statement. "A determination was made by the agents to further detain the individual based on their observations and further questioning." ABC officials declined to elaborate.
Charlottesville police arrived just after 1 a.m., "responding to a disorder involving a large crowd after the incident took place," Capt. Wendy Lewis told The Huffington Post. Lewis said the ABC agents had been conducting "some type of operation in our jurisdiction resulting in the arrest and injury" of Johnson. Police dispersed the crowd without further trouble, she added.
Daniel P. Watkins, an attorney representing Johnson, said in a statement that "contrary to early police reports," his client wasn't accused of having a fake ID during the incident. He said ABC agents forced Johnson to the ground prior to handcuffing him, "striking his head on the pavement and causing him to bleed profusely from the gash on his head."
Johnson, a member of the school's Honor Committee and Kappa Alpha Psi fraternity, had recently posted on Facebook about the racist fraternity song in Oklahoma, writing, "This is why things like Black Greek organizations, Black mentorship programs, and Black professional networks still need to exist. If you were wondering..."
UVA students plan a march on campus at 8 p.m. Wednesday.
Trinity Irish Pub employees declined to comment.
In 2013, a UVA student spent a night in jail after a seven plainclothes Virginia ABC agents surrounded her car and tried to break her car windows. The agents had mistaken her pack of bottled water and cookie dough for beer. Virginia ABC officers charged her with assaulting a law enforcement officer and eluding police.
This article has been updated to include the statement of Johnson's lawyer.

Like Us On Facebook |

Follow Us On Twitter |

Contact The Author
Support HuffPost
The Stakes Have Never Been Higher
Related
Popular in the Community