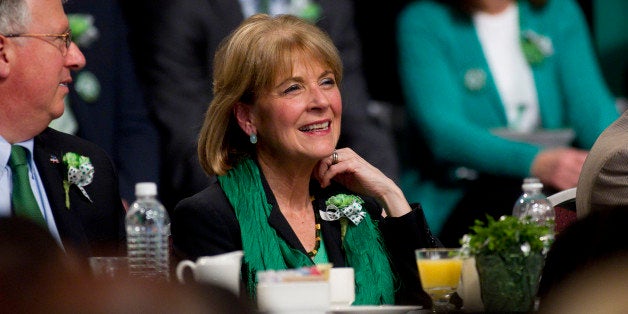 State Attorney General Martha Coakley (D) asked the Securities and Exchange Commission to review whether Republican Charlie Baker violated any pay-to-play laws with a $25 million deal his firm, General Catalyst, made with New Jersey's public pension fund. General Catalyst ultimately invested in a health insurance startup, Oscar Insurance, which Baker oversees.
The deal between the firm and the pension fund was made after Baker donated $10,000 to New Jersey's Republican State Committee, which is controlled by Gov. Chris Christie (R).
"[The SEC] should look at these allegations," Coakley said, according to The Boston Globe. "They know best whether they have jurisdiction and whether they raise issues. But I would hope at least they would do a review of these allegations, to determine whether or not a further investigation is needed."
Baker has insisted he was unaware that General Catalyst had raised money from New Jersey's pension fund.
"Charlie has been completely transparent about this contribution and his association with General Catalyst," Baker campaign spokesman Tim Buckley told the paper.
Part of the controversy over the investments stems from Baker's ambiguous role at General Catalyst. He is called an "executive-in-residence" and is also listed as a partner. While Baker has denied that he is a partner or employee of the firm, he identified himself as one on campaign finance documents.
Both Coakley and Baker have run statewide campaigns before. She lost to former Sen. Scott Brown (D-Mass.) in 2010, while Baker lost the gubernatorial race to Deval Patrick (D) that same cycle.
To become the gubernatorial nominee, Coakley must first best a field of other Democratic candidates, including state Treasurer Steve Grossman, former homeland security official Juliette Kayyem, former federal heath care administrator Don Berwick and biopharmaceutical executive Joseph Avellone.
REAL LIFE. REAL NEWS. REAL VOICES.
Help us tell more of the stories that matter from voices that too often remain unheard.
BEFORE YOU GO
PHOTO GALLERY
United States Governors