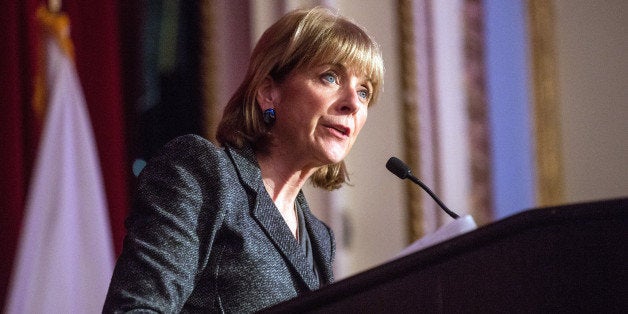 Massachusetts Democratic gubernatorial candidate Martha Coakley, the state attorney general, hit Republican candidate Charlie Baker Monday on the issue of raising the state minimum wage, saying in an email to supporters that Baker "would side with big corporations and leave working families to go it alone."
As The Boston Globe reported, Coakley's email marks the first time she has directly attacked Baker since she launched her campaign for the Democratic nomination in September.
Baker declined on Friday to endorse state legislation that would raise the minimum wage from $8 an hour to $11.
Coakley supports increasing in the minimum wage. "While many at the top have come out of the economic downturn just fine, many working families have fallen further behind," Coakley said in the email.
The Massachusetts state Senate passed legislation on Nov. 19 to raise the minimum wage to $11 by 2016, and then index it to inflation. The legislation awaits a state House vote.
Baker spokesman Tim Buckley criticized Coakley's email.
"The Attorney General's politically motivated attack is patently false and will do little to help Massachusetts wage earners," Buckley said in a statement. "Charlie's position remains clear: he is open to an increase in the minimum wage, but thinks we may be able to do better for low-income workers by exploring increases in the earned income tax credit and enacting reforms that protect workers' hours and create new jobs."
The two candidates have a history of statewide campaigns. Coakley ran an unsuccessful Senate campaign in 2010 against Republican Scott Brown. Baker lost the 2010 governor's race to Deval Patrick (D), 48 percent to 42 percent.
REAL LIFE. REAL NEWS. REAL VOICES.
Help us tell more of the stories that matter from voices that too often remain unheard.
BEFORE YOU GO
PHOTO GALLERY
Female Governors: Past And Present