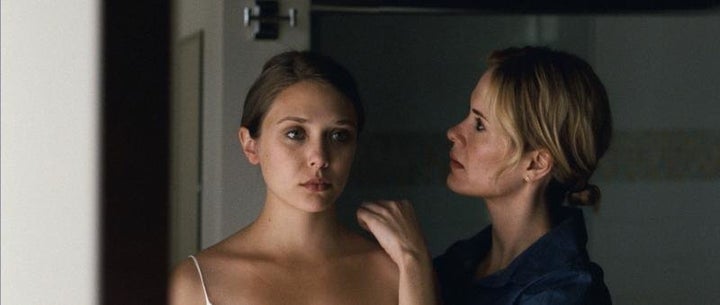 Spellbinding, chilling, Martha Marcy May Marlene marks a triumphant first film for writer/director Sean Durkin. Also Elizabeth Olsen's debut in a starring role, she steals this movie. Beautiful to look at, each frame of Martha Marcy May Marlene is composed with a painterly eye. Olsen, the younger sister of the Olsen twins is fascinating and breathtaking to watch as she reveals Martha's repressed journey from being brainwashed by a frightening cult leader much like Charles Manson to trying to rejoin society. Yet there is subtlety to this psychological thriller. John Hawkes, who portrays the cult leader, Patrick, does not shout his presence but renders his performance free of clichés by being a calm convincing manipulator. Though he has a supporting role, Hawkes's acting keeps the film from being a tawdry exploitation of nightmarish Manson-like imagery. The viewer is able to feel how his young harem is won over by his dangerous rhetoric. "Death is a joy. In it you are finally free of fear and therefore death is not to be feared."

Martha (Olsen) is manipulated into witnessing group sex, robbery, the terrorizing of kindly neighbors and murder. The silence employed by the filmmaker adds to the suspense and final horror. No music to cable emotion. The emotional life of the actors is in their eyes and their behavior. No sturm and drang. Nothing to indicate horror. Silence is the horror, a slow steady camera and whiz-bang editing that lingers just long enough on a scene to let you know what is happening, but not long enough, for example, to be drawn into the prurience of an orgy or the aftermath of a murder.
Sean Durkin begins his film with Martha (Olsen) escaping from a farm house in upstate New York. We are never told how she got there, but it is clear that she never wants to go back. She calls her sister, Lucy, who suffers while trying to help Martha. Lucy is portrayed by the talented Sara Paulson though this role is not a meaty one. Lucy lives some three hours away in a well manicured lake house with her bourgeois husband, Ted, played skillfully by Hugh Dancy again in a rather thankless role. This naïve couple invites Martha to stay with them. But her behavior is bizarre and snippets of what has happened to her are revealed in slow steady chronological flashbacks. These flashbacks become darker and more macabre as the film progresses, but this is largely a film about mind control and how Martha's mind is manipulated while we, the viewer, are being manipulated by the writer/ director Sean Durkin. At the onset, layer upon layer emerge with little explanation and yet the film ends in a shocking sinister conclusion, again with little explanation.

The fill-in-your-plot strategy of Sean Durkin cleverly engages you while adding mystery to what turns out to be a diabolical plot. This is one tour de force first film that will leave you breathless scratching your head wondering what happened. At my screening the audience shouted at its conclusion and you just may, too. While a hit at Cannes and Toronto Festivals, the 2011 Sundance Film Festival awarded this film U.S. Directing Award for Best Drama and if you have the opportunity to see it, you will see why.

Popular in the Community