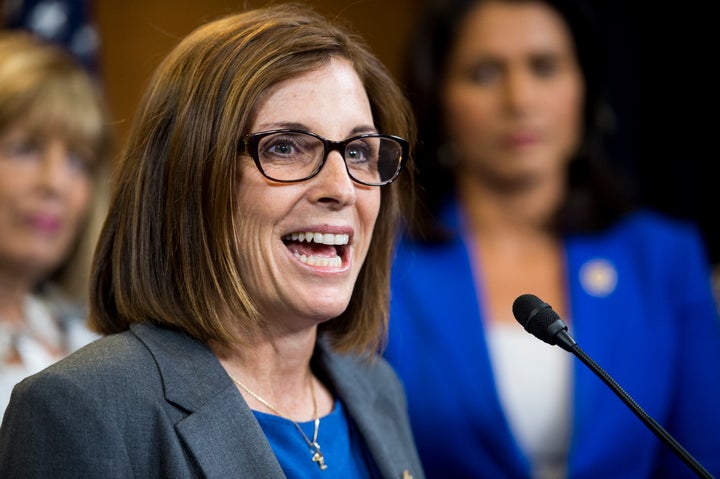 Rep. Martha McSally won the GOP Senate primary in Arizona on Tuesday night, the result of a successful political transformation from swing-district moderate to a staunch ally of President Donald Trump.
McSally defeated former state Sen. Kelli Ward and former Maricopa County Sheriff Joe Arpaio in the primary. All three candidates claimed affinity and alliances with Trump, but McSally – who had the backing of Senate Majority Leader Mitch McConnell's political apparatus – was the candidate with the cash to spread her message, outspending her opponents by a 10-to-1 margin.
McSally's victory sets up one of the year's marquee Senate races, where she will face Democratic Rep. Kyrsten Sinema, a former progressive activist who has become a moderate in Congress, voting with Trump more than 50 percent of the time. The race could be crucial to control of the upper chamber: Democratic hopes of installing New York Sen. Chuck Schumer as majority leader will be essentially nil without a victory for Sinema.
Both women are considered rising stars in their parties. Sinema is expected to attack McSally over health care, with Democratic groups are already spending millions hitting her for supporting an "age tax" that allows health insurance companies to charge older people. McSally plans on contrasting her military service – she was one of the first American women to fly in combat – with Sinema's background as an anti-war protester.
"She's tried really hard to make herself over. She's reinvented herself, from the flaming left liberal she was," McSally told a group of volunteers a few weeks before the election. "You're going to see that in the general election. Me in uniform, Sinema in a pink tutu."
The Sinema campaign has attempted to parry the attacks, noting the congresswoman's support for veterans.
McSally, who previously represented a swing district based in Tucson for two terms, has spent heavily attacking Ward and winning over GOP primary voters with television ads tying herself to an unpopular president. Strategists in both parties believe McSally's political transformation may hamper her efforts to win swing voters in November. Sinema has focused on broadly popular issues for the general election, emphasizing her support for law enforcement and touting her political independence.
"We love our country, we're skeptical of our government," Sinema said of Arizona in one of her television ads. "I'm just not afraid to stand alone to do what's right."