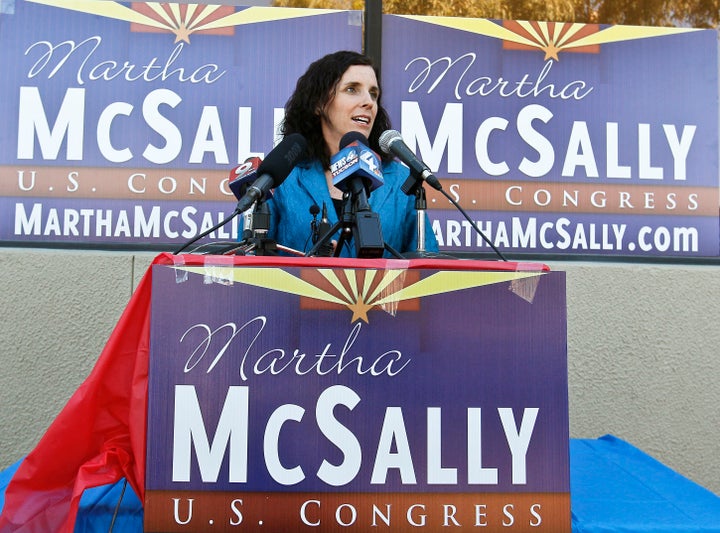 WASHINGTON -- Attorneys for Martha McSally, the Republican challenger of Rep. Ron Barber (D-Ariz.), filed a motion on Tuesday to make the Cochise County, Ariz., election director stop counting certain provisional ballots, many of them from a majority-Latino precinct near the border.
Barber currently leads McSally by more than 500 votes, but with the race still uncalled, election officials in Arizona are continuing to go through provisional ballots that could not be counted last week.
The motion demands that Cochise County officials be prevented from "tabulating or counting in any manner" 130 ballots that McSally's attorneys argue were compromised. The majority of those provisional ballots -- 96 -- come from Castro Park, a Democratic-leaning precinct in which most residents are Latino. Thirty other ballots are from the Ramsey Precinct, and four are from the Hopi Precinct.
The problem with those ballots is that some of them were unsealed when they arrived in the election office, meaning they could have been altered, according to the motion. But the Barber campaign argued the system would determine whether those provisional ballots would be counted, and that the McSally campaign's effort seemed designed to simply ignore votes.
"We respect the ballot counting process currently taking place and want to see it move forward," Barber campaign manager Jessica Floyd said in a statement. "The request for a temporary restraining order filed today is an active attempt by Martha McSally's attorneys to disenfranchise voters in Cochise County. Throwing away the votes of Southern Arizonans is wrong and unacceptable."
McSally's campaign did not respond to a request for comment. The motion explains the campaign's argument against counting the votes on behalf of plaintiff and voter William Odle, whom they argue could see his vote "diluted and negated by illegal ballots to such an extent that his chosen candidates may not be elected."
"This injures Plaintiff's fundamental right to vote and compromises the integrity of the election process," the motion continues.
A judge heard the motion on Tuesday morning and proceedings will resume later in the day.
Arizona saw a host of complaints this year over issues with voting, many of which also seemed to disproportionately impact Latino voters. Activists reported hearing that many voters went to the polls only to be told they were not on the registered list or that they had been mailed an absentee ballot they said they never received.
As of last Thursday, more than 630,000 votes in the state had not been counted, and there were still more than 340,000 left to tabulate as of Monday afternoon, according to the Arizona secretary of state.
UPDATE: 6:50 p.m. -- The two sides came to an agreement and the questioned ballots will now be counted, Tucson Weekly's Jim Nintzel reported later Tuesday. Those ballots will be kept separate from others in case of a future lawsuit, he wrote, and both the Barber campaign and the National Republican Congressional Committee applauded the result in statements.
The Barber campaign seemed less willing to drop the issue, though. "We remain disappointed that Martha McSally's Republican attorneys attempted to insert themselves into the vote-counting process, and we will be watching the process closely moving forward," Barber Campaign Manager Jessica Floyd told Nintzel.
Calling all HuffPost superfans!
Sign up for membership to become a founding member and help shape HuffPost's next chapter
BEFORE YOU GO
PHOTO GALLERY
Lies And Distortions Of The Health Care Debate