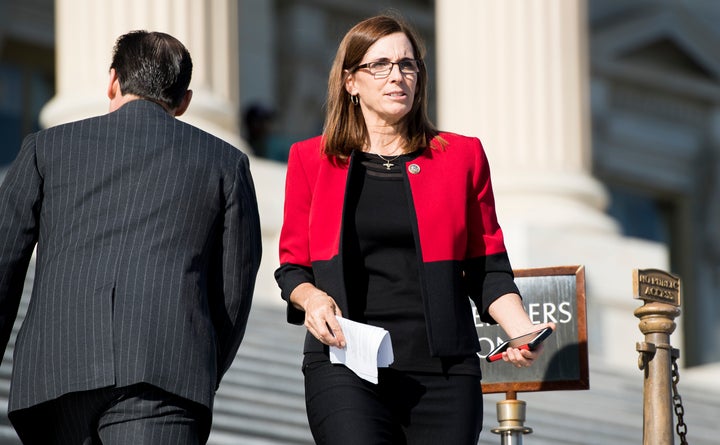 WASHINGTON ― Rep. Martha McSally (R-Ariz.) withdrew her cosponsorship of immigration legislation that would help young undocumented immigrants, as she fends off challenges from the right in her bid for her party's Senate nomination.
McSally has been a cosponsor of the Recognizing America's Children Act (RAC) since April of 2017. On Thursday, she asked to be removed as a cosponsor. The GOP-sponsored bill ― which has one Democratic supporter ― would give legal status to certain young undocumented immigrants who came to the U.S. as children and are often called Dreamers.
McSally is in a tight race for her party's Senate nomination for the open seat being vacated by GOP Sen. Jeff Flake. The congresswoman has the backing of party leaders, but her opponents in the primary include conservative favorite Kelli Ward, who has the support of Sen. Rand Paul (R-Ky.), former White House aide Steve Bannon and right-wing pundits Sean Hannity and Laura Ingraham.
Former Maricopa County Sheriff Joe Arpaio, another right-wing darling for his harsh opposition to undocumented immigration, is also in the race.
McSally spokeswoman Kelly Schibi said the congresswoman "wanted to clarify which legislative solution she backs wholeheartedly" ― a bill she co-authored that does not include a path to citizenship for Dreamers and would dramatically overhaul the immigration system.
The bill, Securing America's Future Act, would cut legal immigration, criminalize being in the U.S. without authorization and dramatically increase spending for border security and enforcement of immigration laws throughout the country. It would create a non-immigrant status for Dreamers that could be renewed indefinitely but wouldn't provide a way for them to become citizens.
Referring to McSally as the "lead author and champion" of the legislation, Schibi noted that the White House backs the bill.
McSally's abandonment of he RAC Act seems an indication that she is responding to Ward's attacks from the right.
Ward has been criticizing McSally for supporting "amnesty." In an interview last month on Fox News, Ward said McSally has flip-flopped on immigration and is only lately acting like a conservative.
"Her record is clear: she voted to grant amnesty to illegal immigrants, said a border wall will not work, 'proudly' voted for wasteful government spending, and refuses to say if she voted for President Trump. As a result, she has lost the trust of conservatives in Arizona," Ward said in response to the news that former Gov. Jan Brewer (R) was endorsing McSally.
Ward and her backers point to McSally's votes against amendments that would have helped end programs that provide protections for young undocumented immigrants, among other examples. McSally's campaign, in response, has pointed to the lawmaker's support to crack down on so-called sanctuary cities and increase border security.
McSally has noticeably shifted to the right as she seeks her party's Senate nomination. During the 2016 campaign and in the early days of his presidency, she was critical of Donald Trump. She called his comments on the "Access Hollywood" tape "disgusting," and expressed frustration at having to answer for every little distraction he created.
But the video for her Senate candidacy announcement in January featured praise she's received from the president.
The RAC Act was introduced by Rep. Carlos Curbelo (R-Fla.) as a GOP alternative to the Dream Act. It would allow certain undocumented young people who came to the U.S. before they turned 16 to gain conditional permanent residency, as long as they stayed in school or had a job and met other requirements. It has 34 Republican backers, most of whom are moderates or represent Latino-heavy districts.
Curbelo on Wednesday filed a discharge petition, which allows members to bring a bill to the floor without leadership's consent, that could force a vote on four immigration bills, including two that would offer a path to citizenship for Dreamers. The petition needs 218 signatures ― a majority of the House ― and already has 18 Republican signatories, along with one Democrat. It's expected to win support from most, if not all, of the 193-member Democratic caucus.
McSally has not signed the discharge petition.
Shifting to the right may have its benefits in the primary campaign, but it could be difficult for McSally to sprint back to the center if she emerges as the GOP Senate nominee. Part of that problem involves timing ― Arizona's Aug. 28 is one of the latest in the nation.
The Republican nominee is expected to face Rep. Kyrsten Sinema, the only Democrat signed on as a cosponsor of the RAC Act.
Popular in the Community