 "I miss Jim Lehrer," Karl Rove tweeted at the end of Thursday's vice presidential debate.
The Republican strategist and Super PAC impresario was expressing the views of many on the right who yearned for a less involved moderator than Martha Raddatz. The ABC News journalist got rave reviews for the most part. Yet, whereas Lehrer mostly sat back and let the proceedings between Mitt Romney and Barack Obama flow uninterrupted, her interrogations of Paul Ryan led to immediate cries of bias.
Raddatz pressed Ryan on subjects like Mitt Romney's reaction to the attacks in Libya and his campaign's tax plans. In one of her more withering queries, she asked him, "Do you actually have the specifics or are you still working on it and that's why you won't tell voters?" She also wondered whether pro-choice voters should be "worried" about a Romney-Ryan administration.
Raddatz asked hawkish questions about Iran and pushed Biden repeatedly on whether there had been a "failure" of intelligence in Libya -- all things conservatives could enjoy. He seemed to lose patience with her more than Ryan did, at one point sharply telling her to "be straight" with him about Afghanistan. Her take on Social Security and Medicare -- she said both were "going broke" -- would likely make liberal economists grind their teeth. Still, conservatives howled that she let the extremely animated vice president run roughshod over Ryan.
"Wow, Martha Raddatz really is in Obama's camp it seems," blogger and pundit Erick Erickson wrote. "Biden SHOULD thank Martha," Laura Ingraham tweeted at the end of the debate. "Martha Raddatz is the worst moderator," Sean Hannity tweeted. "Maybe next time @PaulRyanVP should invite her to his wedding." That was a reference to the fact that President Obama attended Raddatz's wedding in 1991 to Julius Genachowski, the current head of the FCC and a fellow student of Obama's at Harvard. Raddatz divorced Genachowski in 1997, and the Romney-Ryan campaign said it had no concerns about her impartiality.
The Washington Post's EJ Dionne shot back that complaining about a moderator was a clear sign that the right though Ryan had lost the debate.
There were even competing tallies of how many times Raddatz interrupted each candidate. A Fox News op-ed had her cutting Ryan off 12 more times than Biden; a Media Matters study put the number at three.
Ryan himself didn't seem to have a problem. Raddatz said on Friday that he'd told her she'd done a good job just after the debate ended.
Before You Go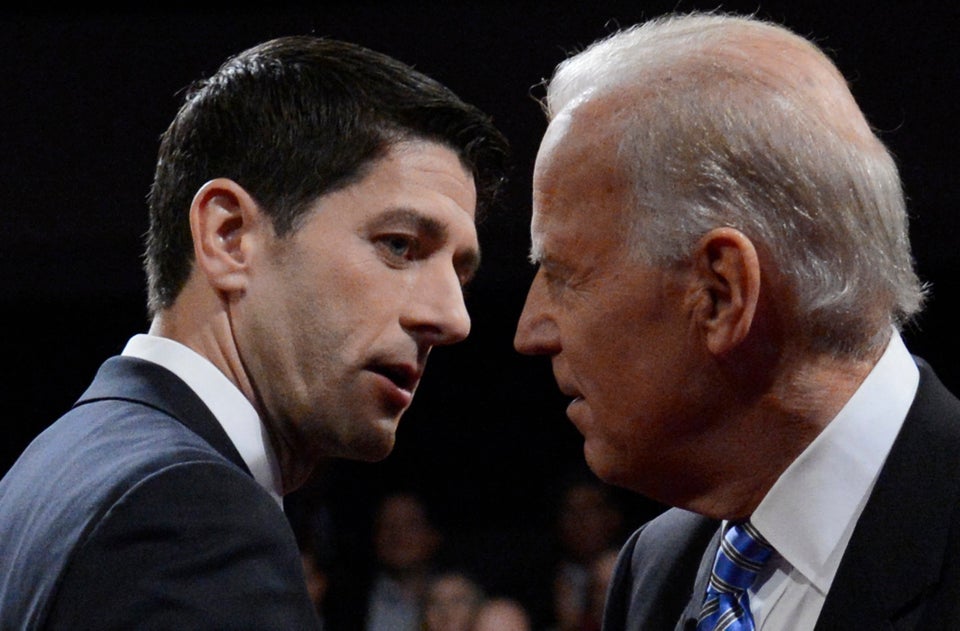 Vice Presidential Debate
Popular in the Community