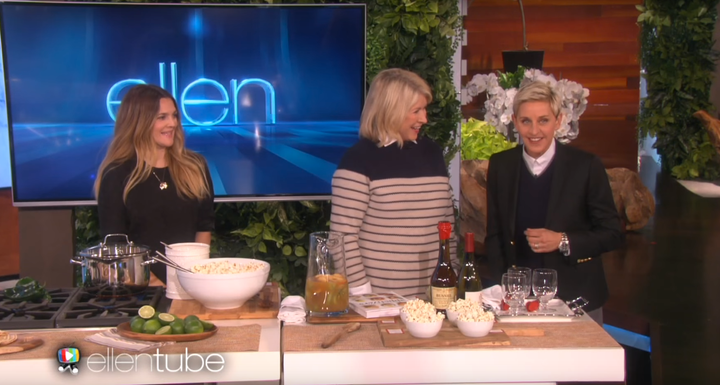 It started out fine: Drew and Ellen played the roles of sous chefs as real OG Martha showed them how to make some fancy popcorn and apple cider sangria. But things got a little tense when they moved on to the aforementioned quesadillas. 
Martha began by asking Drew and Ellen if they'd ever made quesadillas, to which Drew responded enthusiastically, "I've done it!" She even raised her hand. But the queen of the kitchen didn't even acknowledge the actress, and instead continued on with her cooking.
Martha then asked if they'd ever peeled a charred pepper, and like deja vu, Drew responded, "I have!" And again, Martha just ignored her. Drew even repeated herself, "I have! I've peeled some peppers!" Still, nothing. 
And just when we thought there was no chance of a silver lining, Martha actually complimented Drew's spring autumn roll-making skills, saying, "Oh, she's doing a beautiful job." 
"Just a slight die-and-go-to-heaven moment. Martha Stewart said mine looked OK," said Drew. 
But just to make sure Drew didn't get it twisted, the lifestyle guru added, "I don't know if lifting it in your hand is so good." 
You can watch the whole video below: 
PHOTO GALLERY
Celebrity News & Photos
REAL LIFE. REAL NEWS. REAL VOICES.
Help us tell more of the stories that matter from voices that too often remain unheard.