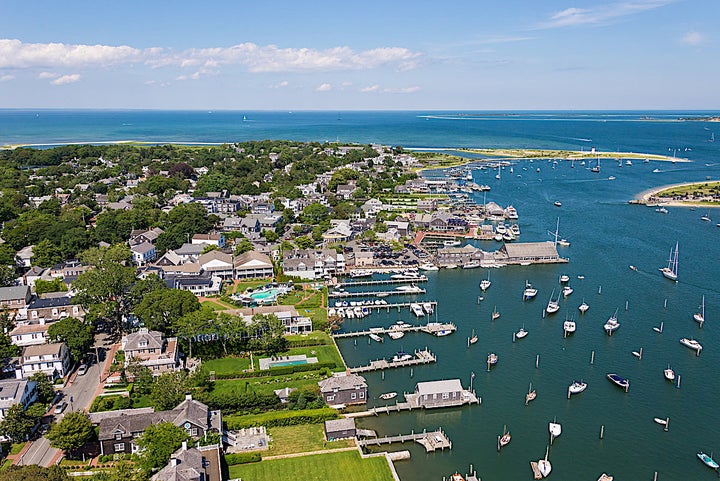 The ferries ply the New England waters between Nantucket, Cape Cod and Martha's Vineyard all the year round, and each season has its charms and its degree of activity on those North Atlantic islands. Having visited Martha's Vineyard in both summer and fall, I find the former the most enjoyable away from the crowds that pour into the landing ports at Oak Bluffs and Vineyard Haven, and in the cooler months, the sheer enjoyment of being left relatively alone to explore every inlet and dune of the island is the main draw. Right about now those ferries are packed to the railings with weekenders, which the locals cope with as best they can and the hoteliers, boutiques, restaurants and ice cream and fudge shops do banner business from Memorial Day through Labor Day when everyone who stays on the island, whose year-round population is about 16,500, waves exhausted good-byes to those who are leaving it, whose numbers add 85,000.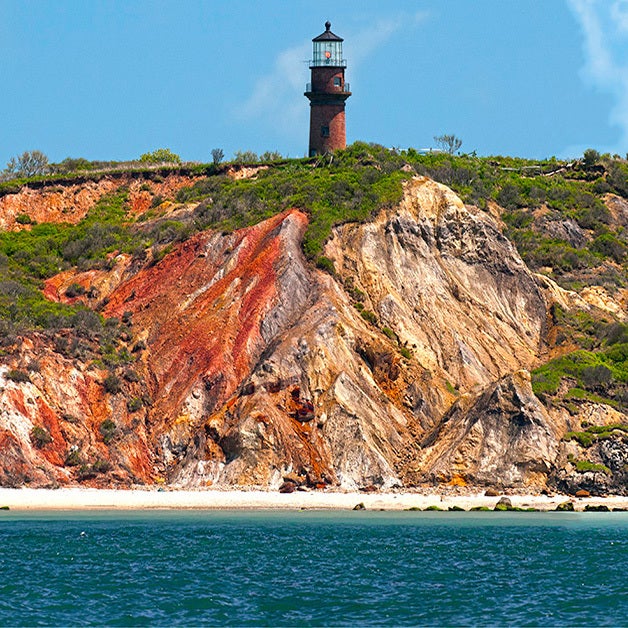 The English settled here as of 1642 and Martha's Vineyard grew wealthy via the 19th century whaling industry, but that collapsed with the shift to petroleum by 1870. Afterwards its chief industry became tourism, and many of the most affluent African-American families long ago settled around Oak Bluffs, known for its colorful gingerbread houses (below), and the East Chop area. There are, incidentally, accredited wines on the island sold under the Martha's Vineyard AVA designation since 1985. The movie Jaws was filmed here in 1974 and despite its off-putting storyline, it made the Vineyard more popular then ever before. Summer residents Bill and Hillary Clinton and Barack and Michelle Obama have further helped swell this astoundingly affluent small island with even more of the rich and celebrated. Each March and in July the island's film festivals are held, and the arts community is strong and well exhibited in local galleries. A Food & Wine Festival is held in October.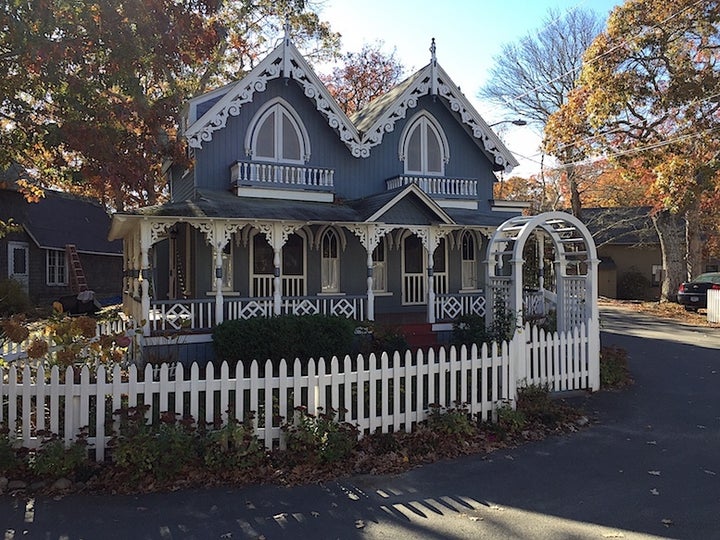 You can drive around the entire island in a few hours and hit most of the tourist sites, which include five historic lighthouses; the Aquinnah Cliffs; the Trinity Park Tabernacle and Old Whaling Church; the Cottage Museum and African American Heritage Museum; the 130-year-old Flying Horses carousel in Oak Bluffs; the nostalgic and quaint Hank's General Store, and the ring of bright beaches around the island. Photographer Alfred Eisenstaedt once said of the Vineyard, "Nowhere in the world is there a place more beautiful than this." His photo of the giant oak at Oak Bluffs is shown below.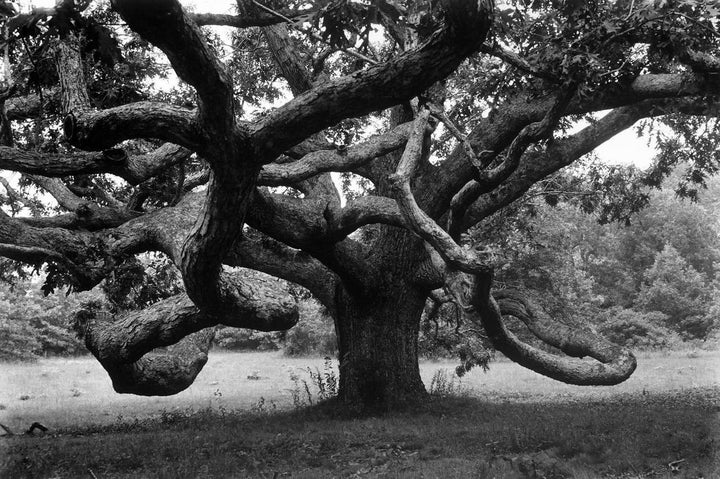 Accommodations on the island run from the very posh to B&Bs, and in the summer they all come at a premium. Off season, many close, as do a majority of the restaurants and emporiums. By November you could go starve at lunchtime; for dinner pickings get slim. On my last visit in October my wife and I stayed at the very beautiful and exceptionally well maintained Harbor View Hotel, which opened in 1891 in Edgartown and has been a member of the Historic Hotels of America since 1996. For good reason the sprawling cedar shingle clapboard main house and cottages with their creaking rocking chairs and windswept verandahs have been called the "Grand Dame" of the Vineyard, now with 114 guestrooms and two restaurants. Rarely does a weekend go by, even in late autumn, when the Hotel isn't hosting one or more weddings. Current owners Scout Real Estate have since 2006 poured a great deal of capital into making the property look as fresh and manicured as possible, and the quiet sophistication of the décor within the cottages (below) is as up to date in amenities, furniture, King size beds, TVs, kitchens and Internet access as to make them near-private oases even within the large premises of the property.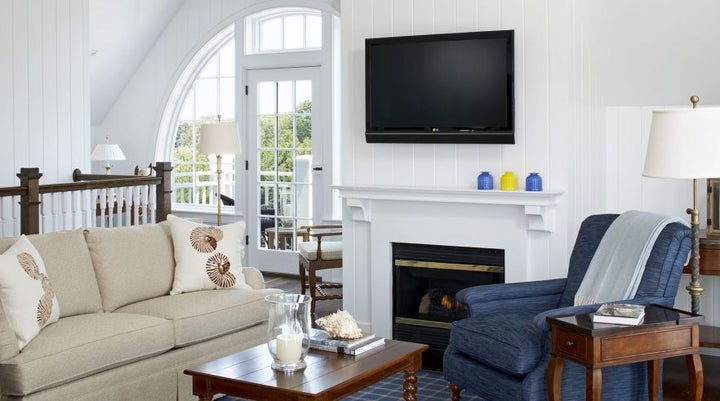 Upscale dining is to be enjoyed at the Victorian-appointed Lighthouse Grill (below), which was regrettably open only for breakfast when we visited; its menu runs to four cuts of beef ($32-$50), chowder ($11) made with the local Littleneck clams, and a shore dinner of lobster and corn [market price], so instead we ate hearty pub fare the Henry's gastro-pub, which stocks a good array of micro-brewery beers and small plates, including local calamari with pickled banana peppers ($15); Chatham mussels with stewed tomatoes and linguica sausage ($19); a very popular country fried chicken sandwich ($16); and, of course, a hefty lobster roll with remoulade ($23). For dessert just about every table orders the fresh warm chocolate chip cookies ($9).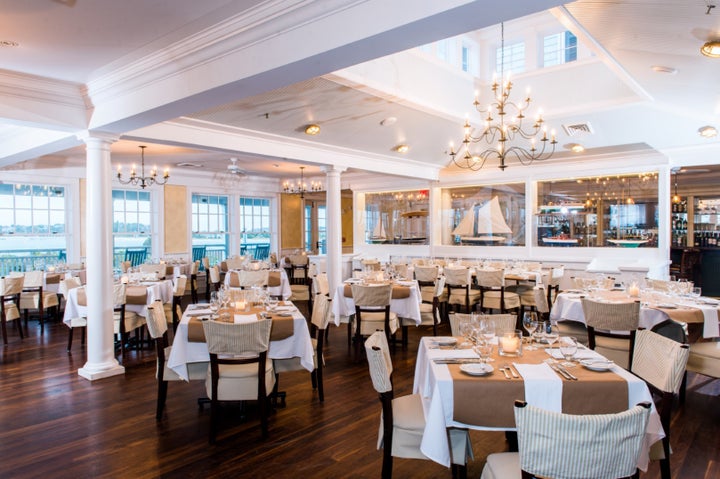 Nearby is the Vineyard's other best-known dining spot, Alchemy Bistro & Bar, which has gone through a few chefs in recent seasons. This year it is Brian Woods, so I can't vouch for his cooking except to say that in style it resembles his predecessor's, whose menu was updated New England fare in big portions. The house burger is still here.
The restaurant's premises on Main Street are very handsome, two stories with verandahs, upon which a street lantern throws an antique glow. White walls and white tablecloths keep the interior bright, and despite a voluble crowd, the noise level is somehow kept in check. Now, in good weather, small tables for two are set outside. One other food note—though nothing sublime: There's a local ritual late at night to trek over to Back Door Donuts, which is actually the back door of Martha's Vineyard Gourmet Café & Bakery in Oak Bluffs. There will be a line, everybody will be young and seem to have the munchies, and the donuts are well worth the wait, as donuts always are after midnight. Choosing when to go to Martha's Vineyard should be geared to one's own preferences, for summer weekends are indeed a crush, though weekdays less so. Spring is idyllic and early fall imparts a sweet calm to the island, while winter is a time for those who incline towards the reclusive. But what Henry David Thoreau said of Provincetown will be equally true of the visitor on Martha's Vineyard in any season: "A man may stand there and put all of America behind him."
Related
Popular in the Community