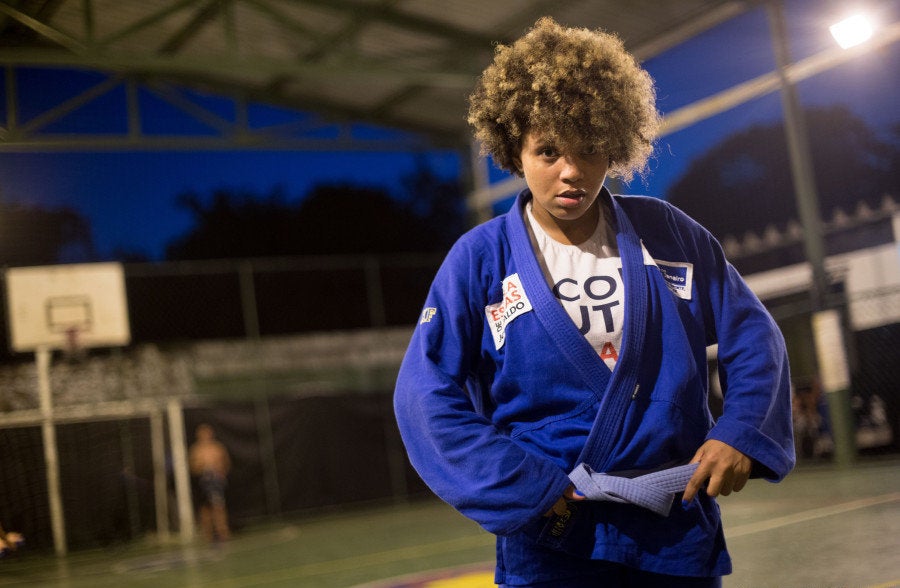 RIO DE JANEIRO ― Children who grow up in the Brazilian favela of Maré, one of Rio's most dangerous slums, face alarming levels of violence and poverty. The sprawling neighborhood, which is home to approximately 130,000 people, is a frequent target of harsh military and police crackdowns, as well as deadly conflict from the area's drug trade.
Ahead of the World Cup in Rio in 2014, the government sent almost 3,000 troops into Maré as part of a "pacification" plan for favelas, but crime and violence has continued. Despite the myriad problems that life in the favela entails, one Brazilian martial artist José Aldo conceived of a project that gives hope and purpose to Maré's youth.
Aldo opened a martial arts school in his name in the favela last year. So far, José Aldo Fight School has served 534 students, between the ages of 6 and 22, giving them a chance to cope with the hardships of their daily lives through practicing judo, jiu-jitsu, and boxing.
"Here, we replace a gun for a kimono.

Marcelo Negrão, Jiu-jitsu teacher
As Brazil's political turmoil, rising violence and gaping economic disparities form a gloomy backdrop to the Rio Olympics, this school offers an example of the power of sport to build community.  
Jiu-jitsu teacher Marcelo Negrão tells HuffPost Brazil that the school has offered kids a compelling alternative to the perils of the street. "Here, we replace a gun for a kimono," Negrão says.
While the favela is underserved and lacking in child-friendly facilities, the José Aldo Fight School seeks to build a strong and healthy community for the kids, Negrão says.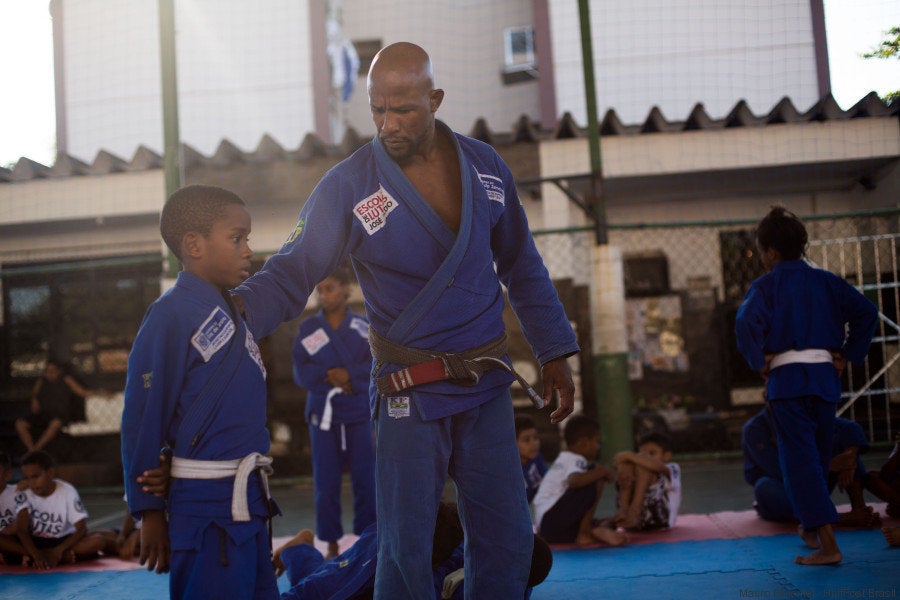 "There is lack of support, education, and health care. There is only one [Emergency Room Unit] here. Children don't have anything. Aldo's school is the only leisure activity available," Negrão says.
Carolina de Souza Neves, 22, who was born and raised in Complexo da Maré, says that enrolling in the José Aldo Fight School gave her an opportunity to get to know herself better and has helped her manage her impulses.
"Jiu-jitsu brings me peace. It is a family that taught me a lot of things. Previously, my life was a little troubled. The moment someone opened their mouth, my first instinct was to hit them. ...It could have been my father, my mother or a friend. I didn't care. Now I count to three, take a deep breath, and move on," Neves tells HuffPost Brazil.
"I had several options and sport was the best one."

Romário da Silva Costa, construction worker
Training at the José Aldo school has also been a positive force in 22-year-old Felipe Rodrigues Silva's life.
During the day, Silva works as an administrative assistant at Coca-Cola, in the lavish district of Botafogo. He said that it was the power of "positive thinking" that enabled him to escape the drug dealing business.
"You can go to college, find a nice job, think about something that gives you pleasure. You can even become an Olympic athlete," says Silva. "You have to train, wake up early, study. It will be difficult, but we can manage."
He describes Aldo as a "role model," and says that he decided to take up Mixed Martial Arts and Muay Thai to follow in his footsteps. "I would like to thank him for trusting our master and for dedicating his life to these children," Silva says.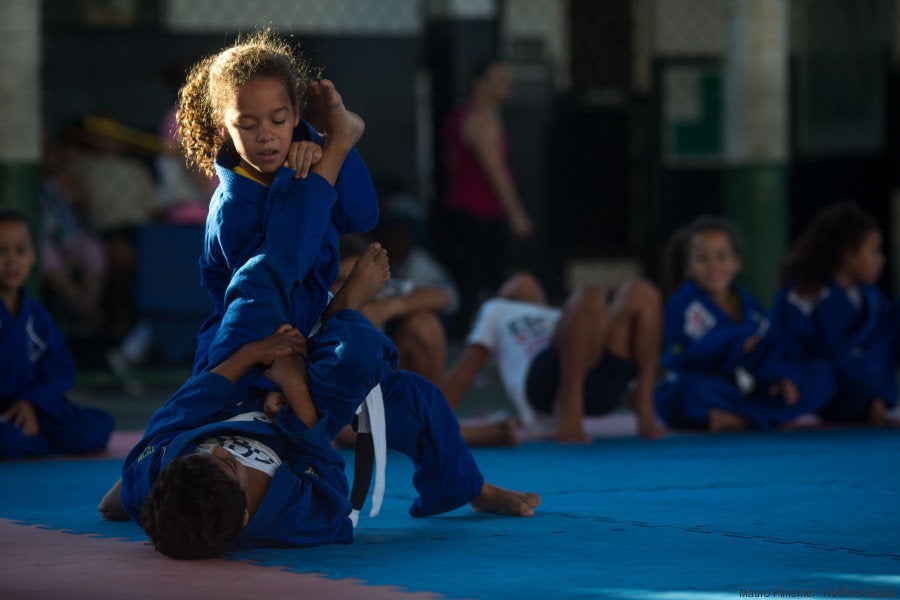 Negrão, the Jiu-jitsu teacher, believes that in due course, a Brazilian sports idol will emerge out of the Complexo da Maré community. "Some children are very advanced. You can feel that there's a future winner here," he says proudly.
He would definitely bet on 22-year-old Romário da Silva Costa, a construction worker from the northeastern state of Maranhão. Costa, who helped rebuild the Maracanã stadium for the 2014 FIFA World Cup, works 12 hours a day, six days a week, but still makes time for training.
Costa says sports gave him an opportunity to vent his anger: "I had several options and sport was the best one."
Negrão believes that the discipline the students learn at the José Aldo Fight School will keep them out of trouble. "I am building an army of young fighters," he says. "I have already taken one athlete out of the wrong path and now he is attending church."
"The wrong path takes you nowhere," he continues. "What they need is discipline, respect, and hierarchy. They must keep their minds busy, they must have activities, and they must study. And they find discipline in martial arts."
Scroll down for more photos from inside the José Aldo Fight School: 
A version of this piece appeared on HuffPost Brazil. It has been translated into English and edited for a U.S. audience.
For more Olympics coverage:
REAL LIFE. REAL NEWS. REAL VOICES.
Help us tell more of the stories that matter from voices that too often remain unheard.
BEFORE YOU GO
PHOTO GALLERY
Olympians Who've Made History Before Stepping Into Rio