Martin Atkins, who's best known for drumming in some of the most influential post-punk and industrial bands, including Ministry, Nine Inch Nails, Pigface (Trent Reznor) and Killing Joke, will help wind down CIMMfest's weekend festivities (April 18-21) as the keynote for Sunday evening's Closing Night program that will include a screening of The Source Family, a Q&A with its director Jodi Wille, a performance by Joey Molland of Badfinger and the CIMMfest awards ceremony.
I caught up with Atkins; a Coventry, England, native who resides in Chicago, and chatted with him about what he's got on deck for his keynote to wrap CIMMfest, how he sees the changes in the music biz, what he's most looking forward to at this year's expanded fest (attendees are expected to more than double last year's 8,500) and why he likes to throw blueberry muffins at his audience.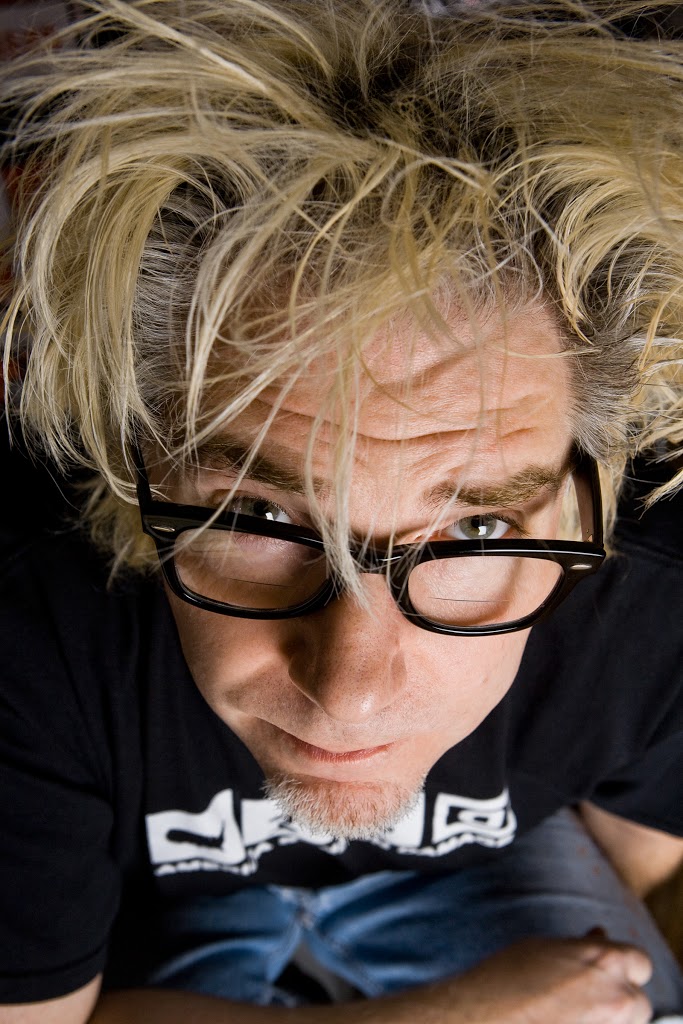 Martin Atkins, courtesy of CIMMfest
Your keynote will kickoff CIMMfest's Closing Night program. I've read your South by Southwest panels have been so wildly popular, with praise like, "Best panel at SXSW." What do you have in-store for attendees this year?
Well, hopefully, something interesting (laughs). I don't mean to sound like I don't know what I'm going to do, but I've been looking at changes in formats and how we look at things and what's important, so there's kind of some broad things I'm going to be talking about. It's also the fifth year of CIMMfest, so I'm kind of excited about that and it won't be a surprise to anybody who's seen my music presentations; I usually end up throwing muffins at the audience. There are really good reasons for that which we don't have to get into, but anybody who's planning out their CIMMfest experience can skip a meal if they are coming to my event because there will be plenty of muffins.
What type of muffins do you prefer to throw at audience members?
It is only blueberry muffins. I've been doing it for the last few years now. I just got tired of ending with a 'Hey, thanks!' and then I started to talk about a scratch and sniff blueberry white vinyl 7-inch that I made for a band I worked with, and then talking about the olfactory senses and how smells place memories deeper in your brain, but now I don't even talk about that stuff; I just throw muffins at people. I have bags of muffins that people can share, I have larger muffins, so that the people in the back who think that they're safe can actually really get nailed in the head, and hopefully, amongst all of that, there will be some thought-provoking subjects and ideas because I think one without the other is kind of meaningless. Just good ideas spoken out loud, I think you need to do more than that.
With all of your experience in the industry; touring with Ministry, forming Pigface, performing with Nine Inch nails, playing in Public Image Ltd. and Killing Joke, which you also managed, and creating and running Invisible Records and Mattress Factory Studios, you certainly have a wealth of experiences. Are there any particular stories or lessons learned that you like to share with people just getting started or struggling in the music biz?
Well, I like to tell them that they're f***** because they are. I've encountered so many people whose contribution to this equation is just, 'Oh, it's fantastic' and then they talk about the time they rode on a helicopter with Randy Newman or something meaningless. I have four kids of my own and I think I'm trying to just give people decent advice and warn them of the dangers that lie ahead. Hopefully, not in a way that has them quit, but if a few words from me can make somebody quit, then they shouldn't be in any creative business anyway, really.
You're hosting a panel: 'Get Da Money: Fund-raising, Crowdsourcing and Grant Writing' at 1 p.m. on Saturday, April 20 at Logan Theatre Lounge (free). How do you think crowdsourcing has or will change the face of movies?

Well, it has changed. It has changed the face of a lot of things. I teach Entrepreneurial Business up at Madison Media Institute in Madison, WI and we used to talk about budgets and plans and now we talk about marketing plans and kickstarters and crowdfunding. You can take your idea and involve people in the germination of the idea; the fruition of the idea becomes the thing that you're involving other people in. You're not involving people in this shiny, finished professionally made object, although some people sign up for that. You're involving people in the whole process -- the success, the failure, the trials and tribulations and that's what's exciting to people -- to be involved. So, now, you don't have to have this great idea for a movie and spend five years trying to get the financing and driving yourself crazy doing that. You could start to involve people straight away with getting them on board and involved. You can just go from this idea of involving people immediately and generating the finances to do it, and my goodness, you can do so many things cheaper these days, anyway. So it's changed everything. It has changed the power structure, it's changed the whole gatekeeping process where there are a handful of people telling the majority of people what can be made. As long as you're motivated, you've got good marketing chops, social media chops and you're not an asshole, you can do anything you want.
Talking about change. The music industry has changed dramatically since the '90s and it continues to become more fragmented with more and more bands putting out their own music and using social media to attract new fans. Where do you see the future of the industry headed and how do you think it will be best for musicians to get their music out there and make a name for themselves?

I may or may not say this on Sunday I'm not sure, but the only constant thing is change, right? So, you're saying that the business has changed since the '90s and I came up as a punk rocker with Johnny Rotten's Public Image Ltd. in the late '70s and then it was cassettes and 7-inch singles and then the CD came along, before that it was long-playing albums and reel-to-reel tape machines and 8-track cartridges. Everything's always been changing. I think that there are people who are locked in a battle to try and take the music business back to the '90s; you know, and there are people who are just embracing the change and realizing that being social with people however that happens -- at a show, talking to people, signing things, being nice, being available or doing that same thing online or both -- and making great art, whatever it is -- and I don't mean technically proficient art, I mean great art that speaks to people and moves them--whether it's music, film, pottery or just an idea or the written word, it has to be combined with marketing chops and social media chops and for anybody who's prepared to do that, everything is possible. There are some people who say, 'I just want to play my bass guitar,' well, great. Be the best bass player in the world in your basement because if you don't have other skills to add to that, no one is ever going to find out about you and if that's the thing that you're doing, there's a nine-year-old kid in China who's a better bass player than you, there's a seven-year-old guitarist I just saw on The Ellen DeGeneres Show, there's a 6-year-old drummer and there's a 14-year-old golfer now who's going to be better than Tiger Woods in a couple of years. So, you have to diversify your skill set and then you can do anything. So, the future to me is what it's always been. The future is available to the people who have vision, who work hard, who are humble, and available to their fans and who have something interesting to say.
What's the biggest lesson you've learned from the music biz?
That's a good question... To not be in a hurry. To sustain. So many people are aiming for something huge like 'I want this album to be no. 1!' People think in very grandiose, massively successful terms, but really, sometimes all you need in any business is just the ability to get through to next week and the week after and to do it again and to do another show and to record another song and if you can keep doing that, you keep getting incrementally better and you'll eventually get to where you can be, learning along the way, growing along the way. I think that's a lesson.
What are you absolutely most excited about for CIMMfest this year?
There are a few things. One, lots of great people. There are so many great people. I saw Josh [Chicoine] and a bunch of the guys down in Texas and it's great to hook up with Chicago people when you're outside of Chicago. So, seeing people is great. I was a judge in the past, so there's always the music-related documentaries that I know if I sit down, even if it's something I'm thinking, 'I don't know if I'm going to enjoy this,' I probably am; my eyes are going to be open, my ears are going to be open later on by some great music. The thing that I'm most looking forward to is the thing that's going to surprise me that I don't know what it is yet and that's the frame of mind that I go into these events with, like just being open. If I miss the thing that I really thought I needed to see, I need to just relax because I'm going to accidentally see some other thing that's going to surprise me that I'm going to love.
Martin Atkins will keynote the CIMMfest Closing Night program at 7 p.m. on Sunday, April 21 at Constellation (formerly Viaduct); 3111 N. Western Avenue (@ Belmont).
Popular in the Community