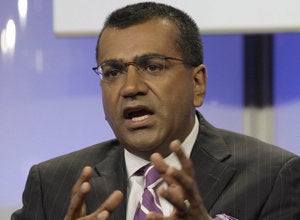 "Nightline" co-anchor Martin Bashir apologized Thursday for inappropriate remarks he made last week at a conference celebrating diversity among journalists.
"I'm happy to be in the midst of so many Asian babes," he said onstage, with his 20/20 colleague Juju Chang nearby. "In fact, I'm happy that the podium covers me from the waist down." He then noted that a speech should be "like a dress on a beautiful woman -- long enough to cover the important parts and short enough to keep your interest -- like my colleague Juju's." ("See what I have to put up with?" she responded.)
ABC News spokesman Jeffrey Schneider condemned the remark, saying, "This kind of remark has no place in any setting and Martin knows that and is truly sorry for his serious error in judgment."
31 July 2008

Dear Madam,

I wanted to write and apologize for an inappropriate comment that I made at the AAJA dinner last Friday and for the offence that it caused to those present.

Upon reflection, it was a tasteless remark that I now bitterly regret.
I am grateful to you for the opportunity to address those present and hope that the continuing work of the organization will not by harmed or undermined by my moment of stupidity.

Yours truly,

M Bashir