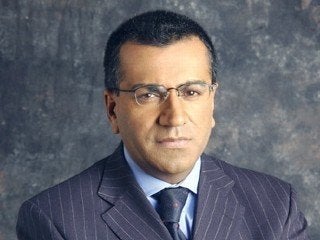 "Nightline" co-anchor Martin Bashir is leaving ABC for a job at NBC News.
"GMA" weekend co-anchor Bill Weir will take his place alongside Terry Moran and Cynthia McFadden as co-anchor of "Nightline," which has seen strong ratings this past year.
Bashir will join MSNBC as a daily afternoon anchor and will be a contributor to Dateline NBC.
ABC News President David Westin announced the change in a message to staff Thursday morning:
I'm pleased to announce that Bill Weir will be joining Terry Moran and Cynthia McFadden as a Nightline anchor. Since joining us in 2004, Bill has done some of our most innovative reporting from every conceivable venue, both as co-anchor of weekend GMA and for all of our other programs and platforms. He has traveled the globe covering breaking news and uncovering global trends, including his coverage of Afghanistan last January where he came under fire with American troops, his in-depth reports on the economic rise of China and India, and the primetime hours he's done on topics ranging from the rise and fall of General Motors to the pursuit of happiness around the world. Bill has been at the forefront of our adoption of all that new technology makes possible, often shooting his own material in the field and embracing new forms of reporting now possible in the digital world.

Under the leadership of James Goldston, Nightline has done what few imagined possible five years ago: It has combined groundbreaking and important journalism with an appeal to the audience that has led it to grow while others in its time period have declined. I'm confident that the addition of Bill to James' extraordinary team will ensure Nightline's success in the years to come, while at the same time the entire division continues to benefit from Bill's contributions.

As Martin Bashir just announced to the Nightline staff, he will be leaving ABC News next month for a position at NBC News. Martin has been an important part of the successful Nightline effort. All of us owe him a debt of gratitude for his many contributions to ABC News during his six years here, and I know that all of us wish him well.

Please join me in congratulating Bill on his new job and thanking Martin for his service to ABC News.
Bashir sent the following note to "Nightline" staff Thursday:
My Dear Friends,

I wanted to let you know, as my close working colleagues for a considerable period of time, that I will be joining MSNBC/NBC - to work in both daily and long-form journalism.

Before I say anything more - I must acknowledge my debt of gratitude to each of you. It has been my privilege to partner with you at ABC and I shall forever be grateful for your professionalism, kindness and support. I do believe that we have always sought to reach for the very best in all our journalistic ventures.

In the process, we have become more than colleagues - and so, even as I prepare to leave, I know that our friendship (which began six years ago) will continue into the future.

I do trust that the show will continue to enjoy success and that you will be as welcoming of Bill Weir as you have been of me.

With all good wishes,

Martin
Related
Popular in the Community