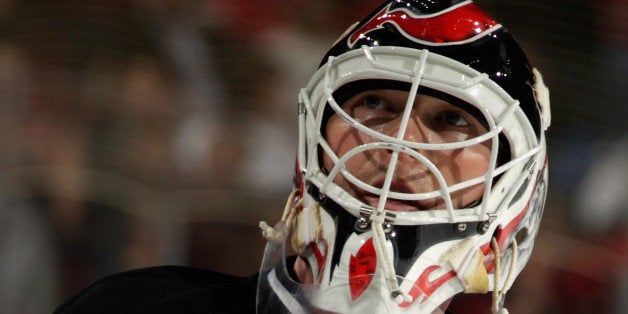 And still, I can remember the chill in the air, the anticipation in my body, the tension in my nerves, as we'd walk into the arena, forcing ourselves not to look through the stanchions as we made our way to the entrance to our section. We were still full from our pre-game meal (not as good as others might have cooked, but good for a parking lot meal). We'd walk into Section 228, or 217, of Continental Airlines Arena, and we'd see the ice for the first time, and we'd smile the smile of people who, at that moment, couldn't find another place in the world where happiness was more abundant. We were 300 miles from home, but it could very well have been 3,000 or 3,000,000. Because we were going to see Martin Brodeur play for our New Jersey Devils.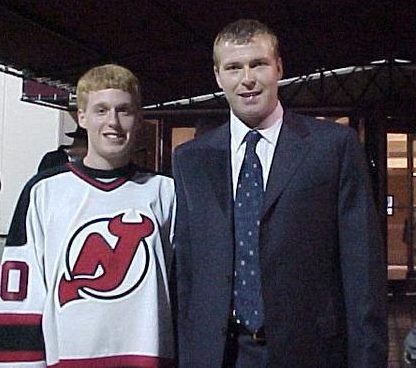 It's easy for children to identify with athletes as heroes. They are larger than life, drawing tens of thousands of people to pay to watch them, to be in their presence. Going to Devils games was a way to suspend my own life for three hours, and to give myself over to a game that was bigger than me. When Adult Anthony looks at Teenage Anthony, it's amazing to see the incredible power of transportation that hockey represented, and still does. And Martin Brodeur was the conduit through which it all happened.
I've learned everything about hockey from watching this man in red and black. I'm a goalie because I wanted to be just like Marty. I play in the number 30, have it tattooed on my left (glove-side) wrist, because that's Marty's number. I have every jersey that Marty has worn in his career, from the Devils to the Olympics, the World Cup, the Worldstars tournament, and so on.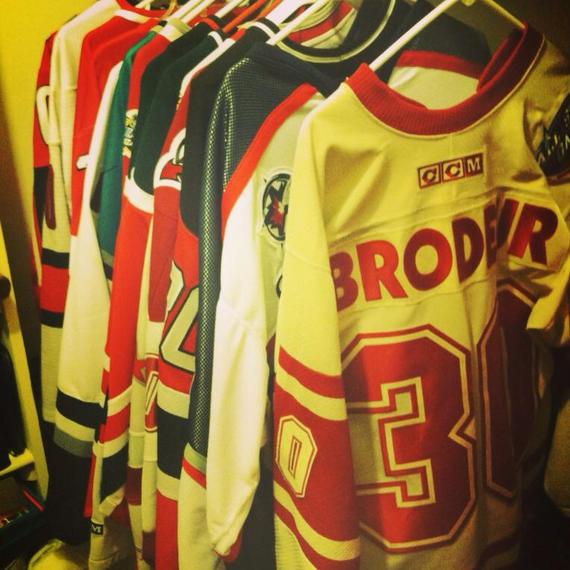 Save after save, game after game, month after month, year after year. Seasons changed, Marty was there. Personnel shuffled, free agents left, free agents signed, coaches left. And there he was, still. Through elementary, middle school, high school, college and marriage. Our number 30, our last line of defense, our goalie remained. Our Marty.
Sports fans will attest to the rarity of a player spending his entire career with only one franchise, especially a winning player who can command a high salary. The odds of getting a Derek Jeter, Kobe Bryant, or yes, a Martin Brodeur to stick around is really difficult. And in sports, where you're only as good as your last game, a career that lasts for over 20 years is beyond impressive: it's legendary.
But in New Jersey, Marty's always been able to fly under the radar. When I was younger, we'd drive over to the practice rink next to the Turtleback Zoo, college-aged Anthony playing it cool and calm while Marty signed my goalie stick, listening from outside my body as Marty told me to always have fun playing. I waited to talk to him after a game where a controversial overtime goal had been kicked past him, giving the Devils a loss. Marty put down his jacket and bag, and showed me with his body how the puck had gotten past him. He made $4M that year, and here he was, demonstrating a save to me in a parking lot at 11:00 at night.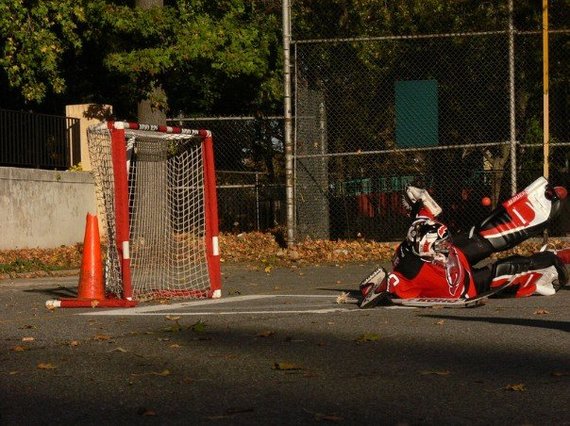 We have had the pleasure and the great privilege of watching Martin Brodeur play hockey, and in New Jersey, we are better for it. We've won the Stanley Cup three times, each time against a team who was expected to beat us, each time with a goalie that "experts" thought and predicted would outperform Marty.
But 2001 is long, long gone. It's 2014, and Marty's approaching the end of his career. What many, myself so very much included, would call the greatest goaltending career in the history of the National Hockey League, is on the verge of coming to an end. With Cory Schneider deservedly between the pipes in New Jersey, the era of Martin Brodeur in red and black is over. Whether retirement is next up, or a job with another team, it's time for us to say our goodbyes.
I remember when the final Harry Potter book was about to be released, there was an article written about how young adults were going through a grieving process, because they had actually grown up alongside this fictional character. How silly it was, I thought. My, how the mighty have fallen. Because now I'm "That Guy".
Look, everything ends. I've said farewell to Jerry Seinfeld, Walter White, Buffy Summers, and Nancy Botwin. I've waved goodbye to Severus Snape, Lyra Belacqua, and Katniss Everdeen. But this time, it's different.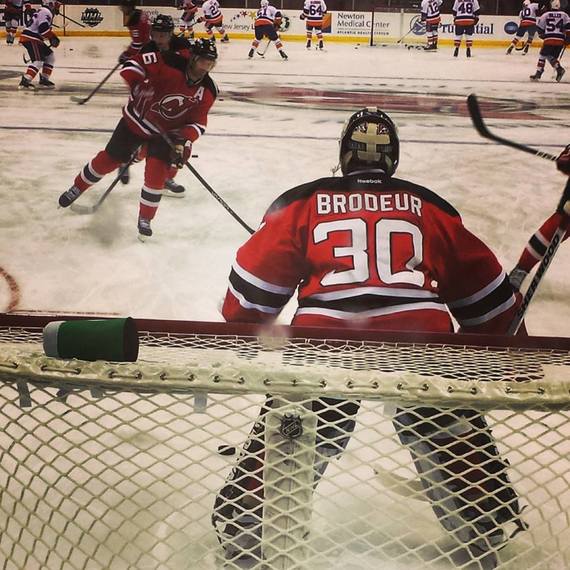 Because now, the man behind the mask is a person to whom I owe so much. Like many others, hockey has allowed me to carve out an identity for myself, has given me a person inside who I'm proud to be. Marty's calm and cool demeanor on-ice has been a touchstone by which I've tried to model my own game, my own life. And he's leaving.
So on October 18, the Devils will have their home opener against the San Jose Sharks. The air in the arena will be just as cold as it was for my first game 13 years ago. I'll be as loyal a fan as ever before, perhaps more, informed and molded by the loyalty, commitment, dedication, and love a man showed his team for 21 years. I am grateful, and yes, I am sad.
It's often said that the legacy of a man is measured by the lives that he touches. More than wins, and shutouts, and Stanley Cups and Olympic Gold medals, there are memories here that will never fade. Beyond the ice, there will always be gratitude for a man who gave his all and his best, with a smile and a stick tap.
Hey, Marty? Thanks buddy. Thank you for Game 7 in Ottawa, the Eastern Conference Finals in 2003. Thanks for winning the Cup in Game 7 in 2003. Thank you for the 2012 Eastern Conference Championship. Thank you for wearing the red and black. But above all us, in a world of heroes, thank you for being ours.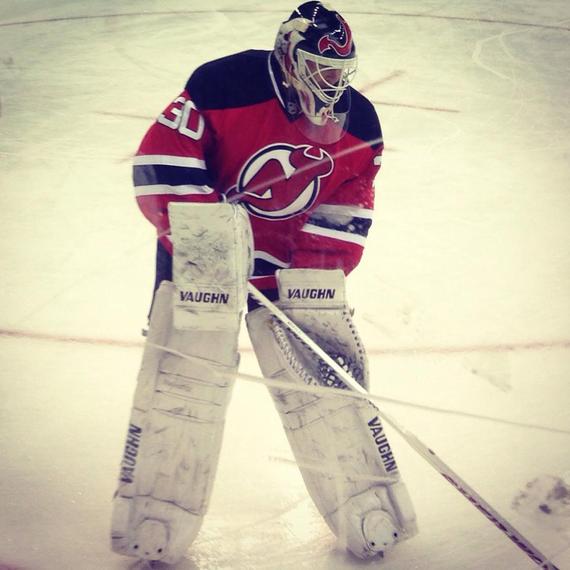 Related
Popular in the Community