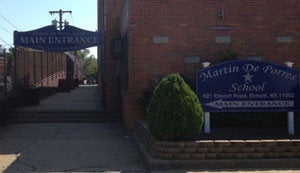 A mentally challenged girl was raped by two classmates during science class at Martin De Porres Academy in Elmont, N.Y., the New York Daily News reports.
A lawsuit filed Friday claims that the 15-year-old girl, identified by the initials K.J., was forced to perform oral sex on two teenage boys under her desk for 10 minutes.
A third boy is said to have "hit her on the head whenever she tried to escape." The assailants also tried to anally sodomize the special needs student, according to the lawsuit.
The girl has an IQ score below 60, was sent to the school by the city, and was the only female in a class of 14. The attackers were reportedly residents of Casa De La Salle, a home for juvenile delinquents.
"As soon as we learned about the allegations, we conducted an internal investigation. As a result of our investigation, the teacher was fired," Dana wrote. "We also cooperated fully with detectives from Nassau County who advised us that no charges would be filed against the alleged assailants."
In the lawsuit, the victim's mother claims Martin De Porres' response was slow and inadequate.
This is not the first time students have been sexually abused at a New York school.
"I was so conflicted, so ashamed, so full of guilt and remorse that it literally took 30 years for me to be able to remember and talk about it openly," one victim told CBS New York in 2012.
Popular in the Community