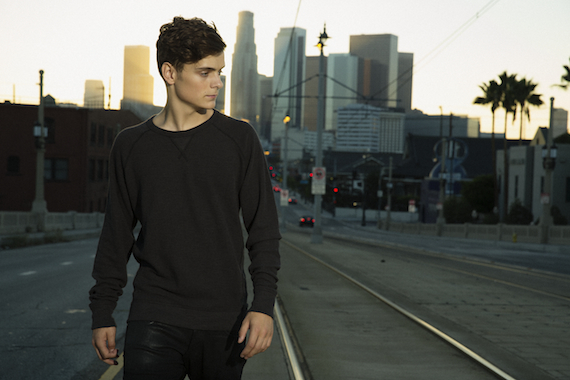 As a guest of the Fédération Équestre Internationale (FEI) at the prestigious Longines FEI World Cup Jumping Final and Reem Acra FEI World Cup Dressage Final, I was invited to interview a DJ superstar, the "other" king of the turf.

Although I have met and interviewed many inspirational people, the name Martin Garrix will always be embedded in my brain. Born in 1996 as Martijn Garritsen in a suburb outside Amsterdam, Garrix was part of the explosion of Dutch Electronic Dance Music (EDM) DJs who emerged between 2012 and 2013. He is the new face of a rapidly evolving genre and, just shy of his nineteenth birthday, the fastest rising act in EDM.

The youngest producer to have a #1 song debut on Beatport, an online music store specializing in electronic music and culture, his popular track 'Animals' was also a top 10 hit in more than ten countries.

In the United States for a long promo tour, Garrix flew from Washington DC, where he performed at the Global Citizen 2015 Earth Day concert with Usher (who he recently featured in his new single, 'Don't Look Down') to Las Vegas. He spent the weekend in Vegas playing at his club of residence, Omnia Nightclub, doing more interviews and supporting some of the Dutch riders at the FEI World Cup Finals.

This softly spoken teenager with a smile full of energy explained that music was his passion from a very young age. "I watched my idol and fellow Dutchman Tiësto. He was the first DJ to play live on stage at an Olympic event - the Opening Ceremony of the 2004 Summer Olympic Games in Athens. At eight years old all I can remember thinking was, I want to be a DJ."

Eight years later Garrix's career exploded on the dance floor with his 2012 remix of Christina Aguilera's 'Your Body'. That same year he signed with Spinnin' Records and released his first single 'BFAM' with fellow electronic/dance artist Julian Jordan.

Visibly proud of the success of his track 'Animals', Garrix told me it has been viewed on YouTube more than 304 million times and counting. "I want to show everyone that if you pursue your dreams, they can come true no matter what. That's what I want to do."

Garrix is a popular name in the music industry, with millions of Facebook fans around the world heralding his sound. Earlier this year as a thank you, he released the exhilarating dance track, 'Forbidden Voices', on the ever-popular YouTube.

Always looking for ways to give back, Garrix told me, "Education is a cause very close to me." He recently graduated from the Herman Brood Academie, a production school in Utrecht, Netherlands. "What matters is encouraging my fans to focus on their education, because only an educated generation can ensure a better future." I think he read my mind when he added with a grin, "Even when I was on tour, I did my homework and studied".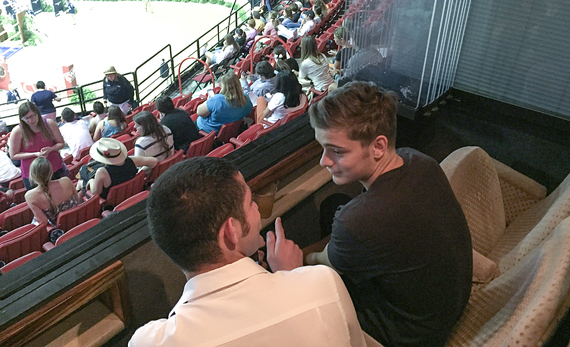 Our conversation shifted to social media, addressing the pros and cons of freedom of 'interaction'. Garrix pointed out that although "it engages the fans, bringing them closer to us, the artists, sometimes that engagement is unwanted."

Unwanted engagement certainly qualifies as Cyberbullying and I wondered how Martin copes when he is 'under attack.' What was his take on this debilitating trend? "You know Chaker, it does get to me when I read these comments. I want my fans and everyone who is bullied to be inspired by my facing to this problem, and stay strong. We are all human beings. Using social media to hurt and destroy is callous, acted out by cowards hiding behind computers. My advice is to ignore negativity. Focus on the love around."

We discussed how everything is instant, accessible and reactionary so how can we put positivity back online. Garrix told me his method, "when I have a new song, I put it on sound cloud and instantly millions of people get a message about it".

Talk of a new song led me ask - so Martin Garrix - whats next?

"I want to conquer the world!" he beamed, "But in the meantime, I will release my next single 'The Only Way is Up,' a collaboration with my hero and legend Tiësto on May 4th, for the new 7Up commercial. Producing my album, I have been working with Avicii, David Guetta and a lot of super cool singers and can't wait to share it with everyone later this year. But you know, playing new songs live is the real buzz. I get to see the crowd's reaction to something they have never heard before and hopefully they'll like it!" With ten million Facebook likes and 1.79 million @MartinGarrix followers, I somehow think they will!

Ever-generous, of time and spirit, Garrix invited me to EDC (Electric Daisy Carnival) in New York over the May 23 Memorial Day weekend. With a twinkle in his eye he proclaimed, "Then you'll know what I'm talking about!"

With the break over, we turned our attention to the field of horses and riders. I quietly reflected on the tale of DJ/Producer Martin Garrix, a down-to-earth young man, spreading the beat his own way.
Calling all HuffPost superfans!
Sign up for membership to become a founding member and help shape HuffPost's next chapter