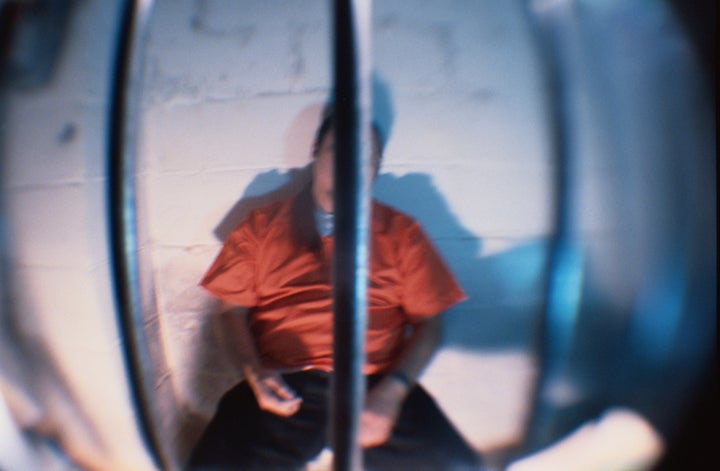 Martin Gottesfeld, an activist hacker jailed since last year on charges stemming from a politically motivated cyberattack on Boston Children's Hospital, is alleging that inmates housed in Metropolitan Correctional Center, the prison in New York where he currently resides in solitary confinement, are being mistreated and neglected due to a deteriorating facility as well as insufficient medical and mental health care.
In a letter addressed to Acting Attorney General Sally Yates, Department of Justice Inspector General Michael Horowitz and Bureau of Prisons Acting Director Thomas Kane, Gottesfeld outlines a myriad of alarming health and safety issues at the facility Gottesfeld says requires law enforcers' attention. Gottesfeld provided the letter to The Huffington Post, which then forwarded the letter to the officials for comment.
Gottesfeld alleges that there are "rodent and insect infestations" in the prison. He claims roaches are found in the food administered to the inmates and that he has personally observed insect eggs in the food as well.
He says the heating system for the prison is insufficient, with some cells in the winter reaching the "50-degree range," while others get even colder than that. He claims the heat is often turned up when government officials are inspecting the facility, but then returned to the cold levels when they leave.
Gottesfeld also alleges there are water leaks on at least two floors of the prison, with "visible signs of rust and corrosion" as well as pools of standing water due to the leaks. He also claims that he has observed "amused officers" turn off an inmate's toilet as an "ad-hoc" disciplinary measure.
Gottesfeld specifically highlights the cases of two prisoners who he claims are being severely mistreated. One inmate, who he identifies by his initials, "R.A." and says resides in long-term isolation, Gottesfeld says "does not bathe," shakes when he reaches for his food, and is met with "apathy" rather than mental health care by medical staff. A second inmate, who Gottesfeld identifies as "N," is allegedly a former police officer who was put in cell so cold for a week that Gottesfeld says he later developed flu symptoms. The inmate was later moved to a slightly warmer cell, Gottesfeld says, but it had a significant pool of water on the floor. That inmate then developed chest pains, trouble breathing and was at one point in so much pain that he screamed as he was lifted out of his cell by stretcher. But Gottesfeld claims that the inmate was never seen by a doctor.
Gottesfeld is calling for a full audit of all Bureau of Prisons facilities in New York "by all relevant bodies, including random, unannounced surprise inspections, with periodic random follow-up visits to ensure future compliance."
"Let us remember that human rights are not privileges, and further, inmates like former cop N, are afforded due process and therefor are innocent until proven guilty," Gottesfeld writes in his letter.
The Office of the Inspector General said it could not comment on the allegations and could not confirm or deny the existence of an ongoing investigation. The BOP said it had received the request for comment on the allegations and was working on a response. The DOJ did not respond.
Gottesfeld alleged mistreatment at MCC last year as well. In a letter Gottesfeld provided to The Huffington Post, he detailed a lengthy hunger strike he was engaged in to bring attention to the mistreatment of children in health and treatment facilities. He alleged that he was being punished for his hunger strike, that there was leak in his cell causing water to pool on the floor of his cell and was not receiving proper medical care in general.
After HuffPost alerted the BOP of Gottesfeld's allegations, a spokesman for the bureau would not comment on the health issues, but did say that there was indeed a water leak in Gottesfeld's cell which they later fixed.
Gottesfeld was arrested last year in connection to hacker collective Anonymous' 2014 cyberattack on a number of health care and treatment facilities in the Boston area that was done in defense of a patient there named Justina Pelletier.
Gottesfeld is among those who criticize the hospital for separating Pelletier from her parents after they sought medical treatment for her. The hospital and state of Massachusetts claimed the parents had abused her with unnecessary and harmful medical treatments. (Check here for more information on Pelletier's controversial case, and here for a primer on Gottesfeld's involvement as part of the hacker collective Anonymous.)
In a message published exclusively on HuffPost last year, Gottesfeld said he took out the Boston hospital's internet in the spring of 2014 to protest the controversial treatment of Pelletier and to protest the "troubled teen industry" more broadly. (HuffPost last year published an investigation into the industry, which has been accused of abusing children for decades.)
Here is his new letter, published in full:
Support HuffPost
The Stakes Have Never Been Higher
Popular in the Community