Having the London 2012 Olympic games on my doorstep was an incredible honor, and I was determined to get tickets to experience this once-in-a-lifetime opportunity. Competition for tickets was extremely high, so you could imagine my excitement when I got last minute seats to the morning session qualifiers on what we called Super Saturday. This was a day where we were predicted to do well in several events, with our very own poster girl of the Olympics Jessica Ennis taking part in the final sections of the heptathlon. But, sometimes it's what you weren't expecting to see that really blows you away.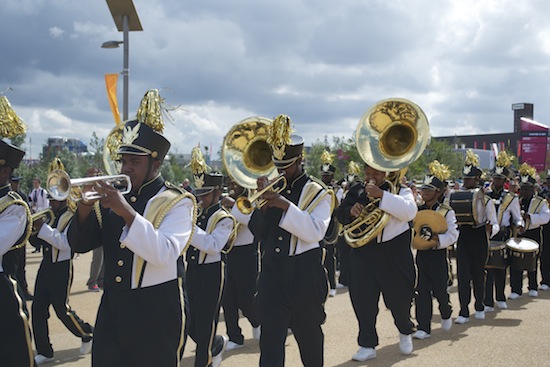 Once the athletes completed their events, it was time to take in the atmosphere around the park. Being a musician, I was keen to see the many buskers and entertainers, something that you see a lot of when in London, especially on the underground tube system. Dozens of young artists, guitarists, vocalists and various other musicians creating a feel good vibe within the Olympic park. As I stood watching one group perform, I couldn't help but hear the resonance of a pulsating drum beat in the air. As it got closer, a sea of people parted ways for what was one of the most exciting things I have ever seen and heard, the Martin Luther King High School marching band. Now, being from the UK, we only get to see things like this from popular American sports on TV or in movies, so for us this was an absolute treat!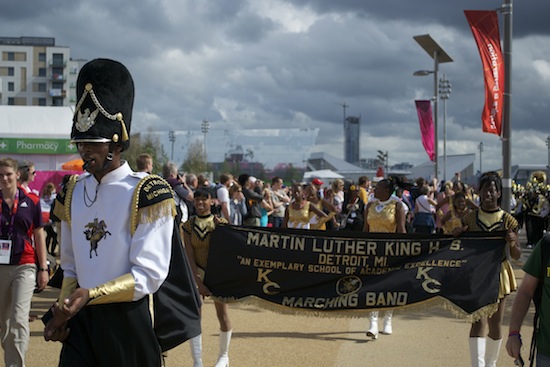 Their band leader took pole position, and had as much energy as all the athletes I'd just seen, catching the eye with a mixture of dance moves and quirky shapes. You couldn't help but smile. He was followed by an immaculate array of dancers, spontaneously breaking into routines with precise timing. They were supported by an avalanche of musicians creating this incredible sound. The drum beats were infectious and the brass section filled the entire park with their version of jazz and pop classics. Never have I heard such a fascinating, traditional band reinvent songs like P.Y.T by Michael Jackson. It was truly brilliant! Their music set off a chain reaction of smiles wherever they went, making everyone stop in their tracks to enjoy this fantastic, professional band.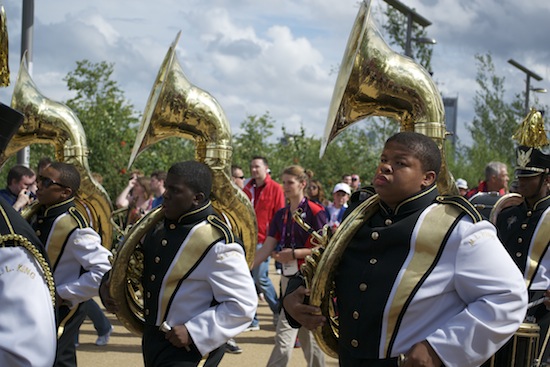 Only after reading a related article from the Huffington Post did I realize how much hard work they had done just to get to the Olympics. A special mention should go to Victoria Miller for making all this possible. Victoria and everyone involved with the Martin Luther King marching band should feel extremely proud. They lit up the park and captured the spirit and mood of the games. I hope they know that they were thoroughly welcomed and appreciated at the London 2012 Olympics. My only wish is that I could see them again. Looks like a trip to Detroit is in the cards!
Calling all HuffPost superfans!
Sign up for membership to become a founding member and help shape HuffPost's next chapter