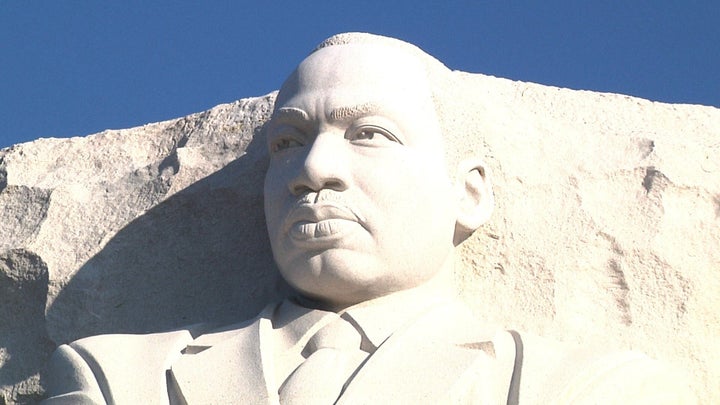 To see Dr. Martin Luther King, Jr.'s majestic likeness rise from the shore of the Tidal Basin, to brush a hand across his words, chiseled in granite, is an extraordinary thing. And this week's unveiling of the King memorial in Washington, D.C., is an extraordinary moment for the African-American community, for America, and for people everywhere who continue to draw inspiration from Dr. King's legacy.
Yet I can't help but reflect on this momentous occasion with mixed emotions. As I think about the prospects for our community, and for our country, I'm worried. It's been almost half a century since Dr. King spoke of transforming the "dark yesterdays" of our heritage into "bright tomorrows." Yet, can we say that African-Americans' tomorrow will be better than today?
Politically and professionally, the African-American community has achieved more than ever before. There are more African-Americans in influential positions than any time in history -- from the White House to the Governor's Mansions to Congress to board rooms. There are African-American doctors and engineers and researchers in the workforce in record numbers, able to serve as mentors and teachers to the next generation. There are African-American athletes and entertainers claiming center stage across American culture, in positions to be inspiring role models.
Yet, economically, the picture is significantly less encouraging. In many cities, nearly half of all young Black men are out of work. Six decades after Brown versus Board of Education, fewer than 60 percent of African-Americans graduate from high school. We have too many young Black men in prison and not nearly enough in college. Black-on-Black crime has become a fact of life in many urban neighborhoods. Sixty-five percent of Black children are being raised by single parents.
And even as many of our country's most pressing problems -- from unemployment to our broken educational system to the obesity epidemic -- affect the Black community disproportionately, the number of African-Americans in our newsrooms is shrinking and the officials we've elected to represent us are hushed. Our stories are not being told and our voices are not being heard.
At the NAACP National Convention this past July, Ben Jealous, the organization's charismatic young president, shared a powerful memory about attending the 21st birthday celebration of a friend many years ago. Another friend started a round of toasts, and someone raised a glass, in Jealous' words, to "the fact that one more of us had survived to 21... as if in the wealthiest nation on the planet and in the greatest democracy the world has ever known, it should be an accomplishment for a man of any color to merely survive to 21."
"I could not raise my glass to that last toast," Jealous said. "It had cut me like a knife." So, some days later, he approached his grandmother and told her about the incident. What had happened, he wondered, that his generation should come to see their prospects in these terms?
"Grandson," she responded, "it is sad but it's simple -- our people got what we fought for, but we lost what we had."
For many in my generation, those words ring painfully true. I was born in an era of entrenched segregation. Everywhere you turned, your dreams ran up against the lines and limits that society drew. But in the African-American community where I grew up, we didn't believe that our frustrations warranted despair -- or defeat. We drew strength from one another. We believed, first and foremost, that we had to look out for our own. My mother kept an eye on my friends, just like their parents kept an eye on me, and the whole community took responsibility for inculcating strong values, and for encouraging us to strive. Dr. King once said that "intelligence plus character is the true goal of education." But long before Dr. King said it, families in my whole neighborhood not only believed it, they lived it.
It's time for us to reclaim what we've lost. To start embracing responsibility again. At a time when our voting rights are being rolled back, when our schools are failing our children, when all the talk in Washington today is about cutting back the federal government's helping hand, we've got to summon a new spirit of leadership -- for our community, and from our community.
Instead of looking for a new Dr. King -- a single, visionary, national leader -- let's all take more responsibility for the future of African-Americans ourselves. Let's renew our sense of self-reliance and pride. Let's get focused on economic empowerment. We may no longer have a single cause that defines our movement, but Lord knows we've got a To Do list. So let's stop waiting for others to fix our problems, and start taking more action ourselves.
There are many examples of inspiring individuals and organizations who are doing just that. Geoffrey Canada, and the Harlem Children's Zone. Urban planner Majora Carter, whose vision is that "you shouldn't have to leave your neighborhood to live in a better one." The Jackie Robinson Foundation, which has been providing scholarships and leadership training for African-American students since 1973 -- and whose scholars maintain a nearly 100 percent graduation rate. And countless other African-Americans whose names will never make the headlines, who, despite tough circumstances and economic hardship, are teaching their children that success in life begins with success in school -- who help them with homework, who push them to excel, who instill a strong sense of character and capability.
We must all ask ourselves, what can I do? Where and how can I make a difference? For, as Dr. King preached at the Mason Temple in Memphis, Tennessee, on the eve of his assassination, "Either we go up together, or we go down together."
And, beyond that spirit of solidarity, we need to start asserting ourselves, by standing up, speaking out on the issues that affect our lives, and demanding that African-American voices be heard at the tables where decisions are being made.
That's a big part of my hope for Black Voices. I'm hoping that, together, we can build a forum where different voices come together to challenge and inspire one another, and start building the strength, momentum, cohesion, and influence our community needs and deserves.
The new MLK monument that stands so proudly in our nation's capital is far more than a memorial to the past. It's a reminder to the present: the dream lives on only when we rise to meet it.
REAL LIFE. REAL NEWS. REAL VOICES.
Help us tell more of the stories that matter from voices that too often remain unheard.