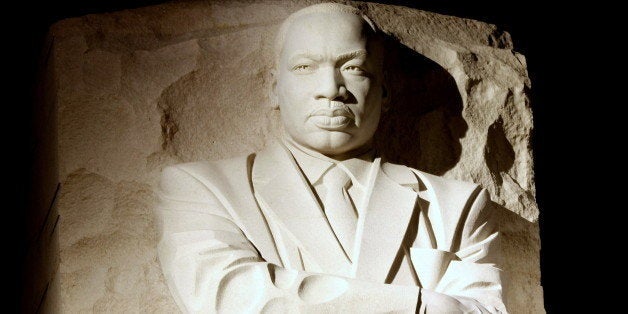 As the nation prepares to mark what would have been the 87th birthday of the Reverend Dr. Martin Luther King, we should remember Dr. King as a staunch supporter of both public education and organized labor. This is especially important as teachers in cities across the nation including Chicago and Detroit, weigh the necessity of civil disobedience and work stoppages to raise awareness and encourage a fair resolution to their concerns.
While teachers unions have been vilified for taking these steps, the actions of labor leaders such as Chicago Teachers Union head Karen Lewis are more in line with those taken by the Reverend Dr. Martin Luther King in his quest to vanquish what he once described as the triple evils of poverty, racism and militarism. These are problems that residents of inner cities like Chicago and Detroit know all too well. The Chicago Teachers Union, for example, linked its opposition to Mayor Rahm Emanuel to the mayor's handling of the police shooting of 17 year-old Laquan McDonald in which city officials have been accused of withholding information including video of the killing to ensure that their release did not negatively impact Emanuel's reelection bid. Chicago Police Officer Jason Van Dyke was recently charged with first-degree murder in the killing of McDonald, an unarmed 17-year-old who was shot 16 times by the officer as he walked down the middle of the street. McDonald's case is not the only time educators weighed in on controversial police killings either.
In recent years, educators have had to resort to acts of civil disobedience in order to make the public aware of a variety of issues from over testing of students, cuts to special education instruction, and unfair labor contracts. Union members often face significant consequences for their actions including harassment and termination. These problems are not new. In September of 1978, for instance, teachers in a number of cities including Philadelphia, New Orleans, Seattle, and Indianapolis, took to picket lines in protest of similar injustices. In many cases, teachers faced jail for their actions. The small city of Bridgeport, Connecticut took center stage after public school teachers, in defiance of a court injunction and state law, elected to strike instead of returning to work without a contract. As a result of the ensuing walkout, 274 teachers were imprisoned.
Teachers, then and now, invoked the legacy of the Civil Rights Movement and the words of Martin Luther King to support a deeper investment in America's public schools including more robust budgets for instruction, greater interventions for English language learners, and fair compensation. Their appeals for politicians to live up to the spirit of the movement fail to move political leaders like Rahm Emmanuel and Michigan Governor Rick Snyder whose positions on high stakes testing, teachers unions, and insistence on school closures represent the most egregious form of historical amnesia concerning the continuing relevance of Dr. King's message.
In a few days, many of these same politicians will take to podiums at ceremonies to commemorate the birth and life's work of the famed Civil Rights leader. Their words however will prove hollow because their actions undermine the very principles of social justice for which Dr. King lived and died.
Last January, Governor Snyder observed that, "Dr. King inspired us to help those in need, to respond when we saw injustice, and to speak up against all forms of discrimination.... He fought for justice and opportunity for every American." These same words, of course, apply to the scores of educators across the country fighting to save public education. They are simply asking for the opportunity to work in partnership with city officials. They want to create stable schools that serve as anchors for enriching educational experiences; they seek fair compensation and sane evaluations that recognize their role as essential professionals in the development of the nation's most precious resource, our young people. Taking the easy way out by blaming teachers and teacher unions will not solve the problems of our nation's public schools. Addressing the inadequate funding and half-baked educational initiatives that serve as poor substitutes for the real investment in schools, including teachers, is the first step necessary to aligning our educational system with the ideals of equity and justice put forth by Dr. King. "I am cognizant of the interrelatedness of all communities and states," Dr. King observed powerfully in his "Letter from a Birmingham Jail". "I cannot sit idly by in Atlanta," he continued, "and not be concerned about what happens in Birmingham. Injustice anywhere is a threat to justice everywhere. We are caught in an inescapable network of mutuality, tied in a single garment of destiny. Whatever affects one directly, affects all indirectly."
This Martin Luther King Holiday, we need to be mindful of what public school educators are telling us about the state of our schools and by extension, our children and our democracy. "Whatever affects one directly, affects all indirectly." Failing to heed the concerns of those entrusted with the duty of safeguarding the interests of our youth while decrying the dignity and worth of human labor do not move us closer to the dream of Martin Luther King, but further along the path of inhumanity characterized by the wanton disregard for human life embodied not only in the killing of unarmed teens but by the closing of schools.
Calling all HuffPost superfans!
Sign up for membership to become a founding member and help shape HuffPost's next chapter