You've heard of people losing their marbles. Martin Molin is using his -- 2,000 to be exact.
The Sweden-based musician has spent the last 14 months working on a musical instrument that uses marbles to play both melody and rhythm.
Molin officially unveiled his "Marble Machine" on Feb. 29 with a YouTube video featuring an original instrumental composition.
The Rube Goldberg-like instrument is played by a crank that lifts the marbles up to the top so they can roll down.
The Marble Machine is versatile: Molin is able to make it play bass, percussion and a vibraphone using a series of levers that direct the rolling marbles where he wants them.
The 33-year-old was inspired to build his machine after visiting a museum with mechanical instruments in Utrecht, Netherlands.
"I always loved the Marble Machine subculture and when I knew how to cut wooden gears I wanted to build this machine," he told The Huffington Post via email. "I think it was when I was watching a marble machine video on YouTube that I thought, 'It would be nice to be able to program the falling pattern of the marbles and let them fall on different musical notes.'"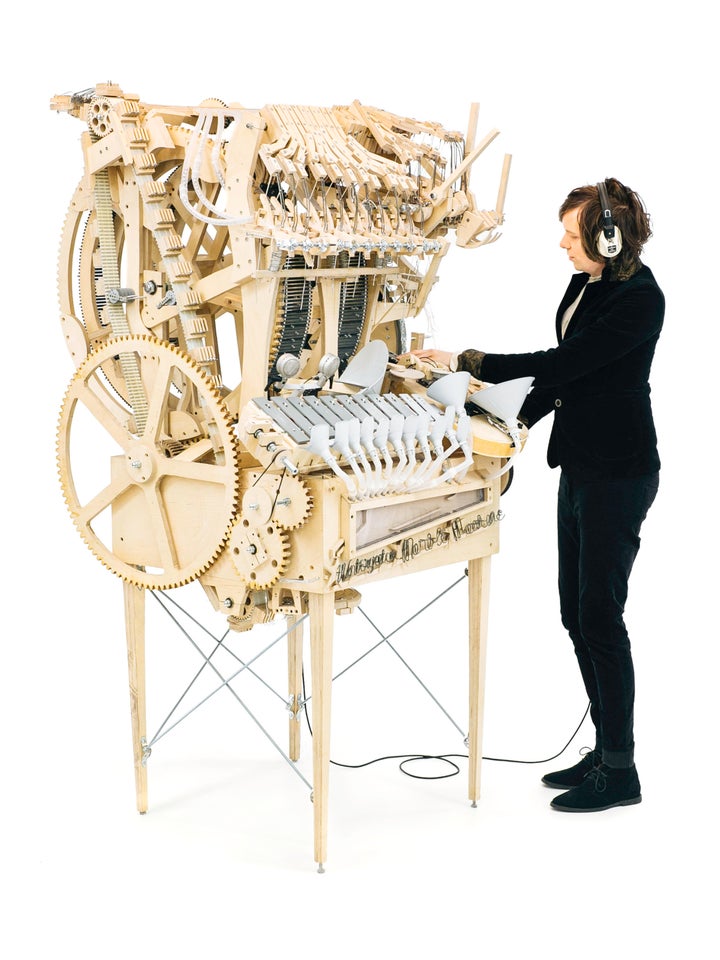 Molin built the machine himself, even taking on the expense of buying various woodworking tools, including a bandsaw, table saw and drill press.
"After putting the machinery together I started with the programming wheel and then built the whole machine around that," he said.
Considering that Molin was building an instrument he had never played, composing on it was a bit of a challenge.
Luckily, he learned the nuances of the instrument during the construction process.
"I was test composing constantly during the whole time," he said. "It is quite quick to reprogram but it takes a lot of concentration to put the nails on the right places."
Molin says songwriting on his Marble Machine was a challenge because the instrument only allowed compositions of a certain length.
"With other instruments you are totally free to do whatever but these limitations on the marble machine act as a starting point, something to be creative with," he said.
He also had to figure out the right amount of marbles to make the machine work best.
"I first bought 500 which I thought was plenty," he said. "Then I reordered 500 again three times over."
Molin, who plays with a band called Wintergatan, would like to take the instrument out on the road with him, but that's not going to work.
"The machine is too big to travel with," he said. "Right now I can not get it out through the door from the place I built it in without deconstructing it. I will build a smaller motorized music box that we will take with us on tour and it will act as a fifth member of the band."
REAL LIFE. REAL NEWS. REAL VOICES.
Help us tell more of the stories that matter from voices that too often remain unheard.
BEFORE YOU GO
PHOTO GALLERY
Weird News: Strange, But True