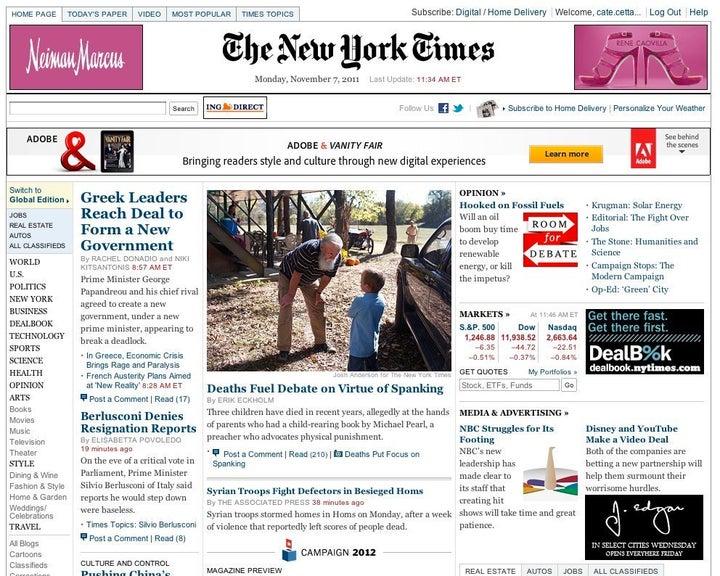 Martin Nisenholtz, The New York Times' Senior Vice President of Digital Operations, announced Monday that he would be leaving the paper at the end of 2011. Nisenholtz, who has run The Times' digital operations since 2005, will retire in December.
Nisenholtz has been with the New York Times for 16 years. He is known as the "founding leader at NYTimes.com" and was considered largely responsible for leading the paper into the digital era.
Times staffers received an email announcing Nisenholtz's planned departure from publisher and chairman Arthur O. Sulzberger, Jr., and CEO Janet Robinson.
Sulzberger, Jr. and Robinson thanked Nisenholtz for his "many years of service and dedication." They also credited him for developing a "stronger roster of executives and deep bench of managers" who, with Nisenholtz, will "ensure a smooth and seamless transition."
See the entire memo below.
Sent: Monday, November 07, 2011 10:36 AM

To: ALL EMPLOYEES_11042011

Subject: On The Record…..from Arthur + Janet

On The Record…..from Arthur + Janet

Vol. 6 2011: Martin Nisenholtz to Retire

To Our Colleagues,

When Martin Nisenholtz joined The New York Times Company in 1995, we had zero Web page views. Indeed, we had zero Web users. Further, we had no Web revenue. Today, thanks in large measure to Martin's vision and leadership, our digital numbers are dramatically different.

We note this and are writing to you because Martin has informed us that he plans to retire at the end of the year, after 16 years of service to The Company.

He leaves a lasting legacy that will be felt for a very long time. He developed a strong roster of executives and a deep bench of managers who are recognized leaders in our industry. Together, they will continue to execute on our digital strategy with teams comprised of the best and brightest experts on the Web, social media, design, digital devices, engineers and research and development.

Over the coming weeks, Martin will be meeting with his direct reports to ensure a smooth and seamless transition of his responsibilities.

While Martin will remain with us and engaged through the end of this year, we want to take this moment to thank him for his many years of service and dedication. Please join us in wishing Martin and his family a very healthy and happy future—in print, online and across multiple devices.

Sincerely,

Arthur + Janet
Related
Popular in the Community