Even Martin O'Malley doesn't always know when a Martin O'Malley speech will turn into an impromptu concert.
At a tavern in Des Moines on Thursday, a standard meet-and-greet with Iowa Democrats was morphed into a singalong when City Councilman Chris Coleman gave O'Malley a guitar that Coleman had brought from home. Coleman wasn't even the only attendee that day who came with an instrument in hopes that the former Maryland governor would strum a tune or two.
"The second guy who showed up was a little annoyed. He brought his [guitar] expecting me to play it, only to find that someone else had beaten him to it," O'Malley told The Huffington Post. "So I played his for a little bit there in the corner just to say we had, and then we did the [selfie]."
Over the next year and a half, Americans will stop by campaign events across the country hoping to shake hands with, snap selfies of or simply witness the next president of the United States. But as O'Malley embarks on a tour of the early primary states, his fans are requesting something different: a personal concert. At several other recent O'Malley appearances in Iowa and New Hampshire, the same ritual has occurred: an attendee offers up a guitar and asks him to serenade the crowd.
"It's funny, guitars are starting to pop out of everywhere," O'Malley said.
At a fundraiser in March, the governor gave a surprise performance while standing on top of a chair where he'd just sat giving a speech. Just a few days earlier, O'Malley's full band played an event hosted by his political action committee in Washington, busting out original songs as well as covers like Woody Guthrie's "This Land is Your Land" and The Pogues' pub-rock jam "Body of an American."
It might seem a bit bizarre for a politically minded audience to want a musical number from a politician. But for aides to O'Malley, this has become a tradition that they're happy to see perpetuated. Throughout his public service tenure, starting as a city councilman in Baltimore, O'Malley has kept up his musical appearances, playing semi-regular gigs with his band, O'Malley's March, and even releasing an album three years into his first gubernatorial term.
Now on a potential presidential campaign trail, the hope is that his spontaneous musicianship will contrast him with more buttoned-up, scripted presidential candidates. In recent months, O'Malley has jammed with college kids and hosted events for young supporters that featured performances by his band. Even when the press has been barred from events, aides have started live-streaming once O'Malley starts playing.
That this may be part of a concerted political strategy doesn't seem to bother the audience either. Huck Montgomery, who brought his guitar to a Young Democrats event in New Hampshire, said that he'd seen O'Malley perform before and wanted to give others a chance to witness the former governor's chops.
"Everybody I talked to about it thought it was a cool thing to see," Montgomery said. "It's [not] every day that you see a potential candidate for president pick up a guitar and play a song, even in New Hampshire."
"Honestly, he's a pretty good guitar player and singer," Montgomery continued. "He sounded good, especially considering he didn't have any time to warm up or anything."
Those close to O'Malley say performing helps loosen him up and provides a humanizing jolt to his public appearances. O'Malley's song selection also gives clues to the type of campaign he wants to run. He's repeatedly busted out a version of Passenger's "Scare Away The Dark," tweaking the lyrics to incorporate jokes and populist themes that he's hoping to make a platform of his campaign.
"We wish we weren't losers, and liars, and quitters. We want something real, not just hashtags and Twitter," O'Malley sang at private concert for supporters in Washington. "It's the meaning of life and it's streamed live on YouTube. But I bet 'Gangnam Style' will still get more views."
The former governor hopes that he can use his song choices to promote a positive message to potential voters.
"I think the lyrics mean something for these times," O'Malley said. "I think that there's a sense that we're creating a lot of fear and foreboding out there in this big world of ours, and that sometimes we're afraid of only the dark, and if we realize the power that we have together, it's not such a dark world as it might at first blush appear to be."
But even musical talents come with political risks. In 2006, staff advisors persuaded O'Malley to put the band on hiatus out of fear that it diminished the seriousness of the office, according to The Washington Post. In past elections, the governor's opponents have occasionally used the his guitar-playing to argue that O'Malley was out of touch with voters and not focused on governing.
"I don't begrudge him having a hobby, but it doesn't sit well with people who think the state is off track," now-Maryland Gov. Larry Hogan (R) told The Washington Post in 2011.
"Sometimes your political consultants get very nervous and there was some thought that playing music somehow took away from my gravitas," O'Malley said. "Now that I'm 52, more people find that it's a way to connect with people in an authentic way."
As for his talents as a musician, O'Malley recognizes that politics is probably the career he should be sticking to.
"I've got to be honest, man, I'm a strummer, I'm a three-chord wonder," he said. "I've been smart enough to surround myself with really good musicians who can carry the day."
Before You Go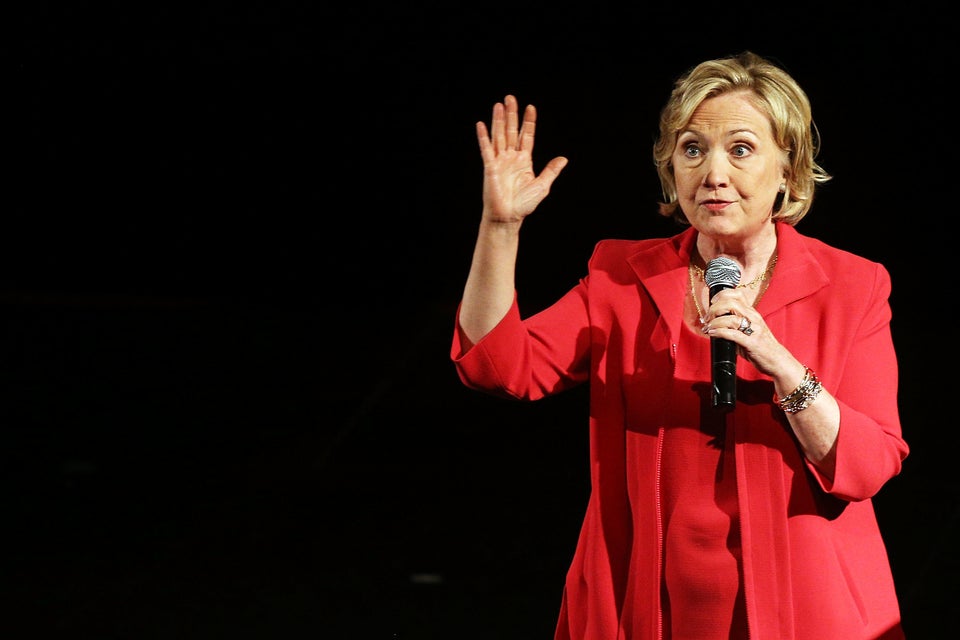 Potential 2016 Presidential Contenders
Popular in the Community