 Gov. Martin O'Malley announced Monday broad details of a plan that would give Maryland among the nation's strictest gun laws.
No one could buy a handgun without first passing a training course and providing fingerprints to a police database. That licensing provision, expected to be controversial in Annapolis, is the most sweeping change in a proposal that also includes a ban on the sale of assault rifles and high-capacity magazines, which were used in the Newtown, Conn., school shooting that has sparked a national debate on gun control.
"There is a sickness in this country, and that sickness is gun violence," O'Malley said, repeating a phrase he has used in the weeks since the December shooting that killed 20 children. "Gun violence is truly a public health issue," he said.
Flanked by New York City Mayor Michael Bloomberg, who founded Mayors Against Illegal Guns, O'Malley announced the legislative package at a gathering of national and international gun policy researchers at the Johns Hopkins University's Bloomberg School of Public Health in Baltimore.
Also on Monday, President Barack Obama said he would consider "common-sense steps" to strengthen federal gun laws, including stronger background checks and a federal ban on assault weapons and high-capacity ammunition clips. He plans to unveil his proposal this week.
"If in fact -- and I believe this is true -- everybody across party lines was as deeply moved ... as I was by what happened in Newtown, then we're going to have to vote based on what we think is best," the president said. "We're going to have to come up with answers that set politics aside."
O'Malley said he plans to introduce a "comprehensive" package this week that would strengthen school security, expand the information sent to databases used for gun background checks and establish a "Center for Excellence" to study and treat mental illness.
Under the governor's licensing proposal, any handgun purchaser would need a Maryland State Police license granted only after fingerprinting, a more extensive background check than currently required, and completion of a gun class like those taught across the country by the National Rifle Association.
Currently, "we don't have any training requirements," said Stacy A. Mayer, O'Malley's chief legislative officer. "People can walk out of the store not necessarily knowing where the safety is."
Gun-control advocates and some public safety leaders praised the licensing provision as the most effective way to prevent gun deaths. Some political observers, meanwhile, saw the proposal -- along with the national stage on which it was announced -- as an opportunity for the two-term Democratic governor to position himself as a potential presidential candidate.
"This appeals to the Democratic base," said Donald F. Norris, chairman of the department of public policy at the University of Maryland, Baltimore County. "If he can get out in front on this and show some success legislatively on this, it bodes well for him in the Democratic primary."
The governor's federal O'Say Can You See political action committee, widely considered a fundraising tool for a potential presidential bid, sent an email to supporters detailing O'Malley's new gun proposal shortly after he announced it. O'Malley aides dismissed as "ridiculous" the suggestion that the announcement signaled presidential aspirations.
While public polls and legislative leaders support banning the sale of assault weapons, a measure O'Malley predicted last week would pass the Maryland General Assembly, the licensing provision is expected to meet passionate opposition from gun-rights advocates.
A similar licensing proposal to require fingerprinting to purchase a weapon could not overcome objections in a key Senate committee a few years ago. But Judicial Proceedings Committee Chairman Sen. Brian Frosh said Monday that "the climate has changed" since then and having O'Malley's backing is "a huge asset."
"I think at this point, at least, people viscerally understand how destructive assault weapons are and how pointless they are for the law-abiding citizen," said Frosh, a Democrat from Montgomery County who introduced the earlier measure. He said the licensing proposal would be a harder sell.
House Speaker Michael E. Busch said Monday he has long favored licensing weapons. "It seems to me that if everyone needs a license to drive a car, why don't you need it for a gun?" Busch asked.
Del. Neil Parrott, a Washington County Republican, said he could support broadened licensing and training requirements for handgun owners as long as they were accompanied by an expanded right to carry -- something O'Malley did not propose. Current Maryland law, Parrott said, makes it "almost impossible" to carry a handgun.
Parrott expressed misgivings about the proposed assault weapon ban and magazine limits.
"We have to be careful not to overreact to one incident or another," he said. "They tried bans like this before, and they were not effective."
O'Malley's licensure plan would apply to all firearms besides rifles and shotguns, an exception designed for hunters and sportsmen. The extra scrutiny is aimed as a deterrent to so-called straw purchases, gun buys made on behalf of people who do not want to be linked to the weapon.
"Someone asks you to purchase a handgun for them, and you know they're going to use it in a crime, and you have to go the state police to get fingerprinted -- you're certainly not going to do it," said Vincent DeMarco, an Annapolis gun-control lobbyist and national coordinator of Faiths United to Prevent Gun Violence.
Gun-control advocates said that while assault weapons can kill more efficiently, most gun deaths are linked to handguns. In Baltimore last year, according to police, handguns were used in all but three of 183 gun-related killings.
A spokesman for Mayor Stephanie Rawlings-Blake and Police Commissioner Anthony W. Batts said the administration supports the concept of stricter licensing as a deterrent to straw purchases.
"It is one of the ways that firearms get into the hands of people who wouldn't otherwise be allowed to have them," said Jim Green, the Police Department's government relations director.
Public safety experts skeptical of the deterrent effect of a handgun licensing still welcomed the proposal as an investigative tool for gun-related crimes. "It's just like the way surveillance cameras on the street does not deter crime," said Leonard Hamm, a former city police commissioner who teaches a public safety course at Coppin State University. "What the information does is point us in the right direction."
O'Malley's proposals are likely to be considered alongside novel ideas pushed by gun-control advocates who see increased public willingness to tighten gun regulations.
One plan would require Maryland gun owners to buy liability insurance similar to the requirement for cars. The proposal by Montgomery County state Sen. Jamie Raskin is designed to harness market forces to keep guns out of the hands of dangerous people the same way the cost of car insurance can keep bad drivers off the road. Baltimore Del. Jon Cardin has proposed a bullet tax and $25 gun registration fee, cash that would go to improving mental health services.
O'Malley vowed to ban the sale of "military assault weapons that have no place on our streets" and to limit the size of gun magazines to prevent mass shootings. Maryland already limits magazines to 20 bullets, and gun-control advocates hope to halve that.
O'Malley also said he wants to standardize school safeguards across the state, which vary widely. He plans to create a state center for school safety and devote funds from the capital budget to make school buildings safer, including installing cameras at entrances, having doors that lock automatically and buzzer entrance systems.
While O'Malley also announced plans to focus resources on providing early intervention for those with serious mental health issues, his remarks to the gun summit centered on controlling the sale of the most lethal weapons. The state's assault weapons ban would not take legally owned guns out of homes, an aide said, but it would prohibit buying or possessing them in the future.
"We know that it makes absolutely no sense, when you look at the level of carnage on our streets from guns, to blame every factor but guns," O'Malley said.
Baltimore Sun reporter Michael Dresser and Reuters contributed to this article.
julie.scharper@baltsun.com
(c)2013 The Baltimore Sun
Distributed by MCT Information Services
Related
Before You Go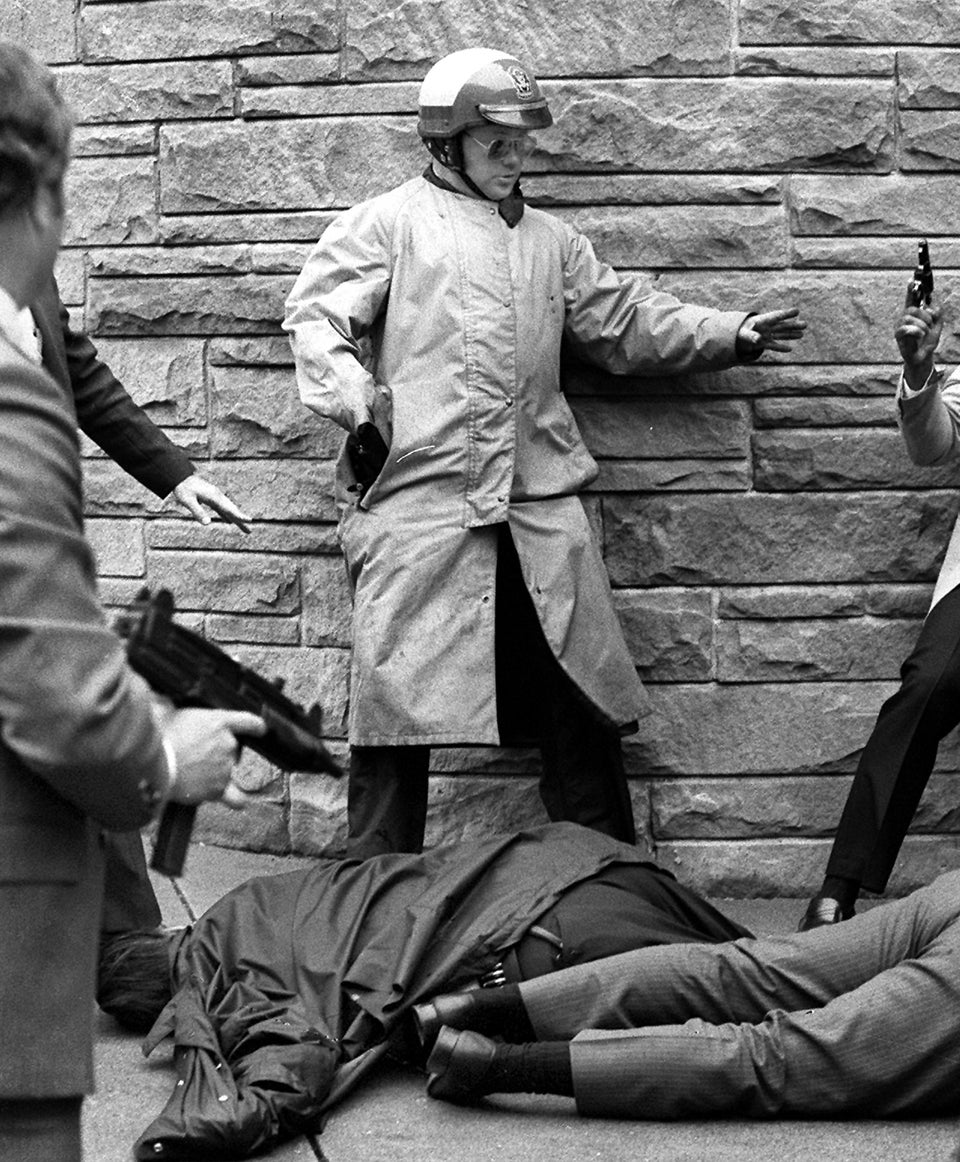 Pivotal Moments In The Federal Gun Control Debate
Popular in the Community