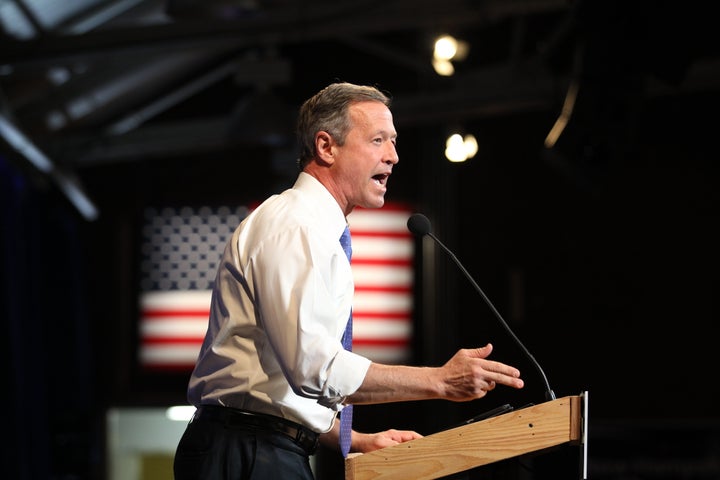 Democratic presidential candidate and former Maryland Gov. Martin O'Malley knocked his rivals Hillary Clinton and Bernie Sanders for their immigration policies on Thursday. Unlike them, he said, "I do not speak out of both sides of my mouth on this issue."
The former governor's remarks in Arizona were among his toughest against Clinton, a former secretary of state, and Sanders, a Vermont senator. O'Malley has touted his own immigration bona fides since the beginning of his campaign, but he's been largely overshadowed by the two front-runners, who have also adopted major immigration reform goals like a pathway to citizenship, deportation relief and an end to immigrant detention.
Speaking outside of the Maricopa County Jail in Arizona -- run by Sheriff Joe Arpaio, who is famous for his stance against unauthorized immigrants -- O'Malley said Clinton and Sanders both lacked "a formula for creating a new consensus" on immigration reform.
"We need new leadership that can speak to the goodness in America's heart," he said. "Not the sort of worn-out politics of the past that triangulates in those polls and talks about immigration reform as if it's some sort of constituent trick that we do to placate this constituency. Tell people what they want to hear depending on what group they're in and election time."
"To hell with that," he continued. "That does not serve our country's future."
O'Malley also pointed out that Sanders voted in 2006 for a measure to protect Minutemen, volunteer militias that patrol the border.
"Senator Sanders, Secretary Clinton, say different things to different groups," he said.
O'Malley's major positions on immigration are now largely similar to those of Clinton and Sanders. All three candidates say undocumented immigrants should be allowed to gain citizenship and have pledged to expand deportation relief.
All of them have also criticized mass immigrant detention, which was the goal of O'Malley's trip to Arizona. He said he would limit detention to only the most extreme cases and offer alternatives, like releasing individuals on bond, to the majority of people awaiting deportation rulings.
He had harsh words for Republicans as well, especially GOP candidate Donald Trump, who recently said Muslims should be barred from entering the country and has previously called for mass deportation.
"In sharp contrast to the sort of fascist demagoguery that Donald Trump is practicing and spewing out in this presidential year, I came here to say that we are a great people," O'Malley said. "And because we are a generous, and compassionate, and brave people ... we need to bring an end to the shameful and growing practice of immigrant detention centers."
The Obama Administration's Controversial Use Of Family Immigrant Detention
Popular in the Community