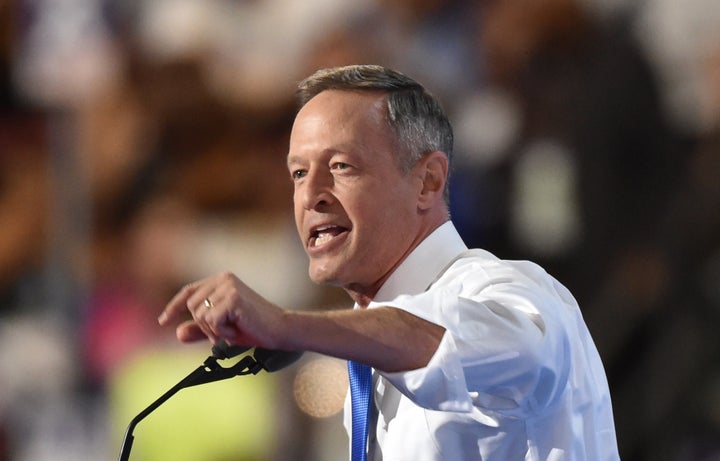 To understand how oddly personal the Iowa caucuses are -- how political campaigns and ordinary voters mix so deeply that it's impossible to sift them apart -- you need to know Kennan Seda.
Seda, 58, has a degree in computer science. He used to do programming for large companies in Chicago before returning to Iowa to take care of his mother. He's a Democrat: He voted for Barack Obama in 2008 and served on the party platform community at the congressional district level. And on the evening of Dec. 28, 2015, he was arguably the most important voter in his state.
That evening, as Iowa and much of the Midwest was pelted by a terrible snow storm, Seda ventured out to a townhall event in Tama being hosted by Democratic presidential candidate Martin O'Malley. He didn't know at the time, but every other candidate had cancelled events on account of the weather, and no one else was showing up for the O'Malley event. And so, for 45 minutes, he and the former Maryland governor sat at a round wooden table and talked shop -- a whiteboard reading "Tama welcomes Gov. Martin O'Malley!" positioned nearby.
In the latest "Candidate Confessional," O'Malley recounted that experience, describing it as equal parts quaint, frustrating, charming and surreal.
Well before he reached Tama, O'Malley had a sense that the entire day would be futile. He had seven events scheduled and wondered if maybe 20 voters total would end up attending. But his staff still wanted him to barnstorm the state, if only to show just how doggedly he was working for the votes.
"We are going to do every event. And we are going to be the only presidential campaign that does every event. And the people in Iowa are going to love it," an aide insisted.
In the end, "we probably saw 17 people," O'Malley said.
The situation got hairiest toward the end of the day. The snow now blinding, O'Malley began to think that his aide (and driver) Jake had some special talent -- fine-tuned over his years in Iowa -- for driving on the road even when he couldn't see it.
"I turn to Jake and I say, 'Jake! What is the secret?'" O'Malley recalled. "And he turned to me, white-knuckled, and said, 'I've never seen it this bad before. I have no idea.'"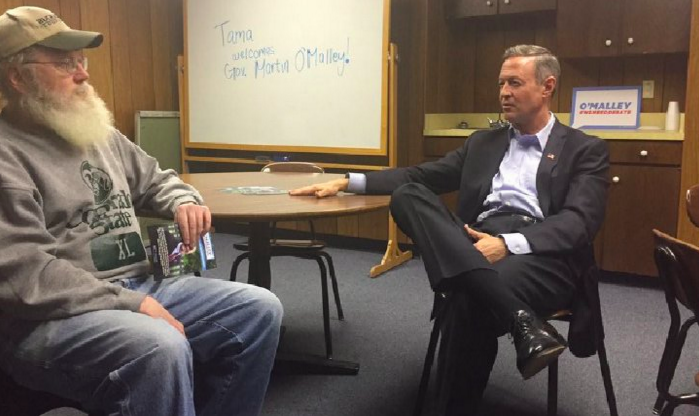 They soldiered on. A call was made to the staff at the Tama event -- their last stop -- to see what the crowd looked like. They delivered the bad news: One man had showed. His name was Kennan and he was very excited to meet the governor.
In a phone call with The Huffington Post, Seda said that while he was indeed excited, he was also aware of just how abnormal the event would be. When he arrived, there were only two O'Malley staffers there. About 15 minutes went by and three or four more staffers showed up, along with the governor. Finally, someone else came. But it was a reporter for ABC News and her cameraman. They'd seen 13 cars in the ditch along the way to the event.
Not wanting to waste his personal audience with a presidential candidate, Seda started talking. He and O'Malley discussed Donald Trump's proposed ban on Muslims immigrating to America and wondered whether Trump's first wife, Ivana, would have been caught up in a similar blockage had the U.S. refused to let in anyone from Communist countries in the 1970s (Ivana actually left Czechoslovakia for Canada before coming to the U.S.).
O'Malley went through his record as governor and -- since they had time to kill -- explained the historical significance of the Port of Baltimore.
Seda told O'Malley that he found it repulsive when big-pocketed donors were given plush assignments overseas as a reward for their largesse. Why, he asked, couldn't someone like him be considered for ambassador to Luxembourg?
Eventually, O'Malley had to leave to get back to his hotel. He asked Seda if he had his vote. Seda said he was still undecided.
He also was kind of funny about it. He said, 'Look, I don't want anything from you, except to be ambassador.'

O'Malley on what it took to get Seda's vote
Around 2 p.m. the next day he called Seda to make another pitch, O'Malley told "Candidate Confessional." This time, he got a commitment to caucus for him. "And to the best of my knowledge, information and belief, he did," O'Malley said. "And he also was kind of funny about it. He said, 'Look, I don't want anything from you, except to be ambassador.'"
Seda didn't lie. When it came time a few weeks later, he caucused for O'Malley. But he was the only one in the room of roughly 85 people who backed the Maryland governor. On the second vote, with O'Malley having missed the 15 percent threshold to win delegates, Seda switched to Hillary Clinton. That evening, O'Malley would announce that he was suspending his campaign.
Still, Seda's hopes of an ambassadorship to Luxembourg haven't completely evaporated.
"He's just got to pass along the word to Clinton," he said.
Reflecting on their evening discussion several months later, Seda and O'Malley offered the same simple explanation. "That's Iowa," they said, as if everyone even remotely familiar with how presidents are elected in America understands that one random man can end up in a room by himself with a candidate for 45 minutes.
Listen to the podcast above, or download it on iTunes. And while you're there, please subscribe to, rate and review our show. Make sure to tune in to next week's episode, when our guest will be Karl Kassel of Alaska, who lost a 10,000-vote race by an excruciating four votes.
"Candidate Confessional" is produced by Christine Conetta.
REAL LIFE. REAL NEWS. REAL VOICES.
Help us tell more of the stories that matter from voices that too often remain unheard.