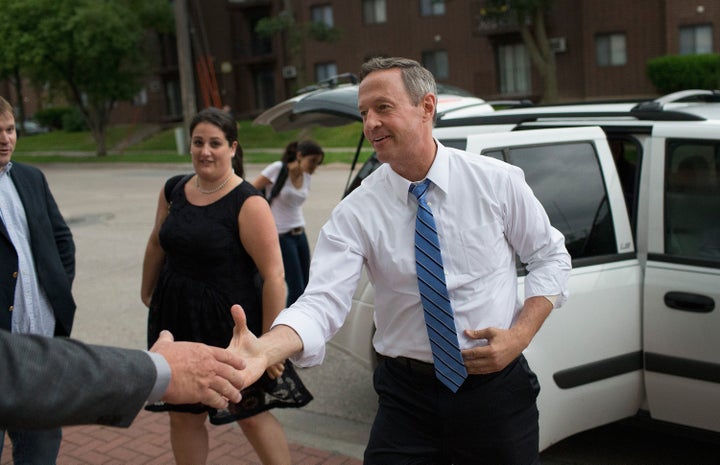 Democratic presidential candidate Martin O'Malley on Thursday declared his support for raising the national minimum wage to $15 an hour, contrasting himself with frontrunner Hillary Clinton.
"I strongly support the national movement to raise the minimum wage to $15 an hour, because it will lift millions of families out of poverty and create better customers for American businesses," O'Malley said in a statement. "Some people will say this is hard to do. And it will be. But leadership is about forging public consensus -- not following it. On this issue, we must lead with our progressive values to rebuild the American Dream."
O'Malley's campaign released the statement shortly after Democratic presidential rival Hillary Clinton, at a town hall event in New Hampshire, declined to say whether she would support a $15 national minimum wage.
Clinton told BuzzFeed on Thursday that she supports raising the minimum wage and is working with Democratic lawmakers on an increase. But she said she was unsure whether the U.S. should implement a $15 minimum wage.
"I think part of the reason that the Congress and very strong Democratic supporters of increasing the minimum wage are trying to debate and determine what's the national floor is because there are different economic environments," Clinton said. "And what you can do in LA or in New York may not work in other places."
The Los Angeles City Council voted in May to increase the minimum wage in the city to $15 by 2020, making it the largest U.S. city to take that step. Seattle and San Francisco also have approved $15 minimum wages, and a board commissioned by New York Gov. Andrew Cuomo (D) this month began considering the possibility of a $15 minimum wage for New York fast food workers. New York Mayor Bill de Blasio (D) has proposed a $15 minimum wage by 2019, but it hasn't been approved by the state legislature.
Thursday's statement was O'Malley's first formal declaration of his stance on the minimum wage since announcing his candidacy. He said in April, before formally declaring his candidacy, that he supported a $15 minimum wage. As governor of Maryland, he authorized increasing the minimum wage from $7.25 to $10.10 an hour.
Clinton has said she supports a $15 minimum wage in large metropolitan areas, where the cost of living is higher. In June, she contacted organizers from the "Fight for 15" group, which has advocated for a $15 wage nationally.
"We need more cities and states to follow the lead of Los Angeles, St. Louis, and New York," Clinton told the organizers.
Clinton's position on the minimum wage also sets her apart from her closest opponent in the polls, Sen. Bernie Sanders (I-Vt.), who has championed a $15 minimum wage and other progressive economic policies.
Both Sanders and O'Malley trail Clinton in national Democratic polling, but Sanders has captured a groundswell of support from the party's progressive wing and is inching closer to Clinton in Iowa and New Hampshire.
This article has been updated to note that O'Malley said before declaring his candidacy that he supports a $15 minimum wage.
Popular in the Community