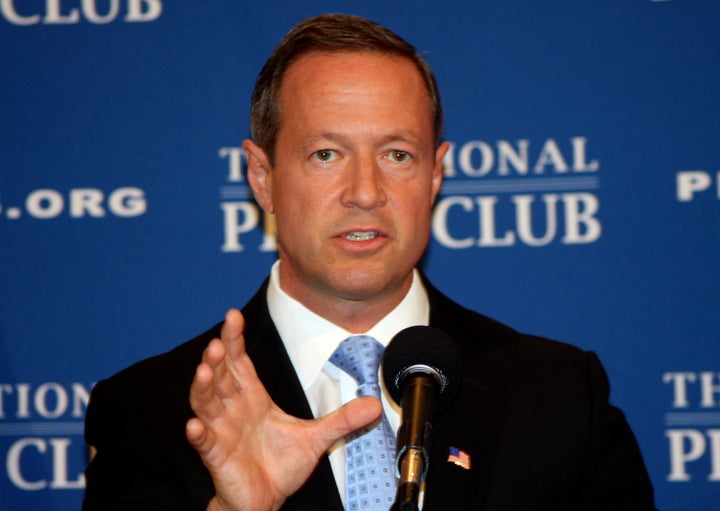 WASHINGTON, D.C. -- At least one top Obama surrogate is pushing for the party to shift the balance of its attacks on Mitt Romney away from his days in private equity and on to his time in the public sector.
In an interview with the Huffington Post shortly before the Republican presidential debate in South Carolina Monday night, Maryland Gov. Martin O'Malley argued that voters would have an easier time understanding charges that Romney failed to create jobs while governor of Massachusetts than they would understanding accusations that he was a corporate raider while at Bain Capital.
"Bain is a little complicated for people to follow," said the Maryland Democrat, who was in the Palmetto State to do some pre- and post-debate spin on behalf of the Obama re-election campaign. "I think people also understand what their governor does and what their mayor does. The most personal votes people cast is for mayor and a president and in between there is governor ... to have a 47 out of 50 ranking in job creation to show for it, there are some jobs like governor and mayor where you have to produce and [Romney] didn't."
The head of the Democratic Governors Association, O'Malley comes to the argument from the vantage point of a politician constantly graded for the performance of his and others' states. He didn't dismiss the relevance of going after Romney's time at private equity firm Bain Capital -- which has come under withering scrutiny from fellow GOP candidates and the Obama re-election team -- calling it far more akin to "money manipulation" than anything related to creating jobs.
But, O'Malley added, it was a "clearer contrast" for the Obama re-election team to home in on Romney's time in the statehouse, in that it would give voters the type of apples-to-apples comparison that worked best for a political campaign.
"I think a point that needs to be emphasized was that in easier times when he was governor of a pretty innovative state, Massachusetts ranked 47th out of 50 [in job creation]," he said. "You contrast that to the tougher times we have now, under Governor Deval Patrick's leadership, Massachusetts is 5th in the nation."
Aides to the president's campaign have been surprised at how quickly Bain Capital has emerged as an issue in the Republican primary, having calculated (inaccurately) that Romney's opponents would make his time as governor a weight on his campaign. Certainly, the expectation was that Gov. Rick Perry (R-Texas) and now-former candidate Jon Huntsman, also former governor of Utah, would have pushed hard to contrast their gubernatorial records rather than let the primary descend into a debate about private equity's role in capitalism.
But Romney's Massachusetts days haven't been completely ignored. They came up during the debate on Monday night, with the candidate having a ready answer.
"We were fortunate to have an unemployment rate by the time I left office of 4.7 percent. Sounds pretty good today," Romney said. "And I was also proud of the fact that we balanced the budget every year I was in office. We reduced taxes 19 times, put in place a rainy day fund of over $2 billion by the time I left.
"And so my record is out there, proud of it, and I think that if people want to have someone who understands how the economy works, having worked in the real economy, then I'm the guy that can best post up against Barack Obama," he said.
Support HuffPost
The Stakes Have Never Been Higher
Popular in the Community