This is the fourth installment of '16 And President, the Huffington Post series that takes you behind the scenes for a day in the life on the campaign trail with the candidates running for president.
LAS VEGAS -- There are a lot of questions that the average voter might ask about Martin O'Malley. For instance, "Who is Martin O'Malley?"
In a presidential campaign featuring more colorful characters than a game of Candy Land, the former two-term governor of Maryland has been mired in an unenviable position: flavorless anonymity.
O'Malley entered the race as an accomplished progressive leader and talented politician from a younger generation. His best hope was that he could become the Democrats' Plan B, in the event that Hillary Clinton were to stumble.
The second part of his bet has indeed come to fruition amid Clinton's uneven performance thus far in the race. But a rumpled and ornery 74-year-old democratic socialist from Vermont named Bernie Sanders has managed to steal just about all of what might have been O'Malley's thunder, surging to the top of the polls in New Hampshire and generating record-breaking crowds from coast to coast.
And to make O'Malley's path forward even more challenging in the face of the tailwinds propelling Sanders' surprisingly robust candidacy, Vice President Joe Biden is set to announce in the coming days whether he will make a late entry into the race -- a potential candidacy that figures only to further relegate the former Maryland governor's campaign to the back pages, if it becomes a reality.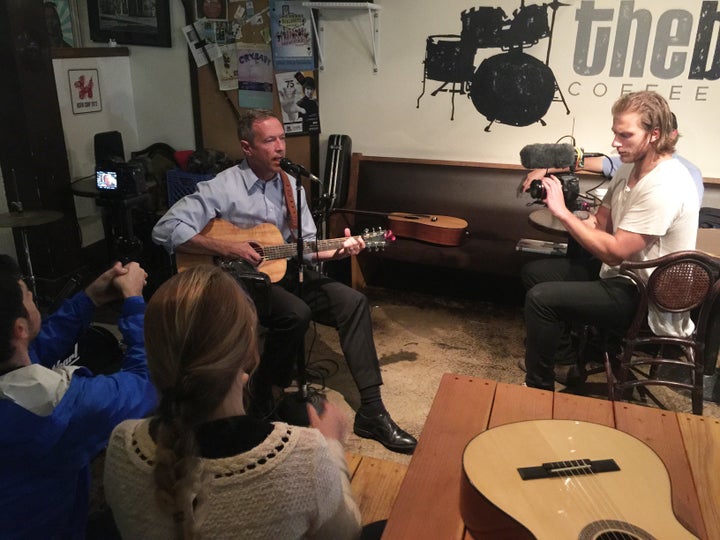 O'Malley's last best chance to become a factor in the race arrives on Tuesday night, when he is set to share a debate stage here with Clinton and Sanders. His goal will be a simple one: to introduce himself in a positive light -- with a particularly well-timed one-liner or two as an added bonus -- to the millions of Democratic voters who still have no idea who he is.
Many of them may end up liking what they see, as O'Malley's relative youth and executive experience presents an immediate contrast to his better-known rivals.
As we discovered when we spent a day on the campaign trail with him in Sin City last week, O'Malley is a more compelling figure than his relatively anonymous profile would suggest.
Sure, he can still eat lunch at a strip mall Subway without any substantial risk that he might be recognized, as he did with our cameras rolling. But O'Malley is also able to boast of having complied a host of progressive accomplishments during his tenure in Annapolis on issues ranging from gun control to immigration reform and beyond.
Oh, and he can really sing, too, as he showed us during his guitar-picking open mic night performance on a rainy evening at a dimly lit bar in downtown Vegas.
Watch the video above for the latest installment of the HuffPost series '16 And President.
Video produced by Jon Strauss
Cinematography by Jon Strauss and Samuel Wilkes
Associate production by Marielle Olentine
Popular in the Community