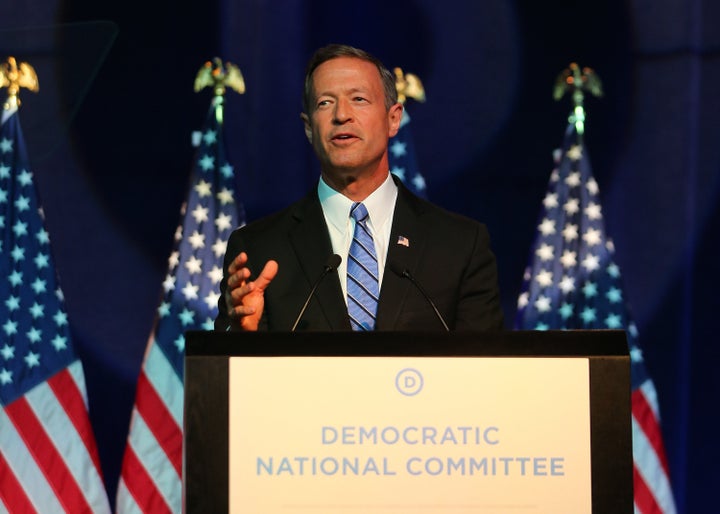 Former Maryland Gov. Martin O'Malley, a 2016 Democratic presidential candidate, has called on the United States to absorb at least 65,000 Syrian refugees by the end of 2016. O'Malley's remarks on Friday represent the strongest proposal on the matter to date from a national political figure.
"Americans are a generous and compassionate people," O'Malley said in a statement. "But today our policies are falling short of those values." The State Department has said it plans to grant asylum to 5,000 to 8,000 refugees in fiscal year 2016 -- an amount O'Malley said is not enough. 
"I support the call from humanitarian and refugee organizations for the United States to accept at least 65,000 Syrian refugees next year," O'Malley said. "If Germany – a country with one-fourth our population – can accept 800,000 refugees this year, certainly we – the nation of immigrants and refugees – can do more."
Europe is dealing with an unprecedented influx of migrants, which has prompted a political crisis as governments struggle to accommodate the new arrivals. From January to August alone, 350,000 people have been documented crossing into Europe -- and many more are thought to have entered undetected.
The largest group of migrants are refugees from Syria, where the civil war has created 4 million refugees and displaced an additional 7.6 million people internally.
This week, images of Aylan Kurdi, the Syrian boy who drowned trying to get to Europe, and of a Syrian family laying on railroad tracks in Hungary in order to stay in the country, shocked the global conscience. 
O'Malley said that the tragic images must move Americans to act. "As Europe is becoming increasingly aware, we are not immune from the injustices and tragedies that unfold outside our borders," he said.
Kerry said that he, too, had been moved by the tragic images of Syrian refugees.
"We could do a lot more to protect those people," Kerry told HuffPost. But he stopped short of saying the U.S. should take in more refugees, proposing instead that the U.S. increase aid to Syrians living in refugee camps in other, mostly Middle Eastern, countries.
O'Malley's stance is consistent with his advocacy last summer on behalf of unaccompanied minors from Central America. Under his leadership, Maryland is housing thousands of the children as they await processing by immigration authorities. O'Malley attacked Hillary Clinton, the Democratic presidential front-runner, in August for indicating that she wanted to return the children to their countries of origin. 
Clinton later clarified that she also wanted to expedite processing to identify children with a "legitimate reason for staying" in the U.S., such as family already living in the country.
"We should do our part, as should the Europeans; but this is a broader, global crisis," Clinton told Mitchell in the interview, which can be viewed below. "We now have more refugees than we've had in many years -- I think, since the Second World War." 
Calling all HuffPost superfans!
Sign up for membership to become a founding member and help shape HuffPost's next chapter