It turns out there's a line even bros can't cross.
Martin Shkreli had to go to astonishing lengths to find it, waging a public war on HIV/AIDS and cancer patients by unapologetically price gouging a life-saving drug. The 32-year-old pharmaceutical CEO, once accurately dubbed "the most hated man in America," was taken down on Thursday, ostensibly for securities fraud. Here's what else led to what was, in many ways, a crowd-fueled citizen's arrest: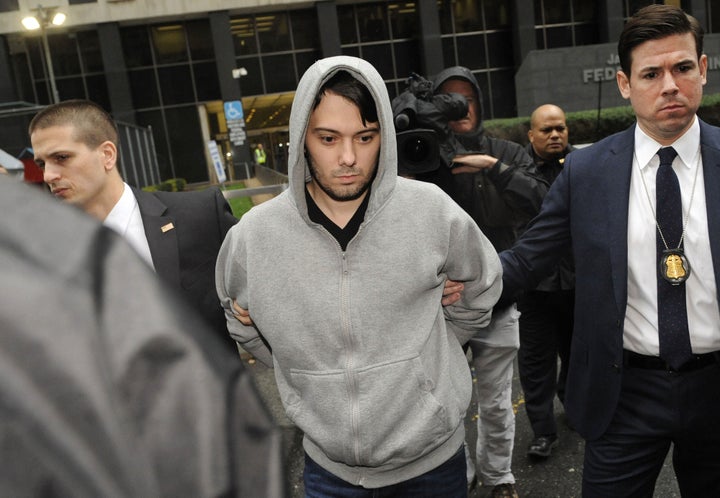 He Raised The Price Of A Life-Saving Drug By 5,000 Percent
Shkreli, also known as "Pharma Bro," infamously raised the price of Daraprim by a whopping 5,000 percent -- from $13.50 to $750 per tablet. The drug is primarily used to treat toxoplasmosis, an infection that affects people with compromised immune systems, particularly those with HIV/AIDS and some forms of cancer.
He defended the move as a necessary one for his company, Turing Pharmaceuticals. "This isn't the greedy drug company trying to gouge patients, it is us trying to stay in business," he told The New York Times.
"There's no doubt, I'm a capitalist," he told CBS News. "I'm trying to create a big drug company, a successful drug company, a profitable drug company."
When Democratic presidential frontrunner Hillary Clinton implored him to lower the price of the drug, he brushed it off:
He Tried To Pay Off Debt Illegally
Thursday's arrest isn't actually related to the drug price hike. Shkreli is being charged with using illegally obtained stock to pay off debt, Bloomberg reports.
After Shkreli's hedge fund MSMB Capital Management almost went bankrupt, he started biotechnology firm Retrophin in 2011.
Retrophin ousted him as CEO "because of serious concerns about his conduct," the company told Bloomberg in a statement. The company then filed a complaint in federal court against him earlier this year for evidence of "self-dealing transactions" to pay back former MSMB investors.
"The $65 million Retrophin wants from me would not dent me. I feel great. I'm licking my chops over the suits I'm going to file against them," Shkreli said in response to the lawsuit.
Neither Turing Pharmaceuticals nor Retrophin responded to requests for comment. Robert Capers, the U.S. Attorney for the Eastern District of New York, will provide more details about the arrest during a press conference on Thursday.
He Bought The Only Copy Of The New Wu-Tang Clan Album
Earlier this month, Bloomberg reported that Shkreli dropped $2 million on the only existing copy of the latest Wu-Tang Clan album, "Once Upon a Time in Shaolin." for $2 million. He said he did not even plan to listen to the album, angering fans.
It's just the start of Shkreli's big plans in the music space. "Within 10 years, more than half of all rap/hip-hop music will be made exclusively for me," he announced on Twitter.
He Flirts With Teenage Girls Online
"how old is she?" one commenter asked, according to Gawker.
"NOT OLD ENOUGH," Shkreli wrote in response.
He also called out other commenters on the live stream, showing a photo of one of them and telling him "I'm going to beat the s**t out of you."
Related
Popular in the Community