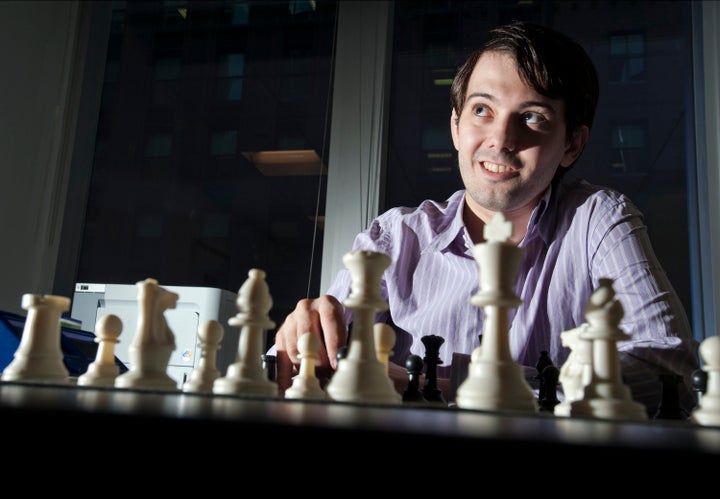 Martin Shkreli, the former hedge fund executive notorious for radically jacking up the price of a pill used by cancer and HIV patients, has taken over another pharmaceutical company.
Shkreli's startup, Turing Pharmaceuticals, acquired the drug Daraprim in August, and overnight the price went from $13.50 per tablet to $750, a 5,000 percent increase. Shkreli is now the chief executive officer and chairman of the board at KaloBios, a publicly traded company in the San Francisco Bay Area, the company announced on Thursday.
As part of that announcement, KaloBios said its mission is "to improve the lives of patients with innovative therapies" by developing breakthrough antibodies. The company is focused on developing a leukemia treatment, according to its website.
Last week, though, the company announced it was going to liquidate its assets and halt development of two drugs.
On Monday and Tuesday, a group of investors led by Shkreli swooped in and bought up 70 percent of the company's shares, paying as little as $0.61 per share, according to CNN. The stock closed at $10.40 on Thursday, and in Friday trading it fetched over $18.75. Shkreli's team ended up with a majority stake by committing $3 million of equity.
Perhaps because he's been the target of public scorn, Shkreli announced that he won't take a salary at KaloBios.
Shkreli confirmed to The Huffington Post on Friday that his compensation will be in the form of stock only.
"It's wrong when the top people at a company keep all of the money for themselves," Shkreli said. "If you're successful, you should let your employees get some of the money."
He argued that lab workers at his company would reap more of the profits than they would at other big rivals. He pointed to the pharmaceutical giant Merck, where CEO Kenneth Frazier's total compensation swelled to $25 million last year while the average worker earned about $103,000 annually, according to self-reported data from the salary-monitoring site Glassdoor. Shkreli said the discrepancy was unfair, since Frazier "doesn't know anything about science."
"Let the CEO get a lot of stock. They can make their millions that way," he said. "I lead by example."
Merck did not immediately respond to a request for comment.
Shkreli also clarified a tweet from earlier in the day suggesting that KaloBios employees who'd been recently laid off could get their jobs back.
Shkreli told HuffPost he would welcome back 18 KaloBios employees recently laid off.
The new KaloBios CEO is likely to remain the object of public scrutiny for some time. Presidential candidate and former Secretary of State Hillary Clinton, among others, said in September that the exorbitant increase to the cost of Daraprim amounted to "price-gouging."
Bowing to pressure, Shkreli said in September that Turing would lower the price of the drug, though he didn't specify when or what the new price would be. He confirmed to HuffPost on Friday that Daraprim is "still the same price," and wouldn't discuss details of the announced price reduction.
Patients who use the medicine -- whether to fight a parasitic infection or to compensate for a weakened immune system brought on by AIDS or cancer -- might not need to wait for him. A competitor popped up last month announcing the sale of a $1 alternative to Daraprim.
The controversy over the soaring price of the drug revealed that Shkreli's earlier career was under scrutiny too.
Financial reports by Turing to the Securities and Exchange Commission showed that Shkreli had been under investigation by federal prosecutors in New York. The federal attorneys were reviewing Shkreli's relationship with the hedge fund that he'd founded. The SEC report said Shkreli admitted he owed over $500,000 to MSMB Capital Management, his former hedge fund.
Popular in the Community