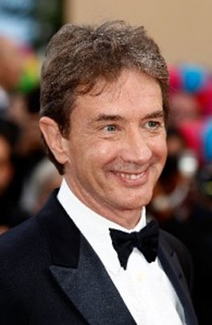 Here in the U.S. we first met Canadian-born Martin Short in the early 1980s when SCTV migrated from Canadian television to NBC. Since then, Short has introduced us to super-nerd Ed Grimley, Hollywood celebrity interviewer Jiminy Glick, songwriter Irving Cohen, wedding planner Franck Eggelhoffer, and many other characters he's created.
He's worked films (Three Amigos, Father of the Bride and his latest, Madagascar 3: Europe's Most Wanted in which he voices Stefano the sea lion) and on Broadway. There he starred in the Neil Simon musical The Goodbye Girl and the revival of Simon's Little Me. The original 1962 production of the latter starred Sid Caesar in the multiple roles for which Short won the Tony Award in 1999. In 2006, he brought his show Fame Becomes Me, a satire of the lifestyles of the famous in this country, to Broadway.
"I do love Broadway. I like repeating things," he says. "I like the repetition and getting something right. Some people can do the same workout for 10 years and not get bored with it. I can do that with script and text and the exhilaration of doing something and knowing that the audience paid all that money to see you -- it's just great."
Now, Martin Short is bringing many of these characters to Las Vegas where he'll play Friday and Saturday nights, June 29 and 30 at the Mirage Hotel. He says his show is Saturday Night Live with one person doing all the characters.
"Jiminy Glick will interview a surprise guest," Short says. "Ed Grimley will be there and Franck will discuss who has style in America." (Word on the street is that his guest will be America's Got Talent winner/Las Vegas Strip resident Terry Fator in whose theater Short will be playing.)
Coming from The Second City troupe, Short has a very strong background in improvisation and he promises his show at the Mirage will involve the audience and "have some surprises." Although improv is an essential part of what he does, Short says some of the basics of his characters have been memorized for the sake of consistency.
For example, Jiminy Glick and his wife Dixie have four sons: "Morgan, Mason and the twins, Matthew and Modine. Since all of Jiminy is improvised, I could never remember what I was calling Jiminy's kids, so I made up these names and memorized them. I liked the way 'Matthew' and 'Modine' sounded together and Morgan Mason is the son of the actor James Mason and his wife Pamela. He was at the William Morris Agency when I named the boys after him. I knew I'd remember all those names."
Here, Jiminy Glick improvises an interview with Jerry Seinfeld:
He enjoys being part of an audience and understands very well that humor is subjective and reviewers are, by the nature of what they do, are also subjective. "I'm a member of the Academy [of Motion Picture Arts and Sciences]," he says, "and I get these screeners. I've learned that when you start seeing comedies by yourself you really can't gauge them. Laughter is contagious and it puts you in a mood of accepting light, silly, frothy, entertainment. When you're alone you sometimes have the wrong judgement cap on.
"I find reviewers are inferring that their audience understands that they are subjective. What's insane about that, particularly in writing about comedy, is that I don't believe the audience who reads or watches a review understands that at all. The Three Stooges are artists to some and schlockmeisters to others. Do you like physical comedy? Or do you not like physical comedy? It doesn't mean Charlie Chaplin isn't credible if he gets a bad review, it just means that the reviewer doesn't like physical comedy or just doesn't like silent movies.
"With comedy, sometimes something's reviled and then it's beloved 10 years later. We have to ask, 'was that comedy ahead of its time or that the reviewer didn't know what he was doing?'"
For their part, his audiences seem to love Short, laughing long and loud at his humor. That world of laughter is one that suits him just fine.
He says, "I'm a pretty easy laugh. I laugh at Bill Hader, Kristen Wiig, Steve Martin, Catherine O'Hara, Andrea Martin, there's a long list. I remember Bob Hope sitting on the couch with Johnny Carson and never laughing. I don't understand that. My natural orientation is to be happy, so I don't sit there in that kind of glum state waiting to be lulled out of it. For me, this is a very natural state of being."
And his love of laughter and entertaining is what motivates him. "The admiration of strangers is never what's fueled me at all. If I'm having a conversation with one of my kids about the future and someone comes up to me and says, 'Oh, I love you. Can you do Franck?' I'll quickly say, 'Nice to see you. Hi.' then go back to my conversation. There's no need to perform all the time."
Discussing the show he's been touring with, he says emphatically that it's not standup comedy.
"I never think of myself as a stand-up, even though there's that kind of thing throughout the show. This show has screens, sketches, I sing, I do stand-up. But I think it's more entertaining," he says. "Stand-ups, like Louis CK, are our philosophers. I don't profess to be that heavy. There are certain performers we get to know through the years. We go to see them and more than saying every move was brilliant and every word was profound and life-changing, we just want to say at the end of the show, 'I had a good hang with that guy. I got to hang with Bill Cosby. I got to hang with Jerry Seinfeld. He was loose and in the moment and I felt that he made the room intimate, we got to know him a little bit and I like him.' That to me is a great accomplishment. Entertainers who deeply thrive on the joy of that ability -- on the pure joy of entertaining -- are few and far between. And it can be contagious if it's done sincerely."
While not indulging in philosophy, Martin Short's comedy is filled with comments on our pop culture. Jiminy Glick's celebration of celebrity is a prime example, and, a naturalized American citizen, Short gave the public a take on candidate Mitt Romney:
Several times during our talk Short came back to the idea that the public is entitled to be entertained, not entitled to know the entertainer.
"I don't care what people know about me. I'm not someone who wants everyone to know about me. I don't Twitter and I don't have a website. I don't need more strangers coming up to me. I'm not on Facebook. I don't do it.
"I like to do a few concerts a month," Short says. "That way, you're constantly kind of fresh, you're never rusty, but you're not doing eight shows a week and travel on the day off. I do my career like the school year. I'm in grade 58 now. (In Canada we put 'grade' first.) I'll finish these shows on June 30th and then I'll go to my cottage in Canada, three hours north of Toronto, for the summer. It's like On Golden Pond with money."
"It's very important for me to do what I can do to protect that little spark of creativity that gets it all going and then to completely turn off from it. So, when I go to my cottage for two months, I'll leave the cell phone on for the kids, but I will not be Google alerting myself. I have accepted a long time ago that there are positive and negative energies put out for an individual in the universe and my job is to catch all the positive energy I can and let the negative energy fly by me."
Of course, there are people who do know Martin Short well and he appreciates that. "Friends have said of me that I'm laughing on the outside and, actually, laughing on the inside. That's the way I like it. Laughter is an important quality."
Photo: Andreas Rentz/Getty Images
Calling all HuffPost superfans!
Sign up for membership to become a founding member and help shape HuffPost's next chapter