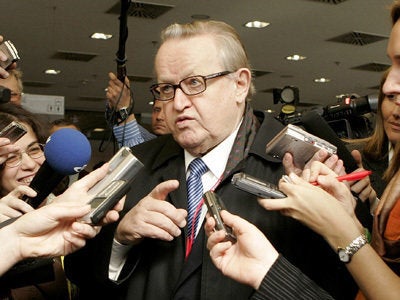 Martti Ahtisaari, the diplomat and former President of Finland who recently won the 2008 Nobel Peace Prize, is rare, even among Peace Prize winners, for having spent four decades working to end violent international conflicts around the world. And his unusual skills - and persistence in pursuit of peace - were evident early in his career.
He first made his name as an international mediator in the late 1970s, working to bring about the independence of Namibia, and I had the honor of working closely with him for four years in that effort. He was then the United Nations Commissioner for Namibia, and I was a Political Advisor to two U.S. Ambassadors to the United Nations: first, Andrew Young, and then Donald McHenry.
At the time, Martti Ahtisaari seemed destined to become Secretary-General of the United Nations. He was 40 years old, had already been Finland's Ambassador to Tanzania, was negotiating the armed conflict in Namibia on behalf of the UN, and had remarkable rapport with diplomats from all parts of the world.
The UN's politics, however, are complicated and, in this case, may have gotten in the way of the organization's best interests. The position of Secretary-General rotates regionally around the world, and that rotation - originally informal and somewhat flexible - has become more routine and fixed. The last Secretary-General from Europe was Kurt Waldheim (1972 - 1981), and Europe's turn has not come around again. The current Secretary-General, Ban Ki-moon, took office in 2007. He will serve for five years and can then be re-elected for another five. In 2017, Maarti Ahtisaari will be 80 years old.
What was most striking about Martti Ahtisaari early in his career - in addition to his charm and his sizeable physical presence - was his almost Zen-like patience. It was not a sense of calm; he was driven, determined, and direct in expressing his frustrations. But he had an extraordinary sense of the ebb and flow of geopolitical forces, the need to let those forces that couldn't be controlled play themselves out, and the importance of being ready and perfectly positioned when the opportunity for peace arose.
His patience enabled him to be persistent in seeking points of potential agreement that could provide a framework for peace and to design detailed implementation plans for varying contingencies. His persistence is now legendary.
Namibia is a great example. In the late 1970s, it was a disputed territory known as South-West Africa. It had been a German colony, and after World War II the League of Nations had given the South African government a mandate to administer it. That mandate had been revoked by the United Nations, but the South African government had maintained control and imposed apartheid, its own brand of institutionalized racism. A liberation movement had developed, the South-West Africa People's Organization, and an armed conflict had ensued. The United Nations was determined to bring about Namibia's independence and peace, and Ahtisaari was in charge of the effort.
The five Western members of the UN Security Council at the time (the United States, the United Kingdom, Canada, France, and West Germany) - all of which were thought to have special influence on South Africa - had jointly agreed to develop a solution, in negotiations with the liberation movement and the South African government, and the United Nations would need to approve and implement any settlement plan.
What was perhaps most remarkable - other than the multinational negotiating structure - was that the settlement plan that was developed and approved by the United Nations in 1978 would not be implemented for another 10 years, and independence would not come until 1990. The geopolitical forces took that long to become aligned for peace.
In 1980, with the election of Ronald Reagan and the defeat of Jimmy Carter, the newly elected U.S. President's team sent an immediate signal to the South African government that they would not have to give up Namibia just yet. The Reagan Administration wanted to remove all Cuban soldiers from Angola, Namibia's neighbor to the north, and would insist on that as a precondition for Namibia's independence.
Ahtisaari returned to the Finnish Ministry of Foreign Affairs, where he kept an active watch over Namibian developments, and then returned to the UN as Under-Secretary-General. Always poised to move Namibia forward, he remained determined, kept his patience, and was perfectly positioned in 1988 when global interests fell into place and the 1978 settlement plan for Namibia was implemented - with a simultaneous agreement for the withdrawal of Cuban forces from Angola. The Reagan Administration would get credit for being in office when implementation of the Namibian settlement plan was finally approved, even though they had delayed it for years.
It was Martti Ahtisaari's patience that allowed him to be in position to lead the UN transition team that oversaw the free and fair elections that led to Namibia's independence. Others would have abandoned the effort, and most others involved in the settlement effort over the years did, in fact, move on. It took 13 years (1977-1990), after all, for the Western Five settlement effort to achieve Namibian independence.
But Martti Ahtisaari was driven; he knew the geopolitics would one day turn his way, and he was determined to implement the peace when it came. And that may be his greatest legacy: not that we should accept delays but that we should always be prepared for peace - and seize the moment when it arrives.
The author is Chief Operating Officer of Goodman Media International, the New York City-based public relations firm.
Calling all HuffPost superfans!
Sign up for membership to become a founding member and help shape HuffPost's next chapter