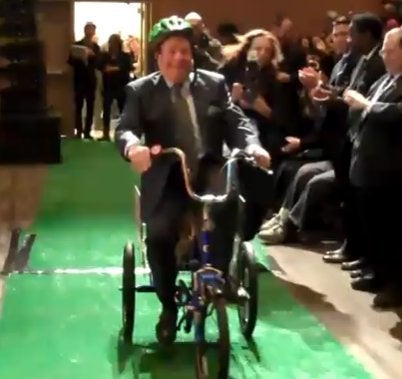 This might not be what Freddie Mercury had in mind.
Brooklyn Borough President Marty Markowitz rolled into his State of the Borough speech on a tricycle as Queen's "Bicycle Race" blared from the speakers at Sunset Park High School.
Markowitz rode his "senior cycle" to prove a point about his love-hate (mostly hate) relationship with bike lanes.
"I hope you understand that I am not against bicycles," Markowitz said. "I'm not even against bike lanes."
The "inveterate corn dog" as Gothamist refers to him, supported the bike lanes on 9th street near Prospect Park and the Brooklyn Greenway that runs from Greenpoint to Sunset Park.
"I have been a vocal critic of the Prospect Park West bike lane because I think it is a perfect example of how not to install a bike lane," Markowitz said. "It has disrupted the aesthetics of one of Brooklyn's most beautiful thoroughfares and made it more dangerous to cross the street safely, especially for seniors, young children and parents with strollers."
Markowitz' assertion about the bike lanes making Prospect Park West unsafe don't carry much statistical weight. Gothamist points out that there hasn't been a reported pedestrian injury from a pedestrian-bike crash since the bike lane was installed.
Markowitz also flung mud at the city's Department of Transportation. Previously he has called DOT Commissioner Janette Sadik-Khan a bike-lane-promoting "zealot."
"For the majority of New Yorkers, it is simply not feasible to make bicycles their primary mode of transport, and unfortunately that's the direction I believe the City's policy is heading," Markowitz said in his speech. "They are trying to stigmatize car owners and get them to abandon their cars, when the fact is, even many bicyclists also own cars."
Markowitz' stance seems a bit out of whack with neighborhoods like Williamsburg, where you can't throw a Pabst can without hitting a bicyclist.
But the Borough President does seem to be aware of the touchy nature of bike lane debates. His tricycle stunt is along the same lines as his bike lane song he crooned in December.
And just because it's Friday: