Martyn Lawrence-Bullard, interior designer to the stars, approaches his job from the perspective of fashion. A lifelong clothing enthusiast, his influences range from Ballets Russes costumes to Paul Smith. With the imminent premier of his new Bravo show, "Million Dollar Decorators," Huffpost Arts has obtained an interview with the designer. He discusses everything from his his teenage love of Westwood suits to his desire to transcend design and be a stylistic and artistic advisor for his clients.
How did your career start in interior design?
My career started out in fashion. As a typical teenager of the 80's I dreamt of owning Versace printed silk shirts (the ultimate of what I believed chic in those days) and Vivian Westwood wool plaid suits, so much so that when by a twist of fate I ended up partnering with my sister to open up a fashion boutique, I thought my life could not be any better. I was 17. I had flailed around buying and selling decorative things at local weekend antique markets from the age of 12, a total passion of mine that my parents couldn't understand but so amazingly encouraged. The money I made doing this was of course spent on outfits to go clubbing in. So, when the opportunity came to have a designer-wear shop I couldn't believe my luck. In a crazy way this became my springboard into the world of interior design with my sister asking me to decorate 'Temptation,' our shop. I envisioned a cream muslin draped bedouin tent in the ladies' and a paneled nautical style library look for the men's complete with a vintage rowing boat hung from the ceiling. I loved those interiors. They were fantasy temples dedicated to fashion, interiors designed to highlight designer duds at their best. The fun I had creating them and the pride I felt when I looked at the finished products far outshone those Westwood suits that soon went out of style.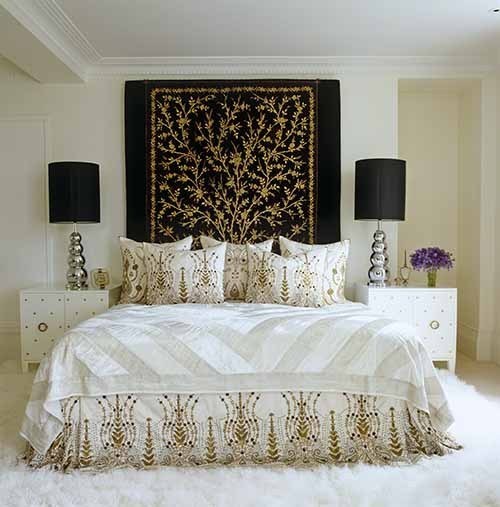 How long did you stay in retail fashion?
Our store sadly didn't last that long, but my passion for fashion hasn't faded and my passion for interiors has actually turned out to shape my life and career.
How does this background inspire your work today?
Its interesting that not only do I love fashion and all of its idiosyncrasies (still spending most of my money on it too) but I find constant inspiration from it which I translate into my interiors. Be it color combinations, shapes, stitch details or even a pattern. I once took the embroidered design that decorated the front of a Paul Smith shirt of mine and used it as inspiration for an embroidery design along the leading edge of drapery in a clients living room, to enormous success I might add! Last summer I went to see the amazing Ballets Russes costume exhibit at the Victoria & Albert Museum in London that were designed by Leon Bakst, Nicholas Roerich, Coco Chanel, Henri Matisse and Mikhail Larionov in the early 20th century. Those fantastical designs and the color combinations not only have inspired my interiors since, but have also heavily influenced my new fabric line that I just launched this spring.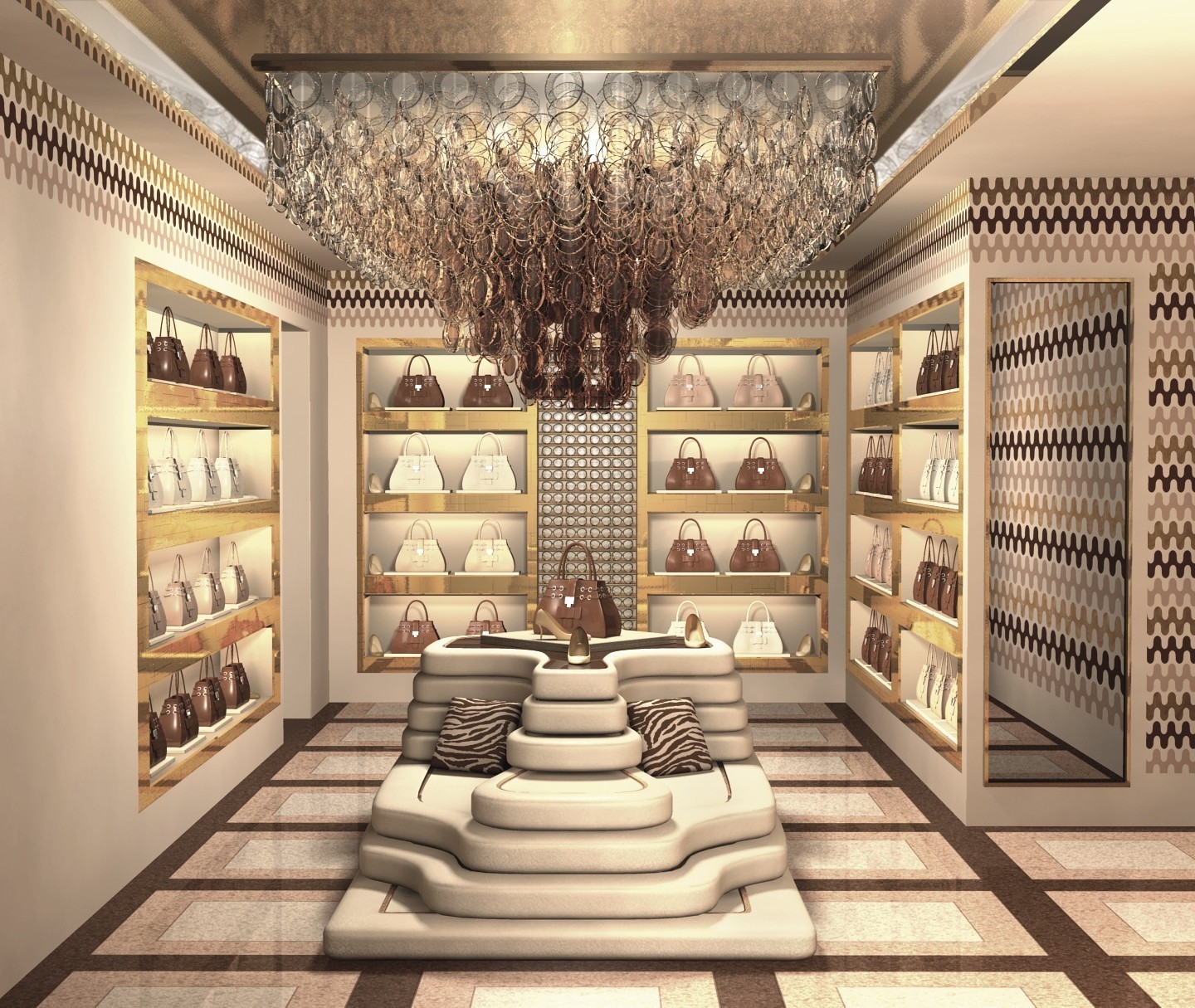 Have you ever worked with fashion designers?
I have also been lucky enough to decorate the homes of iconic fashion and shoe designer, Tamara Mellon, the creator of Jimmy Choo. She lives and breathes her brand and as such I had to translate that fashion brand into her home. I studied the color palettes of Jimmy Choo that made them famous. I looked at the designs, exotic skins, prints, textures and hardware that accessorizes their shoes and purses and used these inspirations to translate Tamara's personal style into her now sumptuous, fashion forward homes.
What is Tamara Mellon's style and how did you decorate for her?
Her London pad featured chocolate leather clad walls, chic brass lighting, Italian art glass, fuschia suede chairs, pure gold thread embroidery and Jean-Michel Basquiat artworks.
Her über-glam New York penthouse, however, has hand-stenciled Jimmy Choo signature leopard print rugs, gold-leafed ceilings, glossy lacquer finishes in exotic colors, Mongolian lamb throw pillows, luxurious cashmere-lined fur blankets, edgy photographic artworks and cream alligator-upholstered chairs. Total polished 70's futurism mixed with 1940's Hollywood glam pieces and deep, sexy, lounging upholstery. The result? She lives, breathes and sleeps high fashion 24/7.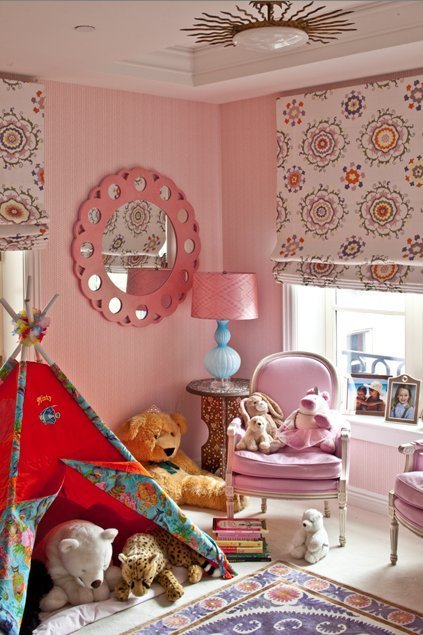 Have you designed any more retail spaces for fashion brands?
I have just completed the makeover of the Jimmy Choo Selfridges in-house store in London and another in Osaka, Japan. Using the same influences taken from Tamara's own homes, these spaces are as sexy as the designer herself. A true melding of fashion and interior glamour. It is the dream of my career to have been able to mix my passions together and create this kind of perfect unison. I look forward to doing more of these as the Jimmy Choo brand expands worldwide and refreshes its look, but I mainly look forward to each new season as fashion designers the world over unveil their latest collections with bated breath and pounding heartbeats to take their special couture and filter it to quench my own creative juices.
What will we see on your new show "Million Dollar Decorators" and is Tamara Mellon on it?
You will be able to watch the transformation of Tamara Mellon's $30 million, 9000 square foot New York penthouse, along with amazing interior design for celebrities like Sharon and Ozzie Osbourne and Daisy Fuentes in the new show, "Million Dollar Decorators," premiering on Bravo, Tuesday, May 31st at 10pm.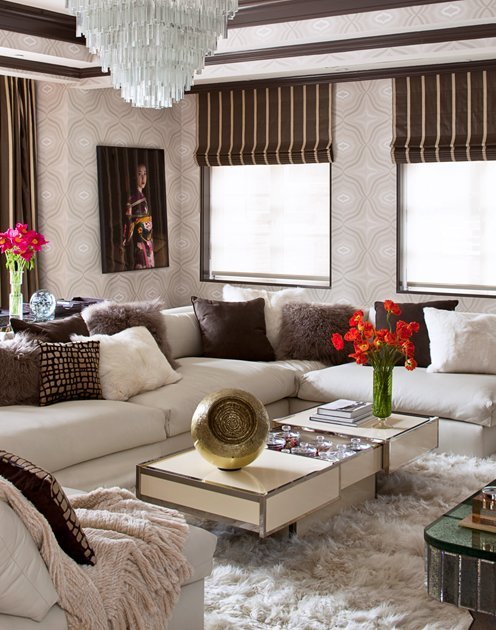 Calling all HuffPost superfans!
Sign up for membership to become a founding member and help shape HuffPost's next chapter