"Think you're escaping and run into yourself. Longest way round is the shortest way home." -- James Joyce, Ulysses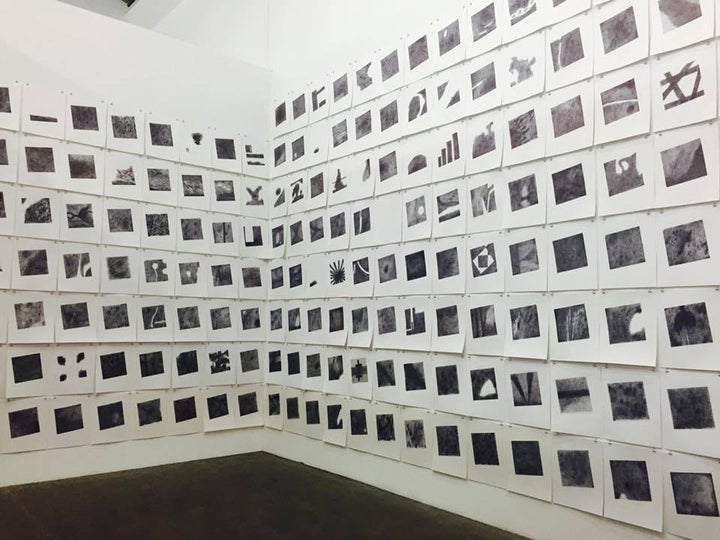 About a year ago, Lithuanian painter Martynas Ivinskas decided to create one work of art per day for twelve months. He ended up signing his name more than 10'000 times per day. The mammoth installation of the ink on paper drawings that resulted from the daily signings is a profound archive of variations, an abstract escapade on an architectural scale, a monument to eccentric compositional strategies, an emotional year-in-the-life narration, and a self-obscuring affirmation of the artist's own identity.
In the world of art, the signature is a key statement of identity, value, authenticity, and presence. In daily life, it represents witnessing, agreement, acceptance. In 10'000 Signatures, it is a device for a kind of performative abstraction, a hybrid of conceptual premise and analog undertaking. It is abstract and hyper-specific, loaded idea and deceptively simple object. As the artist notes, "What if instead of a signature there was any word, such as 'hello'? Would its visual impact and result be very different?" The visual result, the density of the Rorschach-like radial gestural imperative, might appear similar indeed. But the knowledge of the content enacts a story with its own meaning.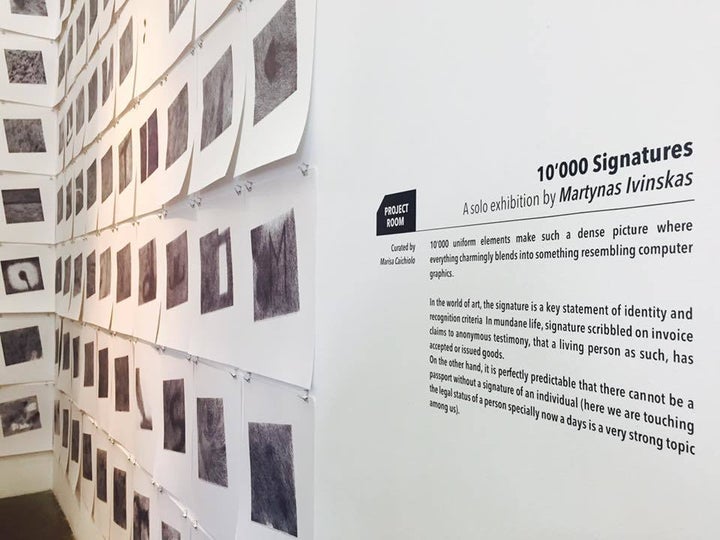 Often in such structured metronomic undertakings, the predicate gesture is about not only repetition but also about the subtle variations and evolutions of any nuanced changes in appearance, atmosphere, or emotional tenor. But instead of metrics like the growth of one's hair, the clouds or other weather, the sidewalk, one's meals, or really almost anything, instead it's about the signature, the most basic emblem of identity, a thing both as individual and abstract -- and unchanging -- as a fingerprint. This links it to a history of artists like Judith Bernstein and Joe Amrhein, as well as to street-art writers, and also to the Surrealists' automatic writings, which doubled as both social parlor games and psychological experiments.
As Ivinskas' lines accrue into fluttering shapes of dark patinated ink they are set off by contrast with passages of crisp, white negative space. This is a very different aesthetic from his painting style, which is more like Cubist-inflected Pop Art, with bold color-blocking and a heavier, architectural quality of line like stained glass soldering. Evocative of the jazzy rhythms of city life, Ivinskas' paintings are also very textural in impasto and the raw coffee-sack linen they are executed on. But as different as they look, they both deal with the role of color, pattern, texture, and the all-important privilege enjoyed by the line, the traces left by the hand of the artist.
Curated by Marisa Caichiolo at Building Bridges Art Exchange, Bergamot Station
Related
Popular in the Community