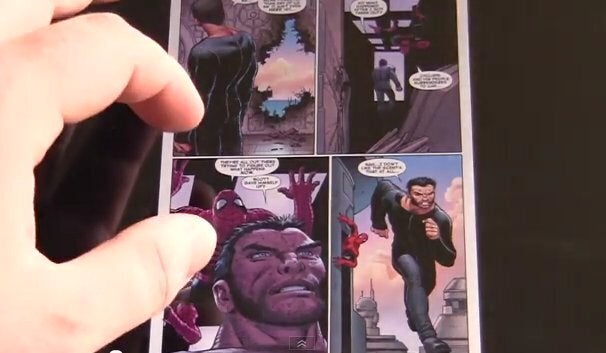 It's been quite a month for Marvel Comics. Last weekend, they watched their beloved "Avengers" franchise provide the biggest opening weekend for a film in box office history. And this week, though with a little less fanfare, they rolled out an exclusive digital comics partnership with online comic distribution powerhouse, ComiXology, which only furthers their commitment to the digital medium.
Under the new deal Marvel's digital comics database, which includes thousands of past issues, will be powered and distributed exclusively by ComiXology's platforms and on their own Marvel app and online store. The move further positions ComiXology's as the dominant provider and distributor of digital comics, seeing as the company had already made a similar exclusivity deal with DC Comics last year.
"We've seen an enormous amount of growth both in downloads and sales for single issue, digital comics," said Peter Phillips, SVP and General Manager of Marvel Digital Media, who said that by June of this year every $3.99 issue of a Marvel comic will be available in digital form. "This just makes a lot of sense. Financially, and for the product."
2011 was a booming year for digital comics, bringing in $25 million in total sales, which is triple that of 2010. The CEO of ComiXology, David Steinberger, recently told TechCrunch that the first quarter of 2012 saw a 450 percent increase in sales.
"Though," Phillips added, "more people do still read print."
And thanks to a consistently churning movie superhero business, printed comics are thriving as well. Brandon Zuern, the head manager of the popular Austin Books & Comics in Austin, TX., said this past year has been one of his biggest yet, and the increase in available digital comics has not affected his business in any discernible way.
"More people are coming into our store than ever," he said. "I certainly notice that [digital] is a growing thing for comics overall, but I don't see that with my customers."
He said the digital world offers a good entrance into the world of comics, especially for a young reader who doesn't live near a comic books store, but he and other comic book fans still much prefer their print counterparts.
Zuern said "comics are meant to be a full-page experience," and when you read them on your iPhone you can occasionally miss the nuances that the artists intended, like the more untraditional panel layouts from comics of the 1980s. "You don't see those details with digital," he added.
However -- the iPhone is now a far cry from the iPad or other tablets, which can offer a full screen experience, comparable to that of the printed page. And Marvel has been reaching out to digital skeptics with the release of their "Infinite Comics" line at South by Southwest last March. These comics gives authors and illustrators the ability to control and layer the action onscreen to their liking, directing the way that the reader sees each page.
"We're no longer confined by the limitations of the page," Chief Marvel Creative Officer Joe Quesada said in March. "While we still are confined in a way by the size of a tablet screen in the same way that we have to deal with the physical size of a page, the screen is capable of so much more."
As more books take the digital route, many artists have been embracing the medium as a chance for experimentation. There was a SXSW panel -- "Reinventing the Graphic Novel for the iPad" -- dedicated specifically to the format, and authors have adding realtime sound effects, soundtracks and live dialogue to the reading experience.
However this week, it's worth noting, Marvel dismissed John Dokes -- their SVP of Integrated Sales and Marketing, Publishing and Digital Media. Phillips wouldn't comment on Dokes' dismissal, but Comic Book Resources said he had been very active in the launch of Marvel's Digital Comics Unlimited service.
Watch how the graphic novel "CIA: Operation Ajax" works on the iPad:
Calling all HuffPost superfans!
Sign up for membership to become a founding member and help shape HuffPost's next chapter