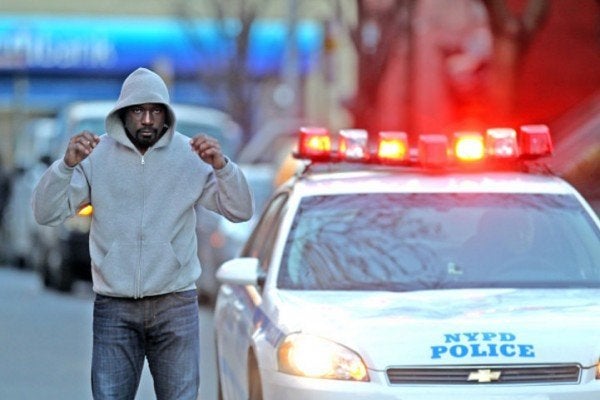 Marvel's latest Netflix series, " Luke Cage," can only be described as "unadulterated, bulletproof, kick ass, Wu-Tang blackness, with a Marvel twist," says the show's creator Cheo Hodari Coker.
Adapted from the 1970s Marvel comic book character of the same name, the Netflix action-drama series ― which stars Mike Colter, Mahershala Ali, Simone Missick, Rosario Dawson and Alfre Woodard ― is set in Harlem, New York. It tells the story of a wrongly convicted man, Luke Cage (played by Colter), who escapes prison after gaining super strength through an experiment before becoming a hero for hire.
Similar to other revised Marvel adapted television shows, "Daredevil" and "Jessica Jones," Coker ― who is known for his work on "Notorious," "Ray Donovan," and "Southland"― said it was imperative for him to take a modern-day approach to the story by incorporating current social themes, while maintaining entertaining elements from the original comic.
"We were able to do a hip-hop, Blaxploitation lesson in 'Luke Cage' that has social themes, but never stops being fun," Coker said during an interview with The Huffington Post. "I think what's gonna surprise people is the levity. Because of what's happening and the bullet-proof blackness of it all, they're gonna expect the politics… but at the same time it's as much of a celebration as it is polemic."
Perhaps one of the most noticeable social references in the show is Cage's bullet-proof black hoodie, a nod to the fatal 2012 shooting of Trayvon Martin.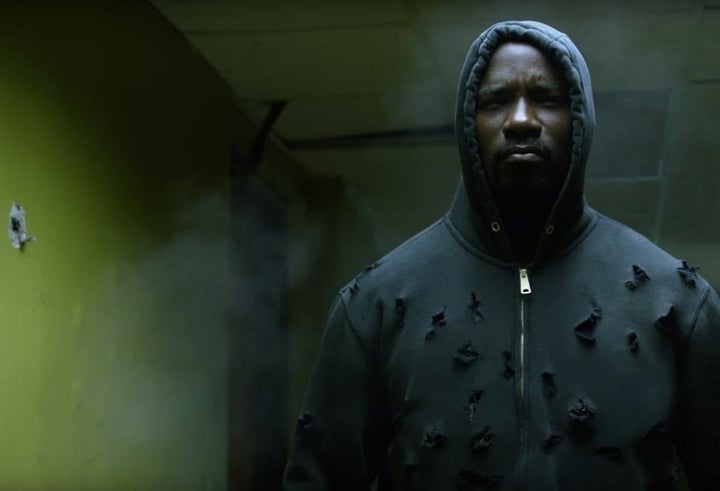 The frustrations felt by many Americans dealing with racial oppression and police brutality was one of many sources of inspiration for Colter in developing the character.
"That stuff inspires me and it gets a fire burning in me. So I hold on [to the feeling]. There's no accident that I'm wearing a hoody because of Trayvon Martin," he told HuffPost. "I hold on to certain things that I know are injustices and people can't actually do anything about it, and so I put myself in their shoes and try to reimagine the feeling that they would have."
Colter, who said he's faced a few personal incidents dealing with discrimination while growing up in South Carolina, went on to add that drawing inspiration from the deaths of Trayvon Martin, Eric Garner and Mike Brown was initially unexpected for him during the show's filming.
"Here we are with this show that seems so timely and so important, all we could do was embrace it," he said. "There was no agenda set out to be political. We didn't set out to become this show that was a lightning rod for change, but we definitely wanted to pay attention to the temperature that was happening in our society. Because we would've been remiss not to have that in there. It would've been an inauthentic experience as a viewer to not have the things that we're dealing with in real life in there… Hopefully, this will bring the people some sort of release."
For Coker, the power of storytelling allows a show to often examine society's issues in an entertaining way that stimulates thoughts and dialogue with viewers. The former hip-hop journalist turned filmmaker likens the approach of his latest project to the work of legendary television producer, Norman Lear.
"The kind of television that Norman Lear was making in the '70s, whether it was 'All in the Family' or 'The Jeffersons,'" they were comedies but they dealt with a lot of what was happening around the country with different attitudes and was very powerful with that," he said. "We don't lean away from being political. I embrace it, because this is what the show is for and this is what the country needs."
In addition to the show's intersection of social-political topics, Coker said that he's also cognizant of the importance of being able to entertain viewers.
"At the same time we are an entertaining comic book show. So while I think the politics is important, at the same time if we can't tell a good comic book story then the show is not worth watching," he added. "I really believe that we accomplished both."
Before You Go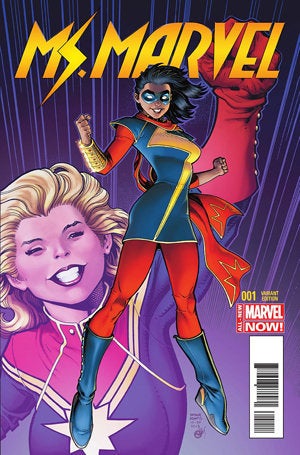 Unconventional Superheroes Who Have Broken Comic Book Stereotypes
Popular in the Community