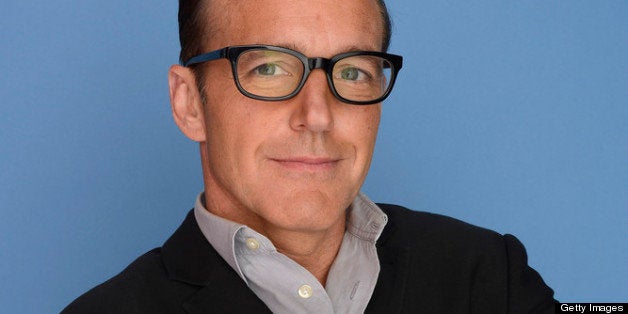 ABC has ordered "Marvel's Agents Of S.H.I.E.L.D." to series.
The Joss Whedon project is set after the events of "The Avengers," Disney and Marvel's blockbuster hit featuring the characters of Iron Man, Captain America, Thor, Hulk, Black Widow and Hawkeye. Whedon directed the pilot and co-wrote the script with his brother Jed and Jed's wife Maurissa Tancharoen.
It was no surprise that ABC picked up "Marvel's Agents Of S.H.I.E.L.D.," which centers on Agent Phil Coulson (Clark Gregg), who was last seen dying in "The Avengers."
"After people see the show, they'll have some clue as to why I'm still there, still breathing," Gregg told Collider. "But I don't think they'll know everything ..."
The below description of ABC's "Marvel's Agents Of S.H.I.E.L.D." was released in April, but it is not official.
Joss Whedon ("MARVEL'S THE AVENGERS," "Buffy the Vampire Slayer") shows us not all heroes are super with "MARVEL'S AGENTS OF S.H.I.E.L.D."

Fresh from his role in the summer's box office smash, "MARVEL'S THE AVENGERS," Agent Phil Coulson (Clark Gregg) returns to the worldwide law enforcement organization S.H.I.E.L.D. He puts together a small, highly trained, team of Agents to tackle the cases that haven't been classified yet, the new, the strange and the unknown. That team consists of straight arrow Agent Grant Ward (Brett Dalton), an expert in combat and espionage; pilot and martial artist Agent Melinda May (Ming-Na Wen); and brilliant if socially awkward scientists Agent Leo Fitz (Iain De Caestecker) and Agent Jemma Simmons (Elizabeth Henstridge). They'll be joined by civilian new recruit and computer hacker Skye (Chloe Bennet).

Prepare for an epic adventure that showcases the hope and wonder of the human spirit. This is a world of Super Heroes, aliens and the unusual -- of action, spectacle and world spanning stories. The show will speak to the human condition through the lens of our very human, non-powered S.H.I.E.L.D agents -- that together we are greater than we are apart, and that we can make a difference in the world.

Executive Produced and co-written by Joss Whedon, Jed Whedon & Maurissa Tancharoen ("Dollhouse," "Dr.Horrible's Sing-Along Blog"), Jeffrey Bell ("Angel," "Alias") and Jeph Loeb ("Smallville," "Lost," "Heroes") comes Marvel's first live-action TV series, "MARVEL'S AGENTS OF S.H.I.E.L.D."
In addition to "S.H.I.E.L.D.," ABC picked up a number of other dramas.
"Once Upon a Time in Wonderland," hailing from "OUAT" creators Adam Horowitz and Eddy Kitsis, is designed as a limited-run series to bridge the gap between original episodes of "Once" during winter hiatus. In Victorian England, the young and beautiful Alice (Sophie Lowe) tells a tale of a strange new land that exists on the other side of a rabbit hole. An invisible cat, a hookah smoking caterpillar and playing cards that talk are just some of the fantastic things she's seen during this impossible adventure. Surely this troubled girl must be insane and her doctors aim to cure her with a treatment that will make her forget everything. Alice seems ready to put it all behind her, especially the painful memory of the genie she fell in love with and lost forever -- the handsome and mysterious Cyrus (Peter Gadiot). But deep down Alice knows this world is real and just in the nick of time, the sardonic Knave of Hearts (Michael Socha) and the irrepressible White Rabbit (voiced by John Lithgow) arrive to save her from a doomed fate. Together, the trio will take a tumble down the rabbit hole to this Wonderland where nothing is impossible.
"The Returned" centers around the town of Arcadia, where the dead mysteriously start coming back to life and appearing on their families' doorsteps as if nothing has happened. Based on the novel by Jason Mott, the high-concept drama stars "House's" Omar Epps, Frances Fisher, Samaire Armstrong, Devin Kelley and Matt Craven, and was created by "Criminal Minds'" Aaron Zelman.
"Lucky 7," one of two ABC projects from David Zabel, is based on British series "The Syndicate," about seven service station employees whose lives are forever changed when they win the lottery jackpot. Isiah Whitlock Jr., Summer Bishil, Luis Antonio Ramos, Anastasia Phillips, Christine Evangelista, Louis Grush and Lorraine Bruce star.
Zabel's other project, "Betrayal," is a twisty thriller about a photographer (Hannah Ware) who begins an affair with the lawyer (Stuart Townsend) who represents an influential family. When it emerges that he is defending a murder suspect who is being prosecuted by her husband (Chris Johnson), things rapidly begin spiraling out of control in both the relationship and the high-profile case. James Cromwell also stars.
"Mind Games" (formerly known as "Influence") focuses on two brothers (Christian Slater and Steve Zahn), who run an unorthodox agency designed to solve their clients' problems by using motivation and manipulation. From "Awake's" Kyle Killen, the series also features Megalyn Echikunwoke and Cedric Sanders.
Executive-produced by "Modern Family's' Sofia Vergara, "Killer Women" centers around Molly Parker (Tricia Helfer), the only female Texas Ranger, and a badass to boot. Based on the Argentinian series "Mujeres Asesinas," Marc Blucas, Michael Trucco and Alex Fernandez co-star.
ABC also canceled an additional five series from the 2012-2013 season: "Body Of Proof," "Happy Endings," "How To Live With Your Parents," "Malibu Country" and "Red Widow," which join the previously canceled "666 Park Avenue," "Don't Trust The B---- In Apartment 23," "Last Resort," "Private Practice" and "Zero Hour." On a more positive note, the network renewed "Castle," "Grey's Anatomy," "Last Man Standing," "The Middle," "Modern Family," "Nashville," "Once Upon A Time," "Revenge," "Scandal" and "Suburgatory." ABC has not confirmed the reported fates of "Family Tools" and "The Neighbors."
Find out what the other networks picked up for the new season below.
PHOTO GALLERY
2013 Renewal Index: Canceled, Renewed & On The Bubble Shows
Calling all HuffPost superfans!
Sign up for membership to become a founding member and help shape HuffPost's next chapter
BEFORE YOU GO