Before Les Halles was the massive indoor shopping center it is today, anchored by shops like H&M and Gap and a sprawling RER/Métro station, it once thrived as a very different kind of commercial center: a bustling food and flower market in the dead center of the City of Lights. For 40 years, photographer Robert Doisneau loved to hang out there and photograph the goings on of Les Halles, and with the prospect of yet another reformation of the area looming, Mairie de Paris gives us a time-traveler's look to Paris past through Doisneau's keen eye with "Doisneau, Paris Les Halles," a free exhibit on display now through April 28th at Hôtel de Ville.

La marchande de fleurs, 1968: Atelier Robert Doisneau
A passing glance through any Paris postcard rack will show you the familiar perspective of Robert Doisneau -- alongside Willy Ronis and Henri Cartier-Bresson, his black and white photographs are some of the most recognizable images of the city we all dream of, the Paris we come to Paris for. Though he worked for years as a freelance photographer for the likes of Vogue magazine and even, ironically, as a postcard photographer in the 1930s, Doisneau preferred to capture real life as it was being lived, not in a studio. His true passion was street photography, and from the 1930s-70s he traveled regularly to the markets of Les Halles to witness the constant activity that gave life and livelihood to the area and its people, particularly when there came word that it would be razed to build the commercial center we know today. As was his nature, Doisneau brought his signature humor and spontaneity to each shot, preserving moments of both toil and joy in this mini-city within Paris.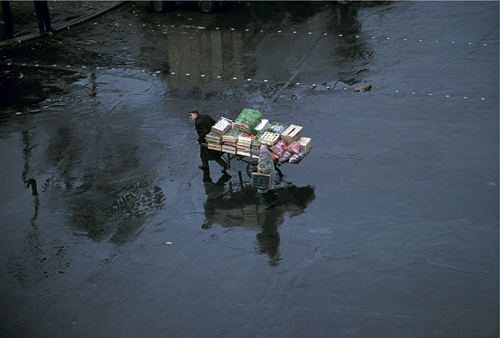 Triporteur aux Halles: Atelier Robert Doisneau
The photos on display in the Paris exhibit, both in black and white and in color, pop with vivaciousness as the ordinary and active French of the mid-20th century buzz about their lives, taking only a moment to look up directly at the camera, at the photographer who had ingratiated himself into the market culture of their day. As Doisneau said in his book Three Seconds of Eternity, "Making people look away means that the picture loses most of its mysterious power. The way I see it, you mustn't be afraid of coming up with things for which there's no explanation, like the village idiot coming back with some unknown bird in his cap."
Thus we get to connect with the characters of Les Halles, from the beautiful woman tying flowers in a blanket of newspapers, her hair styled for something better than a day's work outside, to the butcher holding the face of a decapitated pig, one hand cradling its snout, the other holding a knife with the levity of an expert. This is the working class of Paris, hard workers covered in filth with cigarettes hanging from their smiling lips, surrounded by flowers or vegetables or the prepared corpses of fresh meat. The paths of Les Halles, later to be condemned for its overpowering odor and health hazards, overflow with vendors, bicyclists, wheelbarrow-pushers, and shoppers inspecting the day's wares. Indeed, delving into this world we can almost smell the rows of hanging meats and wooden crates filled with seasonal produce, or hear the boisterous voices of the marchandes, their shouts overlapping each other amid the noise of the city.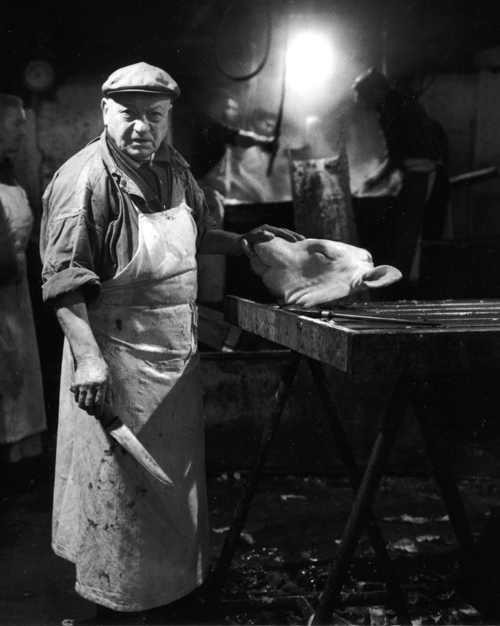 L'échaudoir de la rue Sauval 1968: Atelier Robert Doisneau
Yet "Doisneau, Paris Les Halles" features not only the hustle of daytime. The emotion of the exhibition ranges from the busy near-chaos of selling hours to the lonely, emptied halls of night and early morning, workers preparing and organizing in solitude among wet fields of concrete, or looking over the architecturally ornate stretches of Les Halles which were soon to be torn down in preparation for progress. But no matter the mood, everything we see is through the ever-youthful, enthusiastic eye of Robert Doisneau, whose thrill at being part of the action, if a silent one, is palpable. "The marvels of daily life are so exciting," he said of street photography. "No movie director can arrange the unexpected that you find in the street."
"Doisneau, Paris Les Halles," now through April 28 -- Free
Hôtel de Ville, Salon d'Accueil
29, Rue de Rivoli 75004 Paris
01 42 76 40 40
Daily except Sundays and public holidays, from 10am to 7pm
http://www.paris.fr
Calling all HuffPost superfans!
Sign up for membership to become a founding member and help shape HuffPost's next chapter