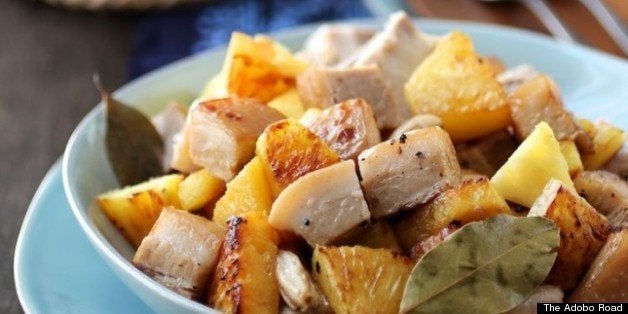 Nose-to-tail cooking, funky fermented ingredients and pickled-everything. Filipino food has all the trappings of the next big "it-cuisine" in the United States restaurant scene. Yet unlike Korean, Thai or Vietnamese food, most Americans would probably be hard-pressed to name or describe even one Filipino dish.
Marvin Gapultos is on a mission to change all that with his new cookbook The Adobo Road. The new author, a 35-year-old Filipino-American born in Los Angeles, Calif. and based in Riverside, started becoming more serious about his culinary roots in 2004 when he married his wife, who didn't know a thing about Filipino cooking. Instead of making the 90-mile trek to his parents' house for a taste of adobo (meat braised in vinegar) or laing (greens stewed in coconut milk), Gapultos hunkered down and started experimenting with family recipes on his own.
His kitchen trials led to the launch of his blog Burnt Lumpia, named for a Filipino spring roll, in 2007. After gaining a following, Gapultos decided to launch The Manila Machine, Southern California's first-ever gourmet Filipino food truck (and first-ever truck owned and operated by a food blogger). Manila Machine's most popular dishes included pork belly and pineapple adobo, lumpia and ube (purple yam) cupcakes. His food truck experiment lasted less than a year but made a major impact on the local restaurant scene. Its closure devastated loyal fans (as evidence, may we present this sniping back and forth between Gapultos and food writer/adobo fiend Zach Brooks), which is why Gapultos' new cookbook will seem like a lifeline to Angelenos still grieving the loss two years later.
The Huffington Post got to chat with Gapultos over the phone about The Adobo Road, Manila Machine and what he learned about his culinary roots.
HuffPost: Why do you think Filipino food hasn't caught on in an ethnic melting pot like Los Angeles?
Marvin Gapultos: Filipino food is really family food, and for whatever reason it just hasn't translated to restaurants. There's just this mystery behind it -- I don't think people know exactly what Filipino food is. And the things they do know about it aren't necessarily true. Everything's brown, everything's not healthy. But the same could be said for, you know, Mexican food. It's just this perception or maybe lack of a perception of what really Filipino food is.
What is Filipino food to you?
It's family food. It's soul food. There's a lot of nuances in it, as opposed to other Southeast Asian cuisines like Thai or Vietnamese -- things that are heavily spiced or heavily herbed. But with Filipino food, besides the sour notes in some things, there are a lot of subtleties in it. And I think that contributes to why it hasn't hit the mainstream yet.
In your book, you note that Spam is just as much a part of Filipino culture as adobo because of the American military presence during World War II. What are other examples of the way colonizing armies influenced Filipino food?
A lot of ingredients came from Mexico: chocolate, different chili peppers, tomatoes. This is all from the Galleon Trade -- the one between Manila and Acapulco. It's strange but a lot of Mexican influences are in Filipino food. Empanadas are one, flan is another one. But flan could also be from Spain.
Sometimes Filipino food is portrayed in media as extreme cuisine. For example, game shows that make people eat balut (hard-boiled duck fetus). What is your response to the use of Filipino food in that way?
It's strange. I'm not going say I'm offended by it or anything -- I understand why it's shown like that. But there's just so much more to Filipino food than balut. There's a rich diversity, from soups to noodles to all different kinds of adobos. From region to region and from household to household, there's just so much that Filipino food offers. And other cultures have different kinds of what you'd call extreme food -- but for whatever reason, Filipino food is just pigeon-holed with balut.
The Manila Machine proved that there was a market for Filipino food in Los Angeles and other big metros. Do you take that to be a sign of something on the horizon?
Definitely. What I tried to do was introduce people to what I think Filipino food is -- really diverse, really flavorful. And I think by not watering things down, people liked that. They liked that it was legitimate Filipino food, as opposed to putting Filipino food in a taco or something.
Are there any trucks or restaurants in the Southland you can recommend for fans who miss your fare?
Magic Wok is a good Filipino place in Artesia. There's Salo-Salo Grill in West Covina. There's lots of little great places in West Covina. But those are the two that are coming to the top of my head right now.
So your advice is to just drive to West Covina?
[Laughs] More or less! My advice actually is that even if there are just those steam table restaurants in your neighborhood, give them a try. I think people need to try Filipino food to get an understanding of what it is and what it might be.
Gapultos will be at two book-signing events Friday and Saturday in Los Angeles. Learn more about the events and where to get his cookbook, which comes out in May.
My LA is a series of Q&A profiles with our favorite Angelenos. To see others, be sure to check out My LA.
Calling all HuffPost superfans!
Sign up for membership to become a founding member and help shape HuffPost's next chapter
BEFORE YOU GO
PHOTO GALLERY
LA's 10 Best Taco Trucks