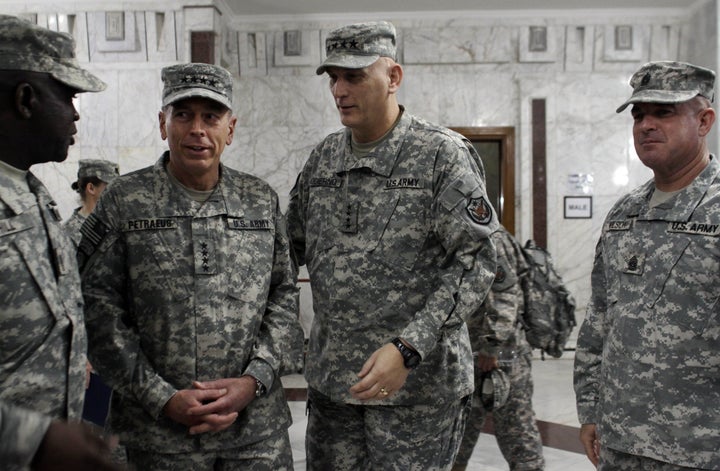 WASHINGTON -- A senior aide to David Petraeus, commander of NATO forces in Afghanistan, is out with a strong statement in support of repealing Don't Ask, Don't Tell (DADT), saying that servicemembers who can't adjust to the change should think about leaving the military.
"If there are people who cannot deal with the change, then they're going to have to do what's best for their troops and best for the organization and best for the military service and exit the military service, so that we can move forward -- if that's the way that we have to go," said Command Sergeant Major Marvin Hill in an interview with Roland Martin on Washington Watch, set to air on Sunday.
Indeed, one of the arguments put forth by many critics of repeal is that integrating the forces will result in a loss of large number of servicemembers opposed to the change.
Joint Chiefs of Staff Chairman Adm. Mike Mullen addressed this concern during his recent testimony before the Senate Armed Services Committee, stating, "Should repeal occur, some soldiers and Marines may want separate shower facilities. Some may ask for different berthing. Some may even quit the service. We'll deal with that."
Also in the interview with Washington Watch, Hill said that he believes "the troops are ready for something like this."
"We know that if there is a change, that that change will have to be led, and it's going to have to be led by senior leaders such as myself and -- and others across the battlefield. Senior leaders are the ones [that are] going to set the tone in the unit and enable the unit to move forward."
In March, Petraeus told Congress that he believed the time had come to repeal the military's ban on DADT. He has also said that in his personal experience of serving with openly gay and lesbian CIA officers, "after the 10 seconds of awareness wore off, the focus was on the professional attributes of these individuals."
UPDATE, 5:38 p.m.: In his recent testimony before the Senate Armed Services Committee, Defense Secretary Robert Gates addressed the issue of troops leaving:
Well, first of all, I didn't say it was not important. But first of all, as I said in response to an earlier question, very few people can leave immediately, and so people would be around for the rest of their enlistment, for the rest of their contract if they were officers. And our expectation is that, as you've heard from the authors of the report and from Admiral Mullen, that experience, based on the survey itself, experience would dramatically lower those numbers.
Popular in the Community