What do you get when you merge Vogue magazine with the Abstract Expressionists and our Founding Fathers? Shuffle them hard and you get Mary Abbott, a quintessential American: exceptional but unsung artist of the Abstract Expressionists' New York School, progeny of John and John Quincy Adams, and Deb of the Year, not to mention cover girl for Vogue, for Charm, and for Glamour Magazine, right on the heels of that flamboyant debutante, Brenda Frazier. Why a quintessential American? Certainly not because she was a glamour girl or a socialite, not even because she is a descendent of presidents with a Mayflower pedigree. No, Mary Abbott is a quintessential American because she fought the stigma of her Katherine Hepburn beauty, her Walden Pond heritage, and the 1940s and '50s era that catered to homemakers -- you remember the young smiling red-lipsticked, apron-clad prototype, that '40 and '50 woman busily baking in her kitchen -- to become one of the most talented artists to ever grace the Abstract Expressionist Movement. Work, that's what it took. Resistance to pressure. Remember John Adams going up against England and King George? Just see what Mary Abbott's ancestor accomplished! Think how proud he would be of Mary today, a woman who devoted her life to her art, finishing works that rival those of her great love and compatriot, Willem de Kooning, pieces of art that hang next to de Kooning's, represented in major museums throughout Adams' legacy -- America. Modest in the way of John Adams too, while ingrained with his fairness and toughness, Mary grew up with ladylike curtsies and great grandmothers and the mores of Adams' decorum and humility. In Concord, one could swim au naturel but one would never publicize oneself... and so, Mary Abbott never did. Never herself nor her art. To this day, she is humble, self-deprecating, and funny, describing herself as simple-minded because yellow is her favorite color, a color I see reflected everywhere when I visit her bright sunshine-filled studio.
"Why is that simple minded?" I want to know.
"Because yellow is a simple color," she responds. "Green is more complex -- there's very little green in nature; you think you see it, but you don't, it's variations of light. Purple is just as complex -- composed of many colors. Difficult colors, both of them. To mix is difficult."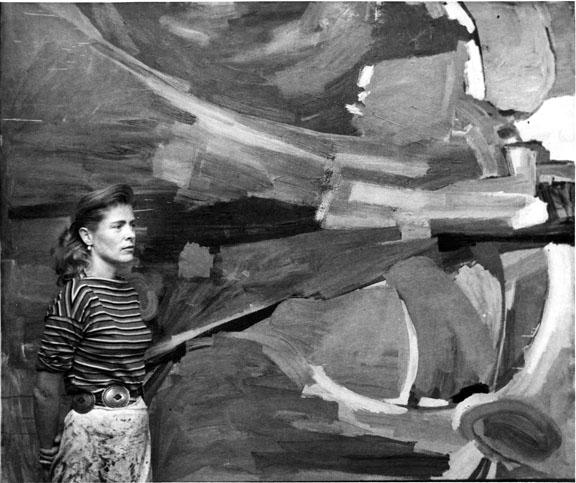 Mary Abbott in her studio, c.1950, photographer unknown, used with permission, Abbott archives And Mary Abbott should know. She has straddled two worlds. Mixed them, and still does. While she sits in her studio surrounded by an organized mess of paints and charcoals -- a portrait of Larry Rivers' son she painted decades before hangs above her -- she speaks to me in the intonation of a highly cultured Brahmin, and I can't help but imagine her skipping down a purple carpeted stairway followed by her first dog, Ginger (a large Shepherd hybrid), in one of the grand august homes of her grandmothers, maybe her great grandmother, passing by her mother's door where she's closeted writing poetry, dressed for dinner with her father, Lieut. Commander Henry Livermore Abbot, U.S.N., who, after commanding a submarine in World War I and receiving the Navy Cross in 1918, went on, years after this dinner, to become a Senior Naval member of the Joint Chiefs of Staff from 1943 to 1946, receiving a Navy Commendation under Franklin Delano Roosevelt. Mary came from this world of the Roosevelts (who were family friends); summered in Southampton, and in Concord, Mass., and in Lincoln, and in Buena Vista, Pa., home to the D.C. elite; attended Miss Chapin's School in New York; and learned to revere her grandmother Abbott, whose birthday she shared and after whom she was named, a staunch New Englander who, when she traveled the world with her daughter and Mary's renowned aunt -- Mary Ogden Abbott, that is -- sculptor, landscape painter, horsewoman, and big game hunter -- the Tibetans ran from her in terror, calling her the White Devil. Out of this environment, Mary stepped into the life of a strong-minded and resolute painter, into a cold-water walk-up flat on 10th Street, an apartment in downtown New York without heat or hot water, over a noisy flat that belonged to a large Mafia family who protected her in her new rough neighborhood.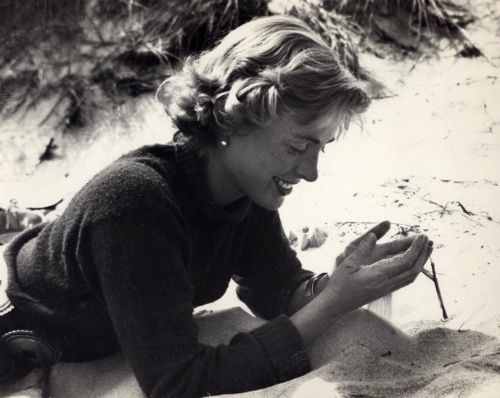 Mary on the beach, Southampton, late 1940s, photographer unknown, used with permission, Abbott archives
Recently when I met Mary Abbott, I was privileged to see some of the large canvases she produced while living in downtown 1940s New York. The paintings inspired by her good friend, sculptor and painter, David Hare, who introduced her to Bill de Kooning and the School of Artists and their artists: Barnett Newman, Barney to Mary, and Mark, Rothko, don't you know, who Mary claims changed her life forever. Led by Robert Motherwell, who loved to instruct, she confides. There, in 1948 and '49, Bill de Kooning, who Mary admitted she admired like mad, and much more, would climb her steep stairs to bring her kerosene for her stove. And then they would visit. You understand? To paint and to keep her warm. There, the stunning Mary Abbott, trained from childhood by greats like Ann Goldthwaite, Eugene Weiss, and George Grosz, learned to draw with imagination, to feel her strokes, her objects, to paint nature and music and her thoughts. At times, she relates, she danced and painted without clothes to translate the beat. She laughs as she remembers, describing between ageless giggles how hard it was to scrub the oil from her bare skin.
While I only visited with Mary twice, I learned to love her as much as her paintings. She regaled me with stories of her dogs, for whom she cooked, since there was no such thing as dog food in 1948, and ironically learned to outpace the casseroles churned out by those bright-teethed '50s housewives, in memory of her beloved Ginger and for her beloved Blue, conjuring up her mother's Scottie who liked to lie on his back and scream, in preparation for her noble Ruby. And she painted her affinity for nature. Living in the moment, living the philosophy of the existential de Kooning -- she still does, by the way -- while she cooked for her dog, for Bill, for David, for herself and applied pigment with her fingers -- dizzy and urgent, creating moods with peyote, interpreting the physical and biological energy in living matter, with dance, with colors changing constantly, and she delivered paintings that were shown at the Stable Gallery, at Kootz, Tibor de Nagy, and Tanager ... laying a foundation for the art she would make in the next half of the century.
At the Club's New Year's Eve party in 1950 (an artists' club in a downtown loft at 39 East 8th Street) sculptor Philip Pavia spoke for the all New York artists of the AbEx (Abstract Expressionist) movement: "This is the beginning of the next half century. The first half belonged to Paris. The next half century will be ours."
Mary had become a part of history in the making.
In 1950, she married Tom Clyde, an investment adviser who re-integrated her into those circles of her youth and she moved to Southampton, N.Y., keeping a studio in New York City. The couple wintered in the Virgin Islands and Haiti, and with Tom supporting her art, Mary painted more than she ever had before, beginning pieces in the tropics, finishing the canvases at home.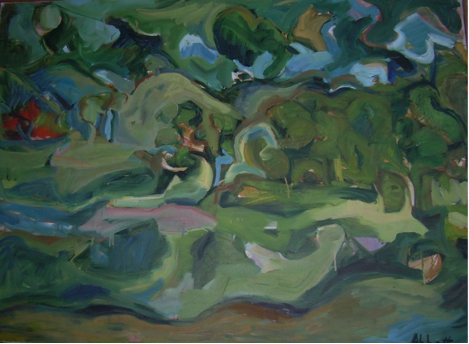 Deep Woods, 1954, oil on canvas, 39 x 50 inches©2012 by Mary Abbott, used with permission courtesy McCormick Gallery, Chicago
Her Haitian days, I call them, is where I think her talent reached its peak. Mary's living room, which she refers to as her sitting room, is dominated by a huge Haitian work that throbs with the beat of Haiti, the optical illusion of movement, of light and of shifting shapes. Mary had actually translated the rhythms of a deluge of faces to canvas: talking, talking talking -- constant talking, constant moving. "Talk, talk, talk, talk." She grins as she describes the Haitians. Stares up at the painting. "The sky so blue there and under that sky, all of them, always dressed in white. In the mountains with my dog, Wicki... Wicki, Wicki, Wicki," she calls. She points and says. "Every once in a while a face in that crowd would cry, 'Having a good map out, Missy?'" I must look confused because Mary explains. "I think they thought that foreigners, all the white visitors like me, were there to create nautical maps." She shakes her head, remembering. Remembering how safe she felt with Wicki, how the sun felt on her shoulders as she rode her bicycle up into the mountains. And then she leads me into another room where I see more paintings from Haiti, and from the Mahogany Road in the Virgin Islands. Huge saturated canvases of green leaves, birds, I think, that are exquisite.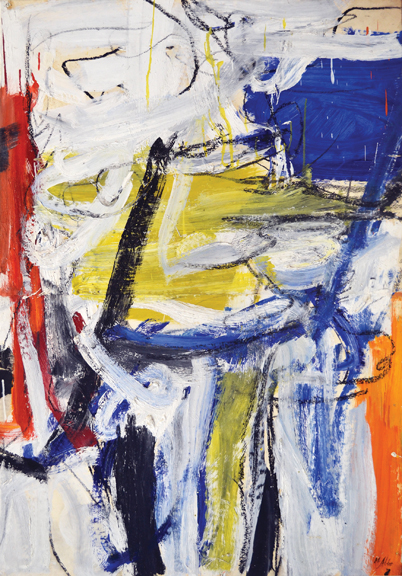 Mahogany Road, 1951, oil on paper mounted to canvas, 43 x 30 inches©2012 by Mary Abbott, used with permission courtesy McCormick Gallery, Chicago That remind me of the stories she's told me of her childhood when she studied nature, leaves, trees -- she wanted to be a scientist, a biologist -- and you can see the love she holds for living things in these paintings that are so alive you want to touch them. I'd like to sink my eyes into one of the paintings that I covet, but of course I don't tell Mary. Later on, I tell a friend of Mary's who agrees with my assessment that because of their heart, her paintings makes one feel good and he says "they make your eyeballs happy." I think of Mary as a child, recuperating from a long illness: pneumonia and such a high fever that when the 10-year-old awoke and stared out the window at the trees named after her and after her little brother, she had such a desire to become part of that beauty, she thinks that craving instilled in her forever the desire to paint. To become one with nature with her oils, her charcoals, her watercolors. You can see the vibrations when you study her work. Just look at Bill's Painting. Look at Leaves. Unspoiled, flowers and leaves and spatial planes that change as "you paint them," Mary says. That exuberant energy, that incredible light painted yesterday maybe, but decidedly of this moment, as I look at them. And the more I look at them as I step back, the more they change, for the better.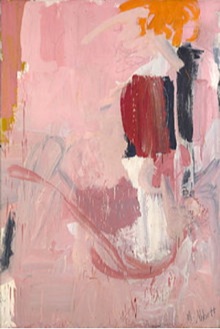 Bill's Painting, c.1951, oil on canvas, 72 x 48 inches, painted in honor of Willem de Kooning ©2012 by Mary Abbott, used with permission courtesy McCormick Gallery, Chicago.
Recently, Asher Edelman of Edelman Arts discovered one of Mary's landscapes, mistaking it for a de Kooning. Painted circa 1951, Edelman writes that Untitled is:
"a vibrant gutsy work playing off intense layers of brush strokes across the canvas giving a visceral landscape-like impression. De Koonings's first known stab at these structures and colors took place in the mid-50s reaching maturity in about 1957; somewhat unsettling as we never think of de Kooning as being influenced by anyone other than his more known male counterparts! He spoke mostly of Gorky's influence, never mentioning Mary Abbott."
Well, neither Asher Edelman nor most people know what I know. That in the '50s, Mary Abbott cooked for her group of AbEx friends on a regular basis, as a full-fledged member of the gang. She provided delicious luncheons, her stepson, Toby, reported, with Joan Mitchell, Fairfield Porter, Elaine de Kooning, Robert Rauschenberg, Larry Rivers, Bill de Kooning, Jasper Johns, Lee Krasner, and others, and they would argue and have terrific philosophical conversations, after which Mary and Bill would sometimes escape to her studio over a neighboring farmer's barn where they would work and compare notes. For a 13-year-old, the lunches were a bore, Toby said, but for Mary this time in her life was her pinnacle on a hill, the era she produced, in my view, her finest work.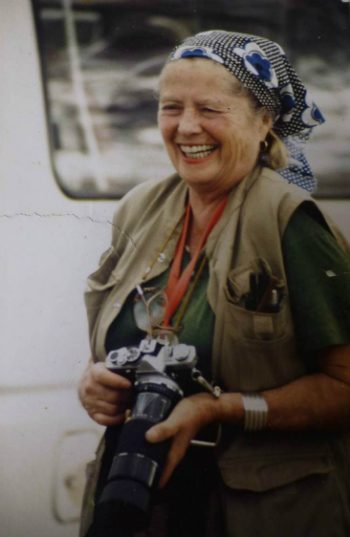 Mary in an undated photograph, photographer unknown, used with permission, Abbott archives
I haven't told Mary this, but I think I might the next time I visit. And visit I will, because do you know anyone else who has a squirrel for a friend, a clown of a squirrel who regularly performs for Mary, eating upside down as he regards her with his small beady brown eyes. Delighted, she laughs and I think of a quote she dug up for me: Chronology is the last refuge of the feeble minded. How true this is. Like her work, Mary Abbott is ageless and should be revered and remembered for her talent and her devotion to her art. It is never too late to be honored. I can just hear her giggle at that -- "Knees, knees and beeswax," she'd say -- dismissing my desire to see her get her due. Not this time, Mary Abbott! Pushing humility aside, like Asher Edelman, I think all her paintings must now be celebrated by everyone.
Popular in the Community