Mary Alice Stephenson makes a splash wherever she goes. At 6' tall, the statuesque beauty stands out. Add to that her big smile and cheerful greeting to everyone and anyone, and it's just about impossible to miss her. Stephenson, a style and beauty expert, is a very unique denizen in the world of fashion. Originally from Birmingham, Michigan, the former Harper's Bazaar fashion director is using style and beauty to turn her passion into compassion for people in need.
After years working as an editor and fashion director and styling covers for magazines like Marie Claire, Harper's Bazaar, Esquire, Allure and more, Stephenson had a moment of clarity in the most unlikely of places: an Albuquerque airport. "I watched as the small airport filled up with cheerleaders," she said. "These kids and teenagers formed a tunnel of pom-poms from the entryway to the gate where a six-year-old girl fighting cancer was coming down the tunnel. Make-A-Wish was granting her wish to go to cheerleading camp. It was the ultimate 'a-ha moment.' I knew then that I could create big, beautiful experiences like that for people in need." Soon after, Stephenson returned home from a work trip, and happened to switch on the TV to catch "The Oprah Winfrey Show." She felt like Oprah was speaking directly to her when she said, "How are you going to use your life to make a difference in this world?" Stephenson handed in her resignation to Harper's Bazaar the very next day.
Merging her fashion career with philanthropy wasn't as dramatic as one might think. She set out to begin a successful consulting, styling and spokesperson career while carving out room for her philanthropic endeavors. Stephenson melded the two worlds with her role as the national fashion ambassador for The Make-A-Wish foundation, as well as creating fashion initiatives for Free Arts NYC, The Bob Woodruff Foundation, Grace Centers of Hope, Love Heals, The Lower East Side Girls Club and Get Reel With Your Dreams. The more she gave back, the more she realized that doing good was energizing and fueling her to do more. Gradually, the line between fashion and philanthropy disappeared. "Everything I do in the fashion and beauty business -- whether it's for a magazine or a celebrity or a brand-- these are all relationships that I end up utilizing in philanthropy," she said. "The industry has stood by me for 20 years. Brands like L'Oréal, Estée Lauder, Dior and CoverGirl; magazines like Us Weekly, Seventeen, Details; along with designers like Calvin Klein, Ralph Lauren, Donna Karan, Michael Kors, Tommy Hilfiger and more have all donated products and supported the fashion and beauty initiatives I do with many causes. I'm so grateful for their generosity."
Stephenson often joked that these photo shoots and projects were "glamming for good." People started tweeting and hashtagging it, and the Glam4Good movement was born.
These days, Stephenson still consults for designers, styles covers for Seventeen magazine and dispenses fashion and beauty advice on TV shows, but turning the Glam4Good movement into a non-profit foundation and a brand is her biggest passion. And it ain't lip service either. Stephenson laughed as she coined herself "A Budget Philanthropist." She said, "I can't write a big check. But I can give my time, my energy and my resources."
Inspired by Mary Alice's story? So were we. She shared some tips on how you can glam for good in your daily life.
1. Go public with your philanthropy. "We live in a show-it-off culture today. Kids show off what they are wearing, their manicures and their bodies," Stephenson said. "They need to show off how they help the world they live in, how they serve their communities and friends. Don't be shy about showing off compassion and doing good in the world."
2. Connect with others to do good. "Facebook has been a game changer for me (Stephenson has over 230K followers on Facebook). It allows me to connect with the world and it gives people direct access to me so they can communicate to me what they need, and vice versa." During Hurricane Sandy, Stephenson put out a simple ask on Facebook for supplies for the devastated Far Rockaway neighborhood and soon thereafter was deluged with donated supplies.
3. Tap into people's natural instincts to want to help. Stephenson acts as a conduit between charities and causes and the fashion industry. All it takes is sending out a message of what you need and when you need it. "People are quicker to cooperate than compete. I find that kids, people and brands bend over backwards to help and love to post and Tweet about how they helped me to help others."
4. Take care of yourself. So often, Mary Alice sees women whose priorities are everyone else. "When you look your best you feel like you can handle more," she said. "I know the healing power of a sequin. Fashion does make a difference in people's lives, it creates joy."
5. Let your kids share in your big give. "I had my son decide what to give from his toys to give to the kids that lost theirs because of Hurricane Sandy. It was the bag of Hot Wheels that he gave to the kids brought the most smiles! When I showed him pictures of the kids with his cars he suggested that we do it again ... and soon!"
Watch Mary Alice as she Glams4Good in the video below:
See Mary Alice and some of her initiatives, as well as more fashionable do-gooders: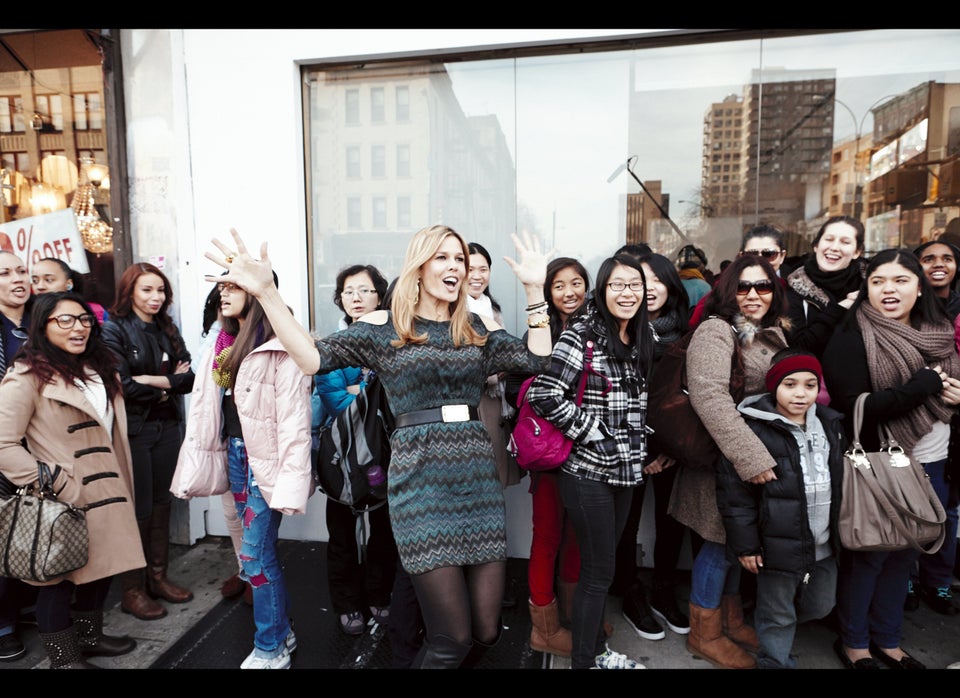 Mary Alice Stephenson: A Glamorous Do-Gooder
Want more Mary Alice? Follow her on Facebook, Twitter and Instagram!

Want more? Be sure to check out HuffPost Style on Twitter, Facebook, Tumblr, Pinterest and Instagram at @HuffPostStyle.
--
Do you have a style story idea or tip? Email us at stylesubmissions@huffingtonpost.com. (PR pitches sent to this address will be ignored.)